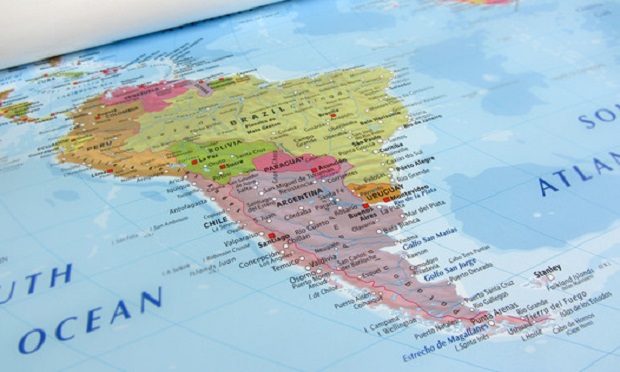 Premium volumes in the Latin American insurance sector fell 5.2% in 2018, according to a report from MAPFRE, an international insurer with business in 47 countries on five continents.
In total, premium volume from the 25 largest insurance groups in the region amounted to $150 billion last year, down from $158 billion in 2017, breaking a decade-long trend of sustained premium volume growth in Latin America.
The 10 largest insurance groups collectively experienced a 10.8% decline in premium volume from 2017 to 2018, while non-life business only decreased 3.6% in the Latin American market.
MAPFRE attributes the decline to the depreciation of some currencies against the U.S. dollar, particularly the Brazilian real and Argentine peso. The Brazilian insurance market reduced 13.4% in USD last year due to its currency depreciation, affecting Brazilian insurers and multinational companies operating in the country.
The table below lists the top 25 insurance groups operating in Latin America from MAPFRE's report, "Ranking de grupos aseguradores en América Latina 2018," as well as the groups' reported 2017 and 2018 Latin American premium volumes:
| | | | | |
| --- | --- | --- | --- | --- |
| Rank | Insurance groups | Country | 2017 premium volume (USD millions) | 2018 premium volume (USD millions) |
| 1 | Bradesco | Brazil | 12.948 | 10.032 |
| 2 | Brasilprev | Brazil | 11.992 | 8.715 |
| 3 | MAPFRE | Spain | 9.155 | 8.421 |
| 4 | Zurich | Switzerland | 6.841 | 7.608 |
| 5 | CNP Assurances | France | 5.548 | 5.977 |
| 6 | Itau | Brazil | 7.579 | 5.877 |
| 7 | Metlife | U.S. | 4.992 | 5.183 |
| 8 | Grupo SURA | Colombia | 4.917 | 4.430 |
| 9 | Porto Seguro | Brazil | 3.969 | 3.770 |
| 10 | Grupo Nacional Provincial | Mexico | 3.243 | 3.465 |
| 11 | Triple-S Salud | Puerto Rico (U.S.) | 2.917 | 3.032 |
| 12 | AXA | France | 2.295 | 2.845 |
| 13 | BBVA | Spain | 1.773 | 2.654 |
| 14 | InnovaCare | U.S. | 2.348 | 2.610 |
| 15 | Chubb | Switzerland | 2.423 | 2.610 |
| 16 | Allianz | Germany | 2.706 | 2.524 |
| 17 | MCS | Puerto Rico (U.S.) | 1.994 | 2.198 |
| 18 | Talanx | Germany | 1.962 | 2.138 |
| 19 | Liberty Mutual | U.S. | 1.920 | 1.976 |
| 20 | Banorte | Mexico | 1.602 | 1.872 |
| 21 | Quálitas | Mexico | 1.731 | 1.742 |
| 22 | Cardif | France | 1.772 | 1.684 |
| 23 | New York Life | U.S. | 1.427 | 1.529 |
| 24 | Sancor Seguros | Argentina | 2.008 | 1.503 |
| 25 | Tokio Marine | Japan | 1.548 | 1.473 |
| | TOTAL | | 158.517 | 150.143 |
Related: The top 100 insurance groups of 2018