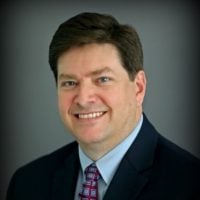 Lance Malcolm
U.S. President of Contractor Connection
Damage to a home or business often comes with much uncertainty about what will happen next. Who should the property owner call first? Who will manage the repairs? Will they be trustworthy and qualified? How long will the process take?
That's where Contractor Connection comes in. As the managed repair division of Crawford & Company handling 350,000 annual assignments and $2.5 billion in project costs, Contractor Connection provides insurance carriers and their policyholders access to a national network of rigorously vetted contractors managed for performance, and providing quality, timeliness and customer experience.
"Our history has been about leveraging all our assets to really drive the outcomes that insurance carriers and property owners expect," says Lance Malcolm, U.S. President of Contractor Connection.
For the carrier or property owner, finding a reliable, skilled and qualified contractor to repair a severely damaged asset can be difficult. If they choose poorly, they can experience repair process delays and less than desireable quality. This is where a reputable managed repair program like Contractor Connection steps in to fill the void and help deliver on the promises made by insurers to be there when property losses occur, when their insureds need them most.
The days of simply providing your policyholder with a claims check to cover damages are over. While that method may meet base policy requirements, it does not meet the high expectations of digital-savvy clients; sometimes it leaves them in the lurch for finding the help they desperately need. Malcolm notes that Contractor Connection's global network of more than 6,000 credentialed general and specialty contractors allows it to meet these expectations for residential and commercial property repairs.
"When you really look at people, process and technology, the bottom-line question is, how do you weave all those together into a balanced approach to be able to achieve the best outcome for delivering quality repairs in a timely manner with exceptional customer experiences?" says Malcolm.
And not forgetting the technology, Malcolm believes Contractor Connection's proprietary tools integrated with targeted third-party platforms has made it more responsive, and the outcomes more predictable. From moisture data analytics to job tracking, these tools are bringing transparency in the overall repair process "from job start to job completion."
"It's all about that digitalization and how you make sure that the outcomes that you're looking for are being achieved, then repeating that process flawlessly over and over. Identify trends through the data, then use that trend data to further improve your outcomes," says Malcolm. "We slice and dice and analyze the data, which give us tremendous insights into what slows down the process, what the challenges are, which will lead us to knowing how to build solutions to overcome those challenges."
Contractors in the network must go through a rigorous credentialing process that includes background checks and physical inspection of facilities and equipment. Members must also provide a five-year workmanship warranty. Contractor Connection staffs a 24-hour call center and customer service desk able to dispatch services 365 days a year for emergency and non-emergency assignments.