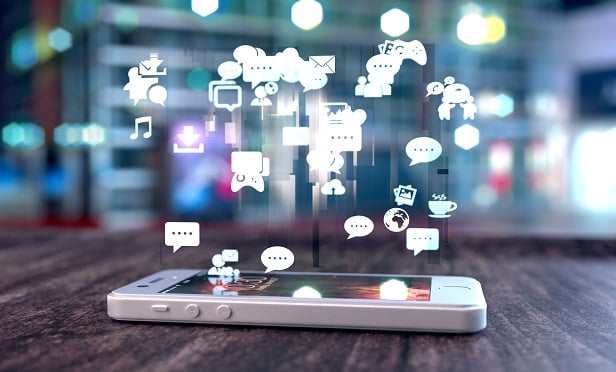 Businesses today need social media in order to highlight their services, engage with customers, emphasize company initiatives and much more. Companies operating in the property & casualty insurance industry, in particular, need to utilize social media in order to stand out in a crowded marketplace.
Many in the industry wonder what posts should go on social media, how frequently they should post and how much time to devote to it. Every business is different, so there is no clear-cut answer. But all companies should have a social media presence, and posts should range widely in subject matter.
To better understand the power of social media, Hearsay Systems conducted a report into how financial professionals are using social media for lead generation, customer retention, and corporate and personal branding. The study analyzed 34,888 suggested pieces of content that were broken up into five categories — corporate content, industry content, lifestyle content, corporate-industry and corporate-lifestyle — across four lines of business — life insurance, property & casualty insurance (P&C), wealth management and mortgage.
Related: The state of the P&C industry's social media presence
Staying connected
The report found that for the second year in a row, P&C insurance "set the standard for overall social media activity" across all sectors it analyzed. Even though P&C marketing teams provided half the amount of content as wealth management or life insurance teams, agents published the highest volume of content (577 publishes per suggested post).
Notably, P&C agents received the highest number of total engagements across all industry sectors. They also published content at the most balanced rates compared to other industry sectors, with corporate (29%), corporate-industry (27%) and industry (27%) content coming in at nearly identical rates.
With consumers being able to do much of their research online, P&C insurance firms are investing heavily in generating awareness and trust at the brand level. This results in many companies using a hybrid model for their social media content strategy by promoting branded, corporate content, even at the local agent level.
Related: A guide to the pitfalls and perils of social media in the workplace
Basic social media practices to employ
Although a social media presence is a must, maintaining a consistent flow of content can eat away at valuable time that agents and brokers can prioritize elsewhere. Those in the P&C industry should invest in curation tools that can automatically deliver timely, relevant content from internal and external sources.
However, an online presence won't always draw everyone in. Some will still prefer different forms of communication that they've grown accustomed to. For this reason alone, social media strategies should coordinate with marketing teams and their field forces so they can leverage other digital communication channels, such as email marketing, website lead generation and compliant texting.
Just as certain content must be on social media, others should not appear online whatsoever. Consider drafting a set of guidelines stating what advisors and agents can and cannot do on social, especially when it comes to lifestyle content.
Having active profiles on social media is one thing; leveraging them to do more than just publish is another thing altogether. Unfortunately, many businesses are not utilizing social media to its highest potential. By investing in automation technology and forming strategies with marketing teams, companies can bolster awareness and generate demand.
"Firms and advisors who build their businesses around being both high-tech and high-touch will be in the best position to succeed in today's digital-first world," concludes Hearsay.
Related: 5 easy-to-implement social media strategies for busy insurance agents