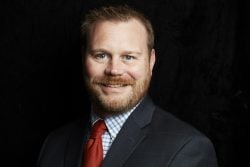 Chris Cooper, VP Media Liability, QBE North America
"Changes in technology—and how we interact with content—have created exposures for media companies and content creators that didn't exist before," explains Chris Cooper, vice president of Media Liability for QBE North America, an integrated specialist insurer and a division of one of the largest insurers and reinsurers worldwide with 2018 written premiums of $4.7 billion. "A media liability insurance policy should be designed to protect both the dissemination of content and the freedom of expression."
Most general liability policies contain exclusions for advertising and personal injury arising out of or by a company that specializes in the dissemination of content. For example, a publisher creates content that could range from a piece of investigative journalism, to a blog on a company's website, to a post on social media. When that publisher, or media company, or broadcaster, or film producer purchases a policy, there is an automatic exclusion for any defamation claims brought against such a publisher due to the content it has published.
Brokers and underwriters have seen a sharp uptick in interest in media liability insurance, which was created to plug that gap in coverage. Over the past several years, the landscape of media liability has changed significantly because of the varying ways that media can be pushed out to the masses. Five years ago, we weren't talking as much about blogs, vlogs and podcasts and the different methods of media that are prevalent today.
"The two main areas of risk are copyright and defamation," Cooper says. "On the publishing and news business side it's defamation that dominates claim trends, as well as the headlines. For video and film producers or advertising agencies, it's more likely to be copyright infringement or other intellectual property-related issues. When you have video news programs or a documentary, you get a blurring of both exposures."
So, how has the current socio-political climate impacted this area of risk? From Cooper's perspective, it's being treated more and more as a necessity.
"We've seen an increased number of submissions from news organizations investigating media liability coverage, as well as larger overall coverage limits. They no longer look at media liability as a discretionary purchase. Without the transfer of risk from their own balance sheets, they would not be able to publish some of the more exploratory or investigative articles — whether about members of the administration, prominent public figures, or any of those types of tough or divisive issues – that we've dealt with in the past few years."
Cooper gives the example of a documentary filmmaker who stumbles upon a massive story with unexpected and far-reaching consequences and realizes the need to speak to an attorney. The attorney points him to a broker who realizes this is not a standard risk; this is something that needs to be looked at very carefully by an underwriter who understands the potential risks, defenses and exposures, and who can come up with a creative way to tackle these issues via a customized media liability policy. The policies are highly customizable to address the particular level of coverage needed by the media company – this is the definition of an integrated specialist insurer.
"This is definitely not a case of 'one size fits all'," says Cooper, noting that each publication has different needs that require their own specific language. "It's not as simple as tailoring a policy to the publication name. We need to come up with creative solutions for different limit options, or increased deductibles, or different defense options for some of the more difficult portions of their portfolio."
Cooper mentions QBE's all risk policy as one way these policies deal with media liability uncertainty. "It's not just defamation, copyright infringement, or invasion of privacy. It's any of a multitude of things that you haven't even thought of that might arise out of the creation or dissemination of content. The market is moving fast, so it's an exciting time for companies, like ours, to take a future focus, dig into this risk and work to help protect our customers from the changing world."
These days, Chris explains, "Content is king, and everyone is a publisher."
Contact QBE:
Chris Cooper – [email protected]