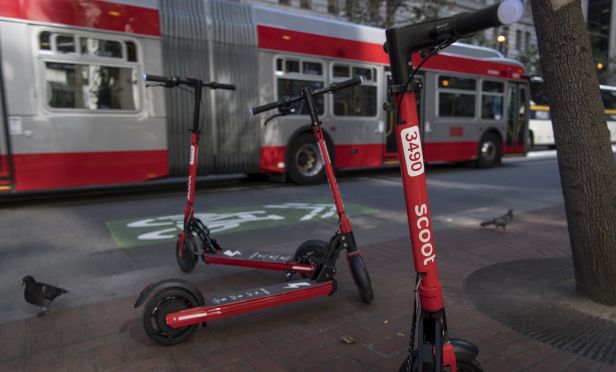 You can see them coming, zipping this way and that. Perhaps you have even tripped over one or two, casually cast aside on a sidewalk.
Related: Scooter risks? Popular transportation fad brings accidents & liability questions
Love them or hate them, electric scooters have become the latest rage in on-demand transportation. Known by their brand names ― Bird, Lime and Skip, to name a few ― these motorized scooters are fun, relatively cheap, instantly accessed by app, and now available in more than 60 cities nationwide.
They also are causing quite a stir.
Dangers, lawsuits, negligence, nuisance claims
Scooter-related headlines have not all been positive. In November, Segway Ninebot, a scooter manufacturer, and Lime, a San Francisco-based scooter rental service, exchanged barbs in the press over an apparent battery issue that caused some older model scooters to spontaneously ignite. About 2,000 scooters were pulled from city streets because of the problem, according to Lime.
Also, Bird and Lime made news as defendants in a class action lawsuit filed in Los Angeles. Multiple plaintiffs including scooter riders and pedestrians sued for injuries they claim were the result of gross negligence. Public nuisance is also a subject of the complaint by virtue of scooters being left indiscriminately on sidewalks and streets ― an all too frequent occurrence.
In fact, because scooters are not uniformly parked or docked when not in use, riders seemingly ignore traffic laws at will. Some cities are speaking out through regulation.
Related: 3 ways to assume risk
The Los Angeles City Council recently approved a new pilot program allowing scooter companies to offer their wares on city sidewalks for at least another year as long as they abide by certain mandates. These include a 15-mile per hour speed limit on all scooters; specified parking and use restrictions; the purchase of operating permits and licenses; and a directive that scooter companies each carry $5 million in commercial general liability insurance.
Covering foreseeable risks
How should insurers adapt to address the liabilities that will inevitably arise from the use of these new devices?
No doubt, Bird, Lime and all the rest must obtain proper coverage. But users, too, may be prime targets for tailored policies, whether they hop on these self-serve scooters for recreation or for commuting purposes. Whoever the insured may be, insurers should familiarize themselves with the types of events that could result in liability due to scooter operation. With that in mind, consider the following.
Predictable scooter risks
An obvious and somewhat predictable outcome of the ever-expanding number of scooters on our roads is an increasing rate of collisions with other vehicles or pedestrians. While scooter users must obey traffic laws, it's common to see riders cruising along city sidewalks and weaving through crowds of pedestrians; a peril in the making, to be sure.
Even when scooters are operated lawfully, their low profile makes them particularly vulnerable to accidents within the flow of traffic; accidents that could result in catastrophic head injury given an inherent issue involving helmets.
Related: Bicyclists' injury risk could be doubled if they lack latest helmets
Despite laws requiring scooter riders to don helmets, users are often seen speeding to and fro unprotected. This is not surprising. Indeed, the industry has exploded, in part, because of the ease of access and impromptu nature of a quick spin to the store, to campus or between the train station and home. Unfortunately, not many riders carry helmets on the off chance they choose to rent a scooter on any given day.
For their part, scooter companies have attempted to buffer themselves from liability by posting warning screens on their apps instructing riders not to operate the scooters on sidewalks or without a helmet. But these messages may be insufficient.
Should a crash occur and depending upon its circumstances, the scooter company and/or scooter user could be subject to exposure. As the nascent scooter industry expands, insurers would be wise to market products accordingly.
Negotiating geographical boundaries
Some cities and municipalities expressly prohibit scooters within their boundaries.
Consider that scooters are allowed in Los Angeles and Santa Monica but have been officially banned in Beverly Hills and West Hollywood.
But that does not prevent some users from riding into these prohibited territories, and penalties can ensue. The Beverly Hills Police Department is currently enforcing a zero-tolerance policy on scooters that includes impounding them and issuing citations. Plus, scooter companies will be on the hook, at least in the short-term. (Operators may ultimately shift the cost to users).
Forward-thinking insurers can set themselves apart by offering policies that provide coverage against such losses.
Hacking and theft
Next generation scooters are mini computers on wheels. They are generally equipped with GPS trackers as well as QR code sensors that lock and unlock the devices when scanned with riders' smartphones. Geolocation data is paired with user information stored on phones and carefully tracked by scooter operators.
Consequently, these companies should have cybersecurity measures in place to protect customers' personally identifiable information (PII). Still, in this age, data breaches must be planned for, giving insurers a new category of customer for cyber insurance products.
Theft or loss of actual scooters also is a real possibility. Most rental agreements imposed by scooter operators provide for a fee that puts the onus on the users if a device is lost or stolen.
But what if a user successfully disputes such a charge?
Who is to say, after all, whether a user is responsible for a scooter that cannot be located?
What if the operator's tracking technology is simply malfunctioning?
Thus, insurers can promote commercial property policies to scooter companies in the event inventory is lost, stolen or even damaged.
The opportunity at hand
Seemingly overnight, motorized electric scooters have populated streets and sidewalks nationwide. While pertinent laws and regulations are quickly changing, these scooters appear here to stay, which presents the insurance space with a fresh opportunity.
Jesse Krompier (jkrompier@mrllp.com) is an associate at of Michelman & Robinson, LLP, a national law firm headquartered in Los Angeles.