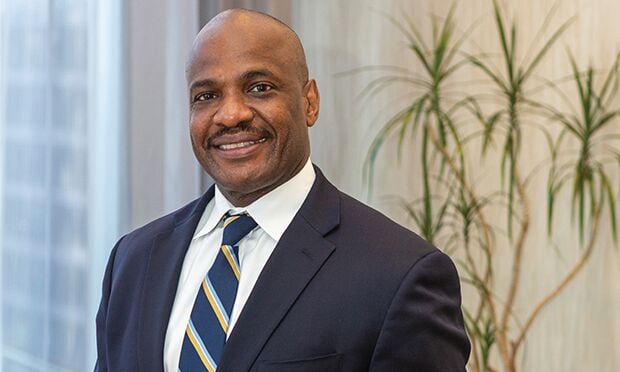 Traditionally, the insurance industry is not known for being a change leader, and yet as technology advances and new risks evolve, executives are recognizing the need to adjust and adapt in order to remain competitive.
Forward-thinking insurance leaders are critical to identifying new trends, technology and risks, while improving the workflow and experience for all involved. This year's winner of the ACE Claims Luminary of the Year Award exemplifies these characteristics and more.
Darrell Brown is the executive vice president and chief claims officer at Sedgwick, and has been actively involved in reshaping how the industry manages the claims process. Brown believes that "claims management is much more than paying bills and meeting compliance standards. It is about helping people who have had something unexpected happen to them during a critical time of need."
While Brown worked in the food service and retail industries before entering the insurance field, he is one of those rare individuals who actually began his career in the insurance industry. "In my first year of college, I began working as a collector for physicians. A year or two later, I went to work as a claims examiner for an insurance company at the recommendation of a fellow student at my college."
The making of a leader
He started his career at Superior National Insurance Company in 1992, before moving to Gates McDonald in 1995 as a claims manager. Sedgwick recognized his talent and hired him as an assistant claims manager in 2001. He excelled in that position and it wasn't long before he was promoted to vice president and area manager, overseeing 400 colleagues in the Orange, Riverside, and Long Beach, California, offices.
Four years later, he was named senior vice president and senior national workers' compensation practice leader, where his responsibilities grew to encompass developing new products and services, creating and implementing best practices, as well as ensuring compliance with state laws. His expertise in this area was further honed, as he became Sedgwick's workers' compensation spokesperson and subject matter expert.
His leadership trajectory continued and Brown was promoted to the company's chief performance officer, playing a key role in the creation and development of Sedgwick's quality initiative – Performance 360. The program takes a more proactive approach to claims, going beyond concentrating simply on compliance, and allowing the company to direct resources where they are needed the most.
Brown's emphasis on innovation continued when he contributed to Sedgwick's Industry Advancement Program, which focuses on identifying and training employees who show a strong interest in claims early in their careers.
His industry insights were not limited to just his company. Brown also followed issues that would affect claims throughout the industry such as the use of medical marijuana, factors related to workers who telecommuted, as well as the implications of benefits for same sex marriages. Each of these factors would have an impact on how workers' compensation claims were handled.
Related: Disrupting insurance is hard: How to make It easier (or at least less hard)
Improving the industry
Brown understands that the insurance claims industry has changed significantly over the last 15 years and carriers and third-party administrators must stay ahead of, or at the very least, abreast of those changes. He shares that "there has been more of a focus on advocacy — which requires a great deal of understanding on the part of the claims professional. When it works well, outcomes are optimized."
His vision and contributions to the company and industry at large were recognized again in 2015, when he was promoted to Sedgwick's executive vice president and chief claims officer, serving as the firm's highest-ranking claims executive. Brown acknowledges that he finds working in the insurance industry incredibly rewarding. "While my degree is in business finance, my job is all about outcomes and compliance. The tactics to obtain the best outcomes are certainly debatable, but I have found that I'm able to use my business education to approach the work I do and improve outcomes for our customers and claimants."
Brown's expertise and commitment to the industry are evident. Before coming to Sedgwick, he taught a number of workers' compensation courses at the American Insurance Education Association. He is a frequent speaker at industry events, in addition to authoring multiple articles to help educate the industry on a wide range of workers' compensation topics.
He also recognizes how fortunate he was to have exceptional mentors during his career. "Watching many of my colleagues leverage their creativity to improve the claims process has had a significant impact on me."
Related: The digital dam is about to burst on America's insurance industry
What lies ahead?
Technology is providing a variety of benefits to carriers and third-party administrators, and Brown sees its incorporation into the claims process as one of the important changes for the industry. The ability to file claims electronically as well as by phone, quickly identify additional services that may be needed and expedite payments to insureds are all positive aspects.
However, he also sees some challenges on the horizon. "I think certain jurisdictions can make it difficult to maximize the claims experience on behalf of the claimant because of laws that were written years ago." And that is one of the reasons why Brown has advocated for improved legislation — he wants claimants to have the best outcomes possible.
Brown's commitment to and vision for the insurance claims industry are just two of the reasons why he was selected as the ACE Claims Luminary of the Year, and he does not take this honor lightly. "It means everything to me. It sometimes takes a while to understand or see the outcome of the work we do," he explains. "Receiving this award reinforces the importance of making a difference in the claims industry."
Patricia L. Harman (pharman@alm.com) is editor-in-chief of Claims magazine.