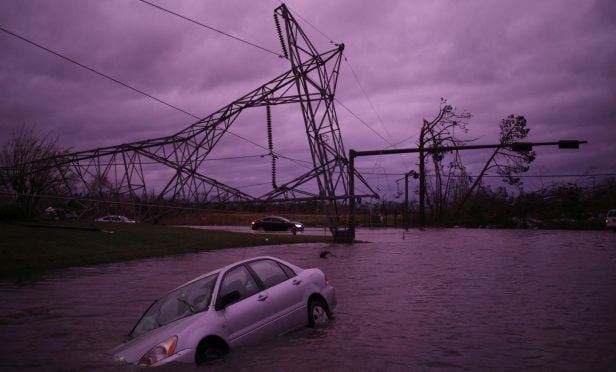 Powerful Hurricane Michael, now a tropical storm, leaves a path of destruction in Florida and elsewhere, including flooding and downed power lines. Hundreds of thousands of people are without power.
Insurance agents can be helpful resources following big disasters.
The U.S. Consumer Product Safety Commission (CPSC) is warning residents in hurricane-impacted areas about the deadly dangers that exist during and after the storm. "The aftermath of the storm is very dangerous and consumers need to take appropriate safety precautions to keep their families safe," says CPSC Acting Chairman Ann Marie Buerkle.
Risk of CO poisoning & fires
During power outages, the risk of carbon monoxide (CO) poisoning and fires increase. Here's how you can keep your family safe:
Use portable gas generators safely. Read the label on your generator and the owner's manual before use.
Use your generator outside your house only, at least 20 feet from your home.
Never use a generator inside a home, garage or shed. Carbon monoxide from generators is poisonous and can kill you in minutes. CO is called the "invisible killer" because you cannot see it or smell it.
Make sure you have working CO alarms in your home. They should be placed outside separate sleeping areas and on each floor of your home.
Make sure you have working smoke alarms too. Check the batteries! They should be placed on every level of your home, outside sleeping areas and inside each bedroom.
Related: Have a backup generator? Make sure you do these 13 things
Poisonous carbon monoxide from portable generators can kill you and your family in minutes. CO, the invisible killer, is colorless and odorless. According to the Centers for Disease Control and Prevention (CDC), more than 400 people die each year in the United States from CO poisoning. CPSC estimates about 70 of those deaths are related to portable generators.
Other hazards include:
Charcoal danger
Never use charcoal indoors. Burning charcoal in an enclosed space can produce lethal levels of carbon monoxide.
Candles
Use caution when burning candles. Use flashlights instead. If you must use candles, do not burn them on or near anything that can catch fire. Never leave burning candles unattended. Extinguish candles when you leave the room.
Wet appliances
Look for signs that your appliances have gotten wet. Discard electrical or gas appliances that have been wet because they pose electric shock and fire hazards.
Before using your appliances, have a professional or your gas or electric company evaluate your home and replace all gas control valves, electrical wiring, circuit breakers, and fuses that have been under water.
Gas leaks: If you smell gas, report it
If you smell or hear gas, do not turn lights on or off, or use electrical equipment, including a phone. Leave immediately and call 911.
Additional tips for insurance clients
Listen to authorities for information and special instruction.
Save phone calls for emergencies. Use text messages or social media to communicate with family and friends.
Avoid tap water. Public water may be contaminated after a severe storm. Use bottled water for drinking, washing hands and dishes, brushing teeth, and making ice.
Use caution around debris. Sharp objects, broken glass, or exposed nails may cause injuries that could lead to infection.
Avoid driving if possible. If you have to travel, turn around if the road is flooded or blocked by debris.
Watch for downed wires. Downed power lines may be hidden by debris or fallen trees.
Never touch any downed wire or attempt to remove tree branches from power lines – it can kill.
Don't step in standing water or saturated ground where downed lines may be present. They could be electrified.
Avoid chain link fences. They may be electrified by a downed line out of sight and conduct electricity over great distances.
Displaced wildlife is going to be a major issue — alligators, snakes, etc. Anyone walking around debris should wear heavy boots and gloves. Be very careful about where you put your hands and what you touch.
Assess the damage to your home, and make temporary repairs to prevent further destruction.
Hold off on permanent repairs until your insurance adjuster approves your reimbursement.
Cover broken windows and damaged roof coverings immediately.
Remove standing water from your home.
Keep all receipts related to repairs and temporary housing.
Related: Preparing to respond to a catastrophe? Here's what you need to know