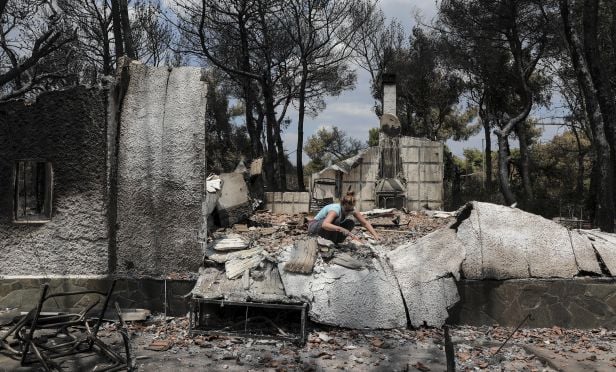 California, and other parts of the country, including Colorado and Washington, continue to battle destructive wildfires.
At last report, the Carr Fire in northern California has burned a staggering 1,018 homes and killed six people in and around Redding, according the Associated Press. The fire has burned more than 180 square miles and is only about 35% contained. And that's just one blaze.
Across the globe, Greek firefighters say that at least 74 people were killed in wildfires in the country's Attica region, which includes Athens, as a summer heatwave has increased the risk of blazes across Europe.
And new fires continue to erupt. Children attending summer camps and others have been told to leave immediately as a wildfire burns in a wilderness area in south-central Washington. And the list grows.
Flash flooding a real danger
Although wildfire property damage can be huge, often the danger is not over after the flames are put out. Flash flooding, structural damage, road instability and damaged trees are just some of the dangers that homeowners face after a wildfire.
Related: Firefighters across Europe rush to help Sweden battle wildfires
Here are some important tips insurance agents can share with clients on what homeowners who have been displaced by a wildfire should and shouldn't do upon returning to their homes:
Do's:
1. Listen to authorities to find out when it is safe to return, and whether water is safe to drink.
2. Use caution when re-entering a burned area — flare-ups can occur. If you find fire, call 911 immediately.
3. Wear a mask rated N-95 or better while cleaning up.
4. Put on gloves, long pants and a long sleeve shirt. Wear boots with good soles.
5. Walk carefully. When ash gets wet, it can be slippery.
6. Check you property for hot spots: smoldering stumps and vegetation, ash pits (holes created by burned trees filled with hot ash).
7. Check the roof and exterior of your house for sparks and embers. Be sure to check rain gutters, under decking, in crawlspaces and in any piles of debris for embers.
8. Check for the smell of gas. If you smell gas, leave the house and turn the supply off at the tank or outside valve. Open the doors and windows and contact your utility provider.
9. Check the attic and throughout the house for hidden burning sparks and embers.
10. Give your pets a bath to get rid of ash.
11. Wash toys before children play with them.
12. Throw away frozen food that might've thawed during a power outage. Also, throw away food, beverages or medications that were not in airtight containers. This includes products that have been stored in cardboard or other soft packaging.
13. Toss plastic bottles, like bottles of water, that have ash on the caps. Rinsing bottle caps is not enough to decontaminate the containers.
14. Place any ash you collect into a plastic bag, so it doesn't blow away.
15. Document property damage with photographs or video. Conduct an inventory and contact your insurance agent for assistance.
16. Ask your insurance provider what you should do about covering broken windows, doors, and other exposed areas, pumping out water and any other activities you may need to do to secure your home.
Don'ts
1. Don't start cleaning or throwing away anything until you have contacted your insurance company.
2. Don't turn on a flashlight inside a damaged home. The battery may produce a spark that could ignite leaking gas, if present.
3. Don't turn on your electricity if you seen any damage to your meter.
4. Don't try to fix any damaged gas meters, gas lines or propane tanks. If you find damage, call your local utility provider.
5. Don't touch any downed wires. Again, call your utility provider.
6. Don't let kids play in the ash whether its dry or wet.
7. Don't let ash linger on our skin. If ash does get on your skin, wash it off using warm water and soap.
8. Don't eat the food in your refrigerator if there was a long power outage.
9. Don't kick up more ash into the air. Avoid using your leaf blower to clean up the ash. The Los Angeles County Department of Health suggests sweeping the ash carefully, and then using a wet mop.
10. Don't use your average home vacuum cleaner to clean up ash unless it has a HEPA-filter. Regular vacuum cleaners will just blow the particles back into the air.
11. Don't plug a generator directly into your home's electrical panel or power meter — the power can flow back out onto the wires on the street and give workers a bad shock.
12. If you have a safe or strong box, do not try to open it. It can hold intense heat for several hours. If the door is opened before the box has cooled, the contents could burst into flames.
13. Cleaning products, paint, batteries and damaged fuel containers need to be disposed of properly to avoid risk.
14. Don't use water that you think may be contaminated to wash dishes, brush teeth, prepare food, wash hands, make ice or make baby formula.
15. Don't attempt to open or save any container of potentially hazardous material (or of unknown content) that has been burned or is bulging.
16. Don't assume the Federal Emergency Management Agency (FEMA) is the only financial assistance you need. A Presidential Disaster Declaration must be established in order for a community to become eligible for FEMA funding. Ensure your expectations of FEMA are realistic. FEMA does not replace homes or businesses (except in extremely rare cases). FEMA assistance, when provided, is not a substitute for insurance but rather will provide minimum assistance to get people on their feet after a disaster.
Finally, use caution and good judgment. Most burned structures will be unstable. Ultimately, you are responsible for your own safety and well-being.
Sources: FEMA/Ready.gov; Colorado State University Extension; American Red Cross; Ready For Wildfire; Los Angeles County; British Columbia government.
See also:
The aftermath of wildfires: Insurance coverage questions answered
3 ways insurers can avoid a customer experience crisis during a disaster