By now, people are facing the unpleasant — and sometimes disheartening — task of cleaning up after Hurricane Matthew and the lingering flooding.
While cleaning up their homes, many are also tasked with helping to clean up their workplaces, leading to safety concerns for employers and employees.
Response and recovery workers in hurricane-affected areas encounter hazards ranging from contact with live electrical equipment to animal bites, as well as exposure to hazardous substances or infectious materials, notes the Occupational Safety and Health Administration. Employers and employees should take preventive measures to ensure safety during recovery and clean up, advises the Texas Department of Insurance, Division of Workers' Compensation.
Here are some tips to ensure that your employees stay safe while assisting with getting the workplace back in shape:
Related: After Hurricane Matthew: Here are 6 tips on how to get ready for the next one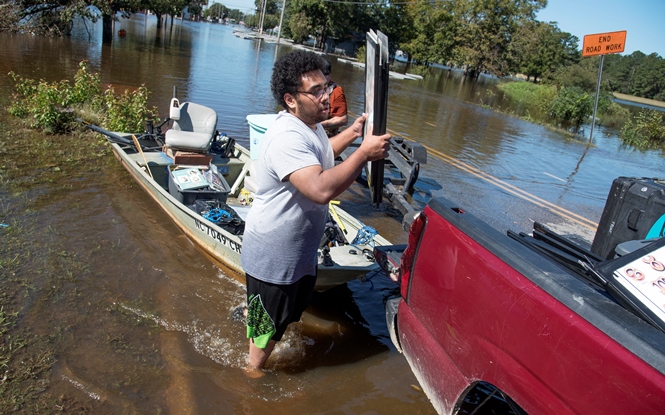 Derrick Campbell helps load equipment that he and other employees carried out on a boat from Wicked Skinsations in floodwaters caused by rain from Hurricane Matthew in Lumberton, N.C., Oct. 12, 2016. (Photo: AP/Mike Spencer)
1. Evaluate the worksite
Inspect the worksite before allowing employees to enter. Evaluate building structures, roadways, surfaces, trenches and excavations for damage, stability and safety.
Have a plan for contacting emergency personnel in the event of an emergency while you're inspecting the property.
Maintain evacuation routes in case an evacuation becomes necessary.
Report hazards such as downed power lines, frayed electrical wires, gas leaks or snakes to the appropriate authorities.
Limit access or set up controlled access zones until a structure's stability and structural integrity are known.
Conduct all necessary activities from outside damaged structures to the extent feasible.
Install temporary structural support, such as shoring or bracing, adequate to protect workers.
Assume that electrical lines are live until proven otherwise.
Don't approach any gas leaks. If a gas leak is detected, secure spark-producing devices and tools, and evacuate the area until the leak is secured.
Consider the potential for asbestos-containing materials in buildings constructed before 1980, and plan for appropriate remediation measures.
Related: Insurance claims from Hurricane Matthew inundating agents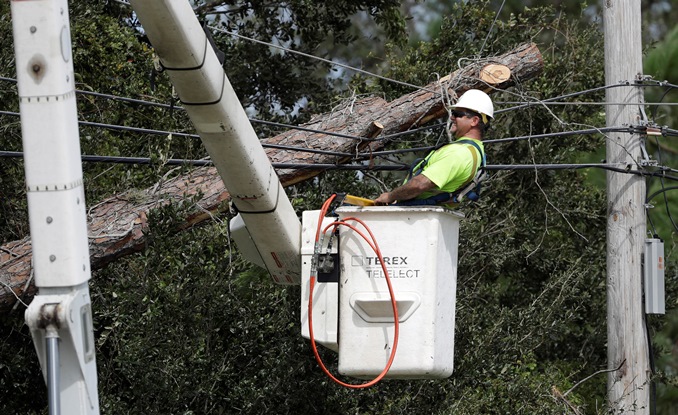 A worker removes a fallen tree from a power line as crew try to restore power lost in areas affected by Hurricane Matthew, Oct. 8, 2016, in Flagler Beach, Fla. (Photo: AP/Eric Gay)
2. Check for exposure to hazards
Monitor the clean-up site for hazards, especially when required by a specific OSHA standard, for example, for lead, asbestos, benzene and noise.
Mitigate any hazards, first by eliminating the hazard from the work area, for example, repairing or removing down power lines.
Use engineering controls as appropriate, by providing ventilation to a permit-required confined space, using heavy equipment with temperature-controlled cabs and placing barriers around the swing radius of an excavator or backhoe, for example.
Use appropriate personal protective equipment, such as snake gaiters and boots to protect from snake bites, and respirators to avoid breathing air that may be contaminated with infectious waste or mold, as well as hard hats, safety glasses and work gloves.
Warn employees to be on the lookout for dead animals, especially rodents, that may carry disease or be infected.
Remove nonessential personnel from the area during high-hazard operations.
Decontaminate personnel and equipment after contact with contaminated floodwater or chemicals.
Related: Homeowners in path of Hurricane Matthew are less likely to be insured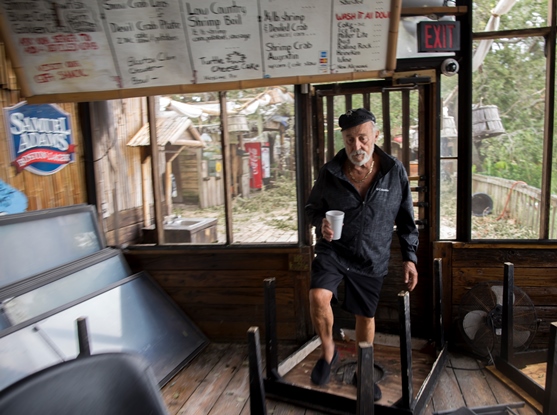 Crab Shack restaurant owner Jack Flanagan walks through the dining area of his business near Tybee Island, Ga., after winds and storm surge from Hurricane Matthew hit the small community along the east coast of Georgia, Oct. 8, 2016. (Photo: AP/Stephen B. Morton)
3. Follow good work practices
Plan for frequent rest breaks, especially when workers are lifting heavy, water-laden objects.
Provide first-aid kits to care for minor cuts and abrasions. Remind employees to wash and sanitize cuts and scrapes promptly, bandage or cover cuts and scrapes, and keep them from coming in contact with polluted or contaminated floodwater.
Inform employees in areas where debris is being collected and deposited of any special hazards they may encounter during recovery and clean-up efforts.
Don't allow employees to consume food or beverages that were exposed to floodwaters or perishables that may have spoiled.
Don't allow employees to eat, drink or smoke in areas containing debris, floodwaters or sludge.
Remind employees to wash their hands before eating, drinking, smoking or using the restroom. If safe drinking water isn't available, use hand sanitizer or commercial sanitizing wipes.
Ensure that you have immunization records and blood types available for all employees in case of injury.
Related: Hurricane categories explained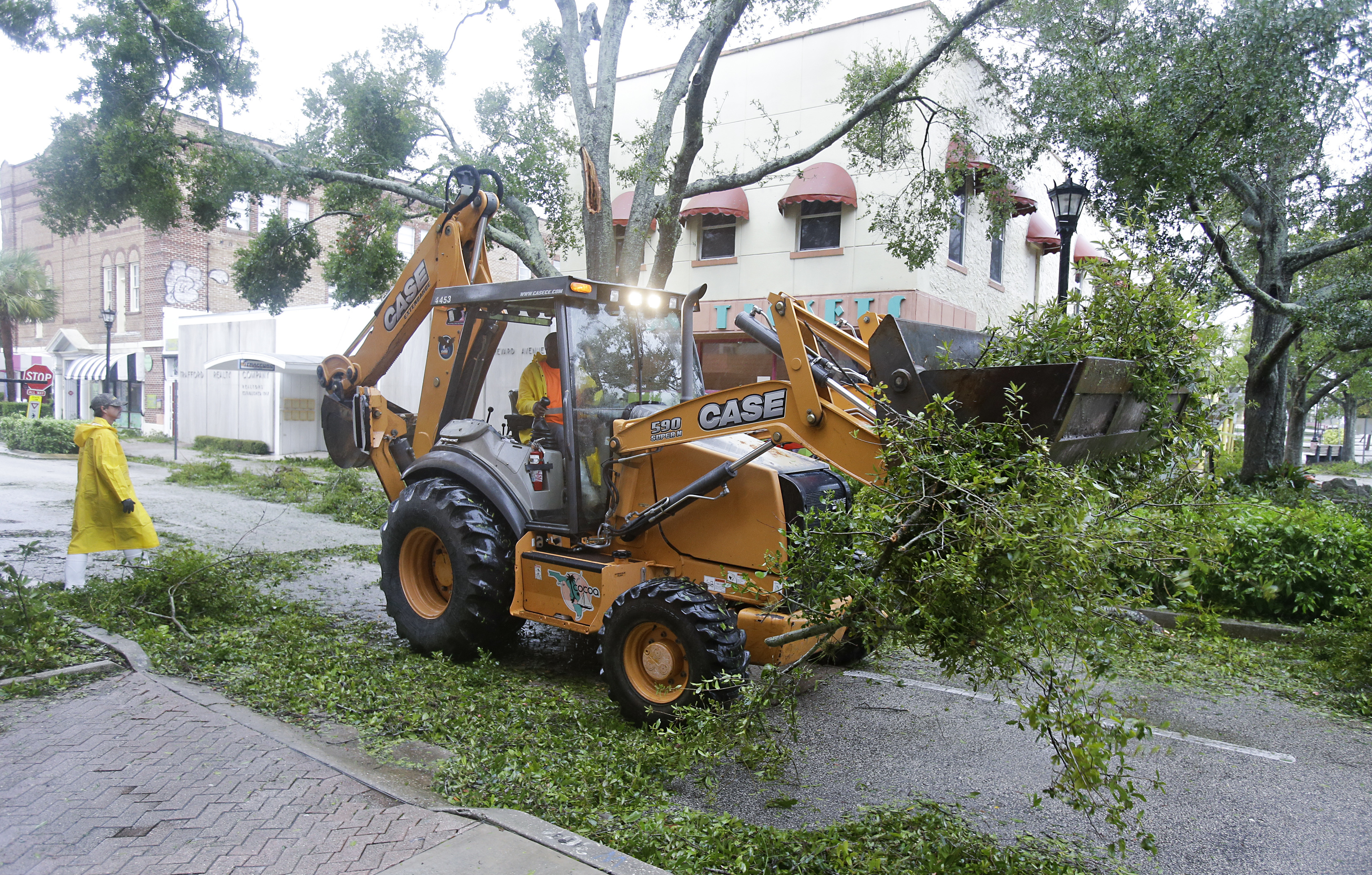 As Hurricane Matthew moves through the area, workers clear tree limbs and debris from a street Oct. 7, 2016, in Cocoa, Fla. (Photo: AP/John Raoux)
4. Keep traffic safety in mind
Protect employees exposed to vehicular traffic during the clean-up operations by posting warning signs along roadways to warn drivers of work in progress.
Use flaggers, traffic cones and highway channeling devices to steer traffic away from employees working along the roadway.
Provide all employees with high-visibility reflective vests to be easily spotted by equipment operators, emergency vehicles, drivers and others.
Ensure all motorized equipment has operational back-up alarms, so nearby employees are aware of movements.
Provide radio equipment and extra batteries to all spotters and equipment operators, so warnings can be communicated.
Require the use of seatbelts and rollover protection for all equipment when hazards of tip-over are present.
Don't allow employees to enter debris piles while the debris is being worked by mechanical equipment.
Related: 5 types of land development vulnerable to natural disasters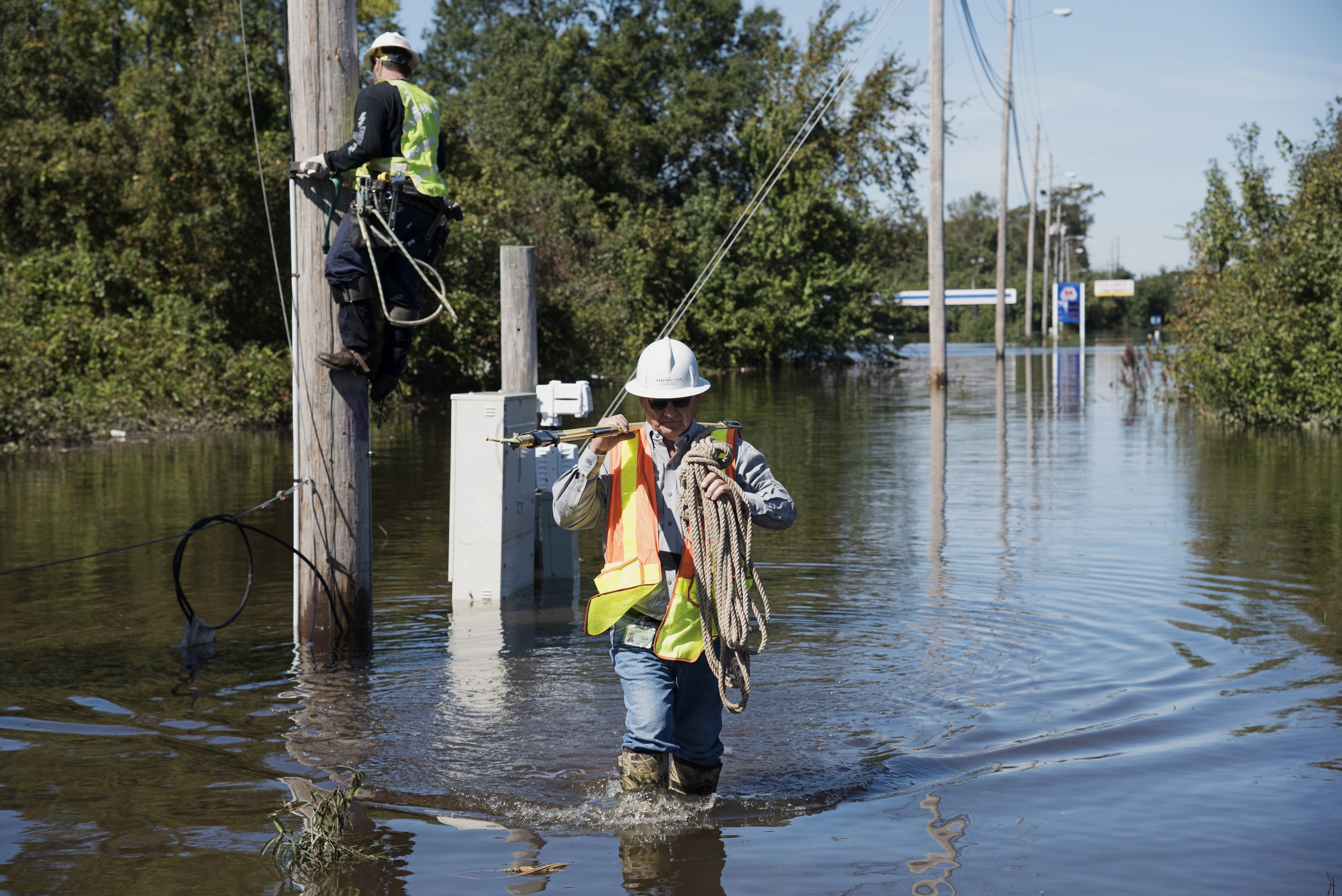 A lineman works to restore power lines near I-95 after the area was flooded by rain from Hurricane Matthew in Lumberton, N.C., Oct. 11, 2016. (Photo: AP/Mike Spencer)

5. Provide for personal protection
Have insect repellent containing DEET or Picaridin to prevent insect bites on hand.
Have appropriate equipment for fall protection, and chemical-protective clothing if employees might come into contact with hazardous chemicals.
Employees should wear safety glasses with side shields to protect their eyes from flying objects, large chips and particles.
Employees working on, over or near water that presents a drowning hazard must wear appropriate personal flotation devices, approved by the U.S. Coast Guard. Employers must also provide a lifesaving skiff and a ring buoy, as appropriate.
Employees should wear earmuffs or earplugs, as appropriate, when noise levels exceed 85 decibels. If you can't measure the decibel level, OSHA says that ear protection is appropriate when you can't hold a conversation in a normal speaking voice with a person who is standing at arm's length away.
For more information on minimizing workplace injuries during a disaster clean-up, see OSHA's "General Recommendations for Working in All Impacted Areas."
Related: The verdict's in: Jury awards $8.2M for workplace injury
Save
Save
Save
Save
Save
Save
Save
Save