Updated: 1:50 p.m. ET
(Bloomberg) – A powerful earthquake hit central Italy in the middle of the night, destroying small mountain towns and burying victims in the rubble of collapsed buildings.
At least 120 people were killed, the nation's Civil Protection agency said.
The quake struck at 3:36 a.m., the agency had said in a statement earlier on Wednesday. The death toll continued to climb throughout the day as rescuers search for survivors and bodies amid the debris in the regions of Lazio, Umbria and Marche.
"Everything collapsed, there was just dust, and now there's nothing there," said Silvia, a young woman standing on the side of the road in the hard-hit village of Amatrice, who declined to give her last name.
Series of aftershocks
The 6.2-magnitude tremor hit at a depth of 4 kilometers (2.5 miles) around 43 kilometers from the town of Rieti, according to the Italian Institute of Geology and Vulcanology. Shaking was felt in buildings in Rome and there were a series of aftershocks reported.
Relief efforts were hampered by damage to radio and satellite links, said Civil Protection.
"We must be equipped for the emergencies of the next few hours, days and weeks, but for now the priority above all is to continue searching through the rubble," Prime Minister Matteo Renzi said in a televised address. "I will visit the affected area late this afternoon."
The quake and its aftermath may further complicate Renzi's efforts to put the country back on a stable economic path. He already is facing a make-or-break referendum on constitutional reform in the autumn.
Related: Global insured losses reach $31 billion for first half of 2016
Continue reading …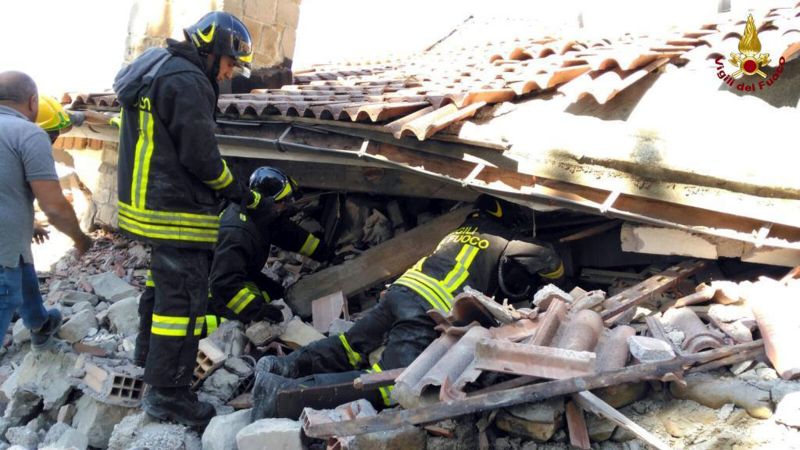 Firefighters search through debris of a collapsed building following an earthquake in Amatrice, central Italy. A strong earthquake in central Italy reduced three towns to rubble as people slept early this morning, with reports that as many as 75 people were killed and hundreds injured as rescue crews raced to dig out survivors. (Italian Firefighters via AP)
'Incredible catastrophe'
Italian President Sergio Mattarella was in close contact with Civil Protection since the early hours of the morning and returned to Rome from Palermo, Sicily, according to a statement from his office. Lazio's regional president, Nicola Zingaretti, described the situation as an "incredible catastrophe" and urged people to not to clog the main relief routes.
Sky TG24 television showed images of collapsed buildings throughout the historical center of Amatrice, with a population of about 2,500, around 140 kilometers northeast of Rome. Relief crews and residents were shown searching through the rubble as injured victims were taken away in stretchers.
Continue reading …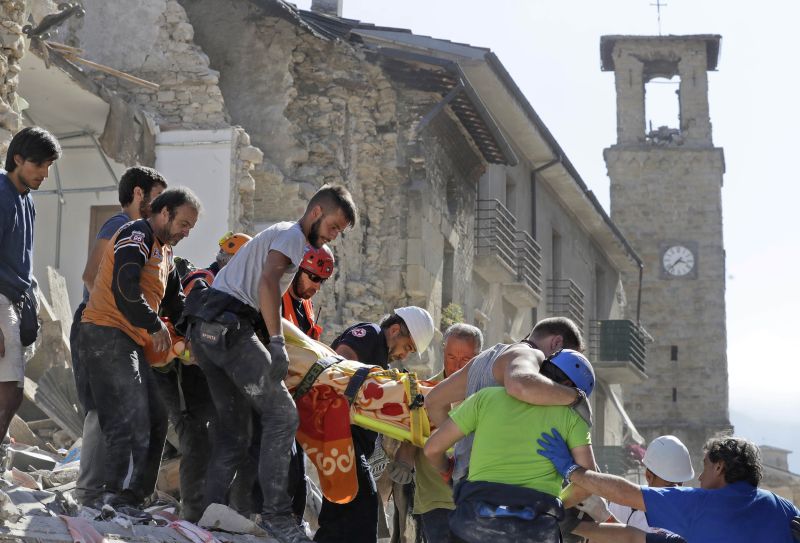 A victim is carried on a stretcher from a collapsed building after an earthquake, in Amatrice, central Italy. The death toll is expected to rise as crews reached homes in more remote hamlets. (Photo: Alessandra Tarantino/AP Photo)
The road leading to Amatrice was filled with cracks and littered with boulders as people, some still in their pajamas, were still streaming away from the worst-hit areas at mid-morning. In the village of Pescara del Tronto, at least 100 people were missing, Sky quoted news agency AGI as saying. Television pictures showed an almost completely collapsed village center. At least one child was rescued from the rubble.
"The houses are gone and people are under, there are likely dead," Amatrice Mayor Sergio Pirozzi told Sky. "Please help us, the roads are closed, please."
The mayor of Accumoli, Stefano Petrucci, told RAI at least four people — a family with two children — were trapped under rubble there and the town had no power. At least one person was killed, he said.
An earthquake in 2009 killed more than 300 people near the city of L'Aquila, about 113 kilometers southeast of Amatrice. Those tremors, the country's deadliest in almost three decades, damaged thousands of buildings in and around the medieval city of L'Aquila and caused billions of euros in damage.
Continue reading …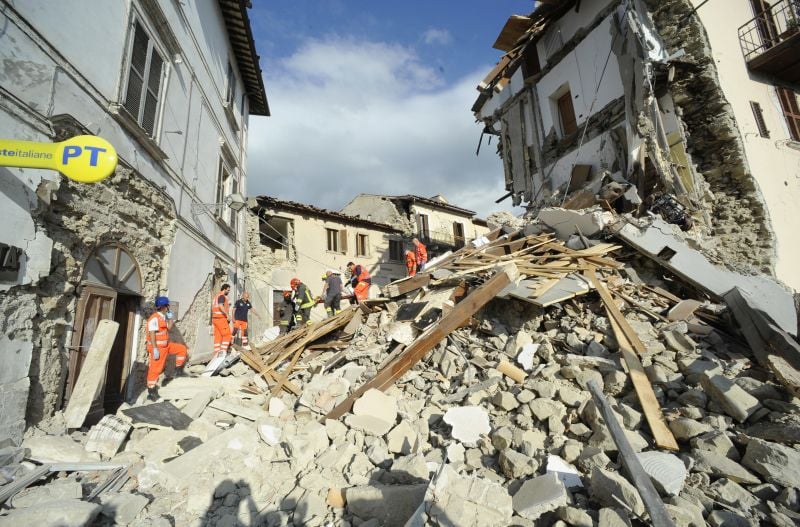 A man is carried on a stretcher after being rescued following an earthquake in Arquata del Tronto, Italy. (Photo: Sandro Perozzi/AP Photo)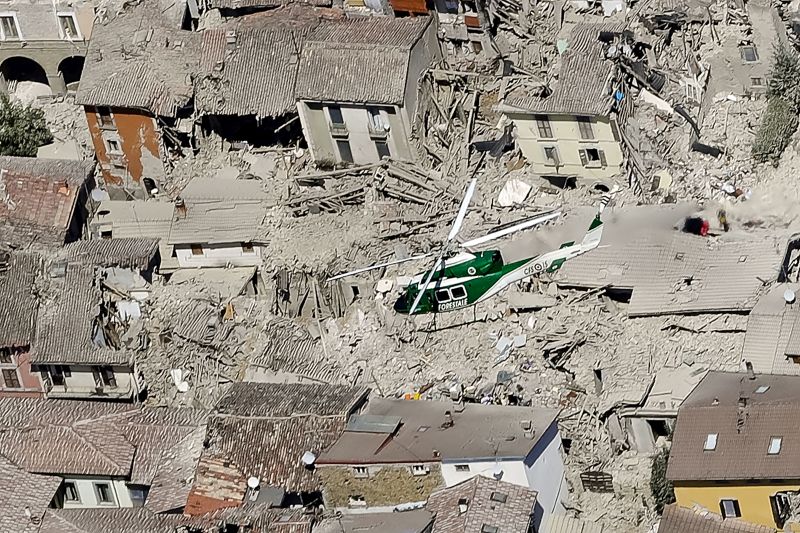 A rescue helicopter flies over rubble following an earthquake in Amatrice, central Italy. (Photo: Gregorio Borgia/AP Photo)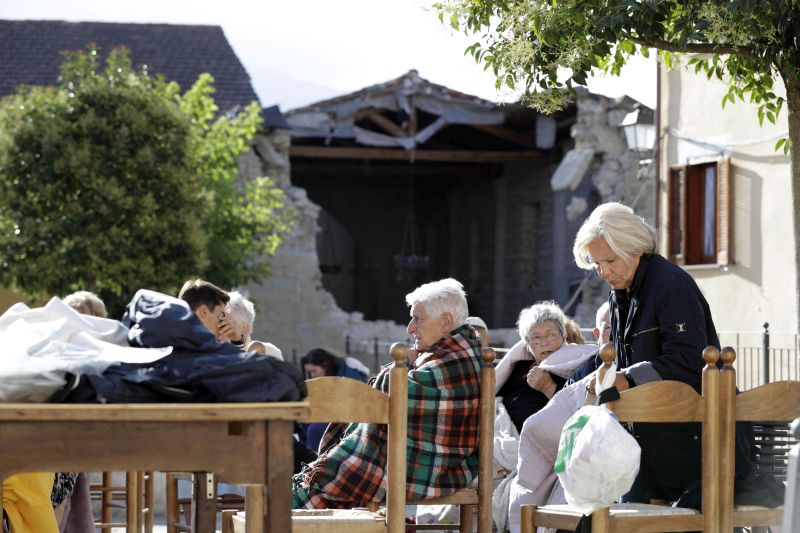 Residents sit outdoors following an earthquake in Cumuli, central Italy. A strong earthquake in central Italy reduced three towns to rubble as people slept early this morning. The temblor shook the Lazio region and Umbria and Le Marche on the Adriatic coast. (Photo: Andrew Medichini/AP Photo)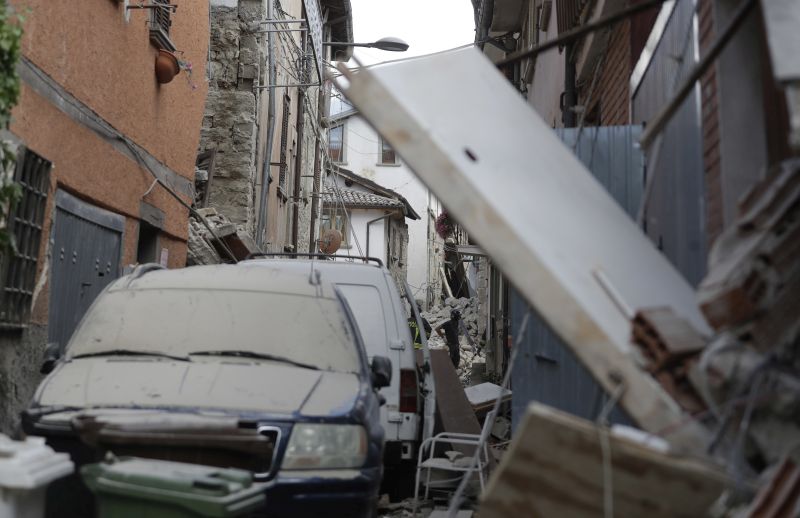 Rubble and damaged vehicles following an earthquake in Amatrice, central Italy. Hundreds have been injured as rescue crews raced to dig out survivors. (Photo: Alessandra Tarantino/AP Photo)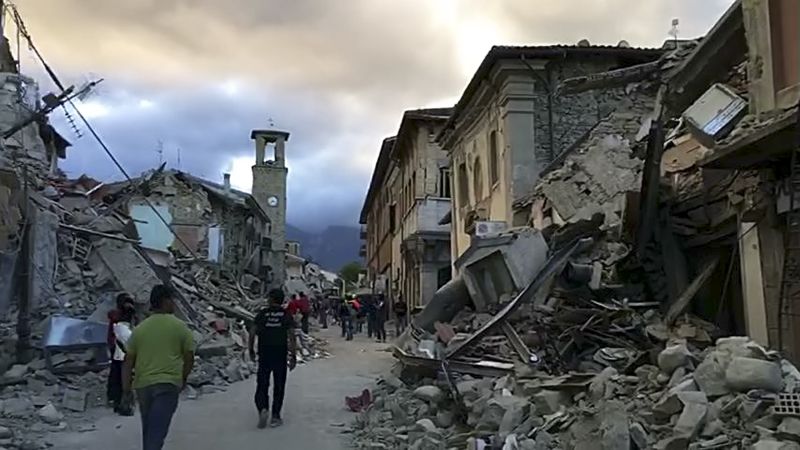 This still image taken from video shows the center of Amatrice, central Italy, where a 6.2 earthquake struck just after 3:30 a.m., Wednesday. The quake was felt across a broad section of central Italy, including the capital Rome where people in homes in the historic center felt a long swaying followed by aftershocks. (AP Photo)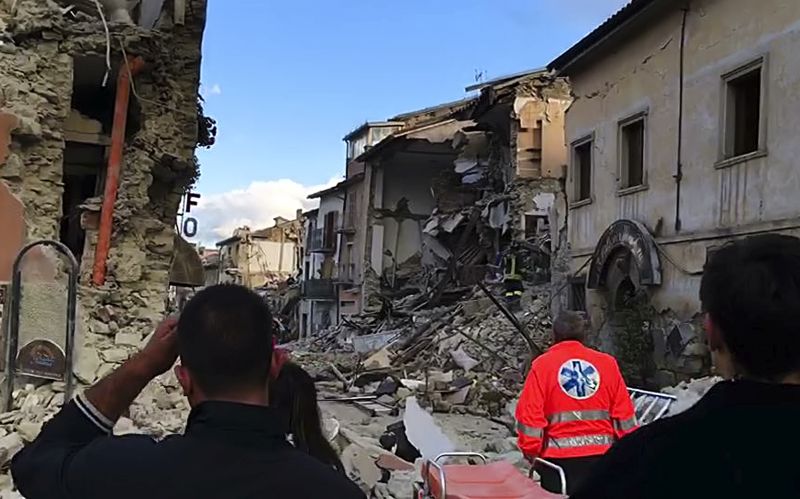 This still image taken from video shows the destruction in Amatrice, central Italy, where a 6.2 earthquake struck just after 3:30 a.m., Wednesday. (AP Photo)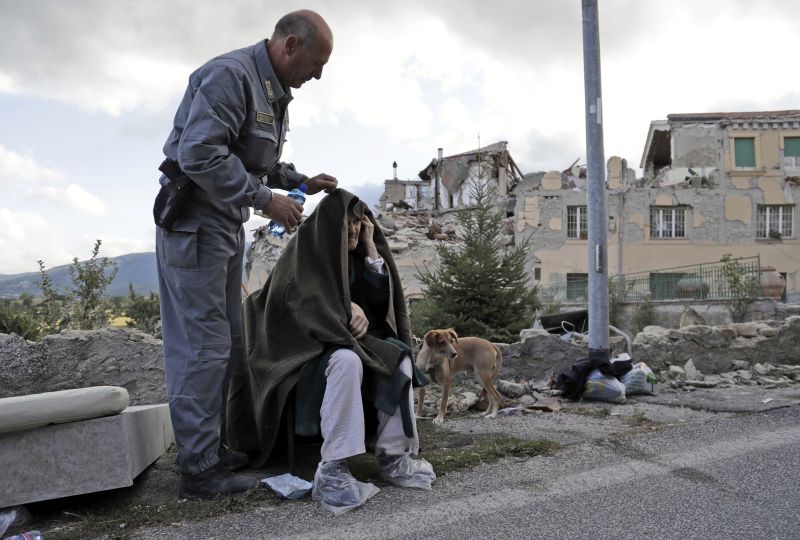 An elderly man is given assistance as collapsed buildings are seen in the background following an earthquake, in Amatrice, Italy. (Photo: Alessandra Tarantino/AP Photo)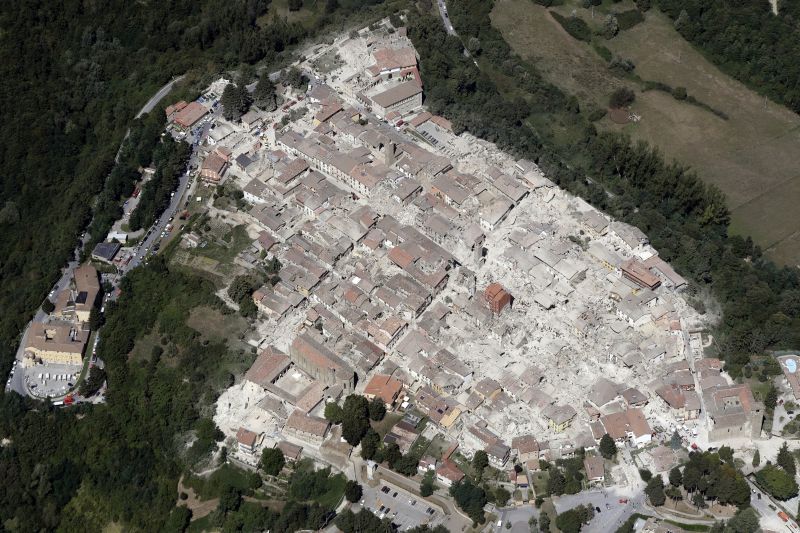 This aerial photo shows the damaged buildings in the historical center of the town of Amatrice, central Italy, after an earthquake, Wednesday. (Photo: Gregorio Borgia/AP Photo)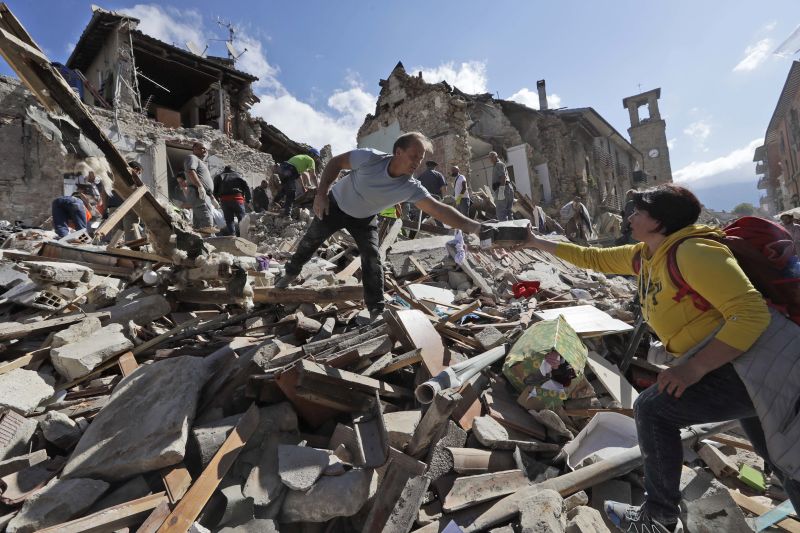 Survivors search through the rubble of the town of Amatrice, Italy, Wednesday, following an earthquake. (Photo: Alessandra Tarantino/AP Photo)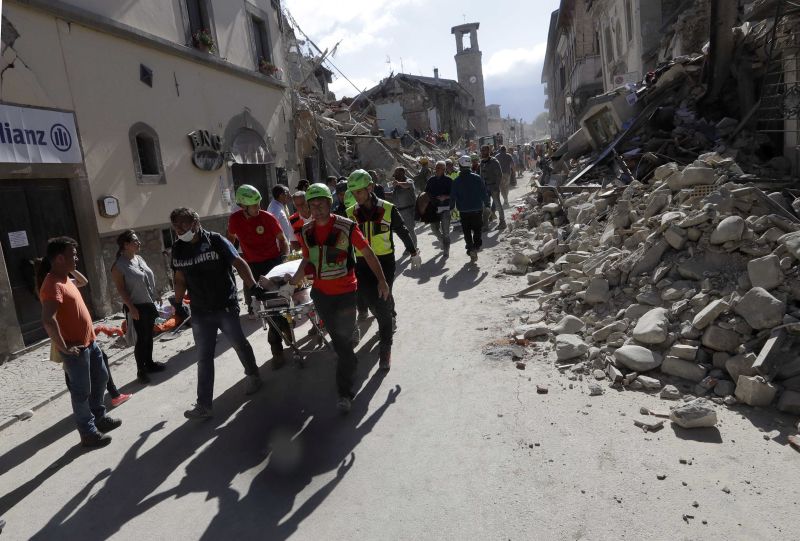 The body of a victim is pulled out of the rubble following an earthquake in Amatrice, Italy, Wednesday. (Photo: Alessandra Tarantino/AP Photo)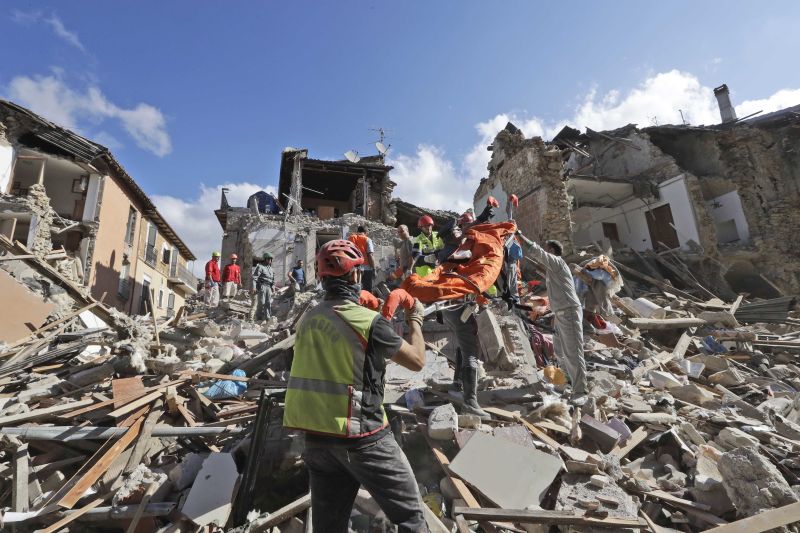 The body of an earthquake victim is rescued from under the rubble of the town of Amatrice, central Italy, Wednesday, following an earthquake. A strong earthquake rocked central Italy early Wednesday, collapsing homes on top of residents as they slept. (Photo: Alessandra Tarantino/AP Photo)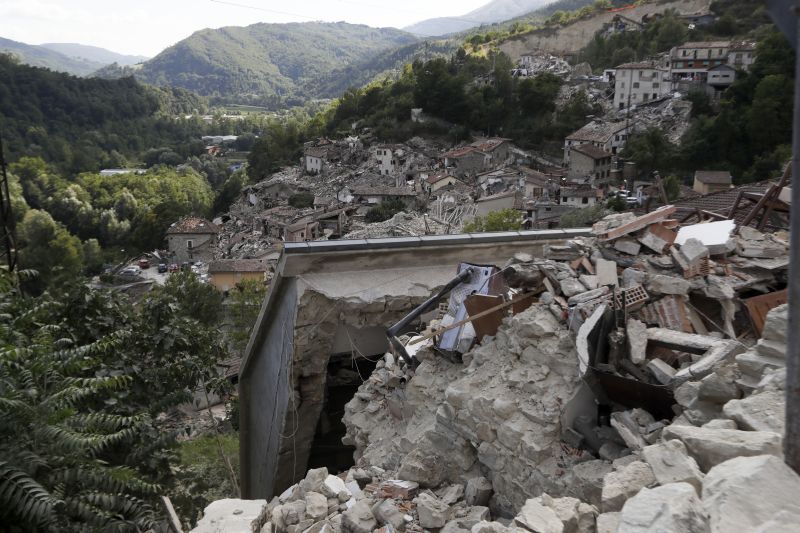 A view of collapsed houses following an earthquake in Pescara Del Tronto, Italy, Wednesday, Aug. 24, 2016. (Photo: Andrew Medichini/AP Photo)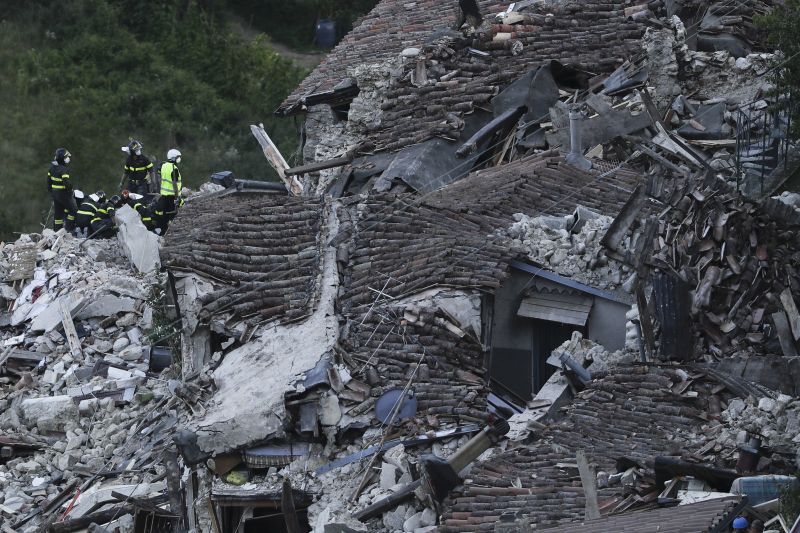 Rescuers search amid rubble following an earthquake in Pescara Del Tronto, Italy, Wednesday, Aug. 24, 2016. (AP Photo/Gregorio Borgia)
Related:
9 dead in Peru's Colca Valley after 5.2 quake
Unsteady market for earthquake cover puts half-million Missourians at risk