The relationship between insurers and their policyholders is typically infrequent, fleeting and transactional. Because of this, carriers have not needed to be at the leading edge of informational technology, Deloitte says in its "Tech Trends 2015: The fusion of business and IT" report.
In fact, while other businesses have migrated from legacy systems to mobile and cloud solutions, insurers remain some of the largest users of mainframe technology. But this is changing. Carriers' appetites for more data—for better underwriting and risk selection—and desire to drive down costs are fueling a move toward becoming more customer focused.
Deloitte analyzes these trends, and others, in its sixth "Technology Trends" report, including how each of these trends applies to and can impact insurance companies. Read on for more.
1. CIO as Chief Integration Officer
Increasingly, CIOs need to harness emerging disruptive technologies for the business while balancing future needs with today's operational realities. The CIO must be the driving force for intersection, IT-heavy initiatives—even as the c-suite expands to include roles such as the chief digital officer, chief data officer and chief innovation officer.
CIOs should build capabilities in three areas, Deloitte says. First, they should put their internal technology in order; second, they should leverage advances in science and emerging technology to drive innovation; and third, they should focus less on technology management and more on strategy.
To accomplish these goals, Deloitte recommends that CIOs create a mechanism for scanning and experimentation, build a culture that encourages failure, and collaborate to solve tough business problems.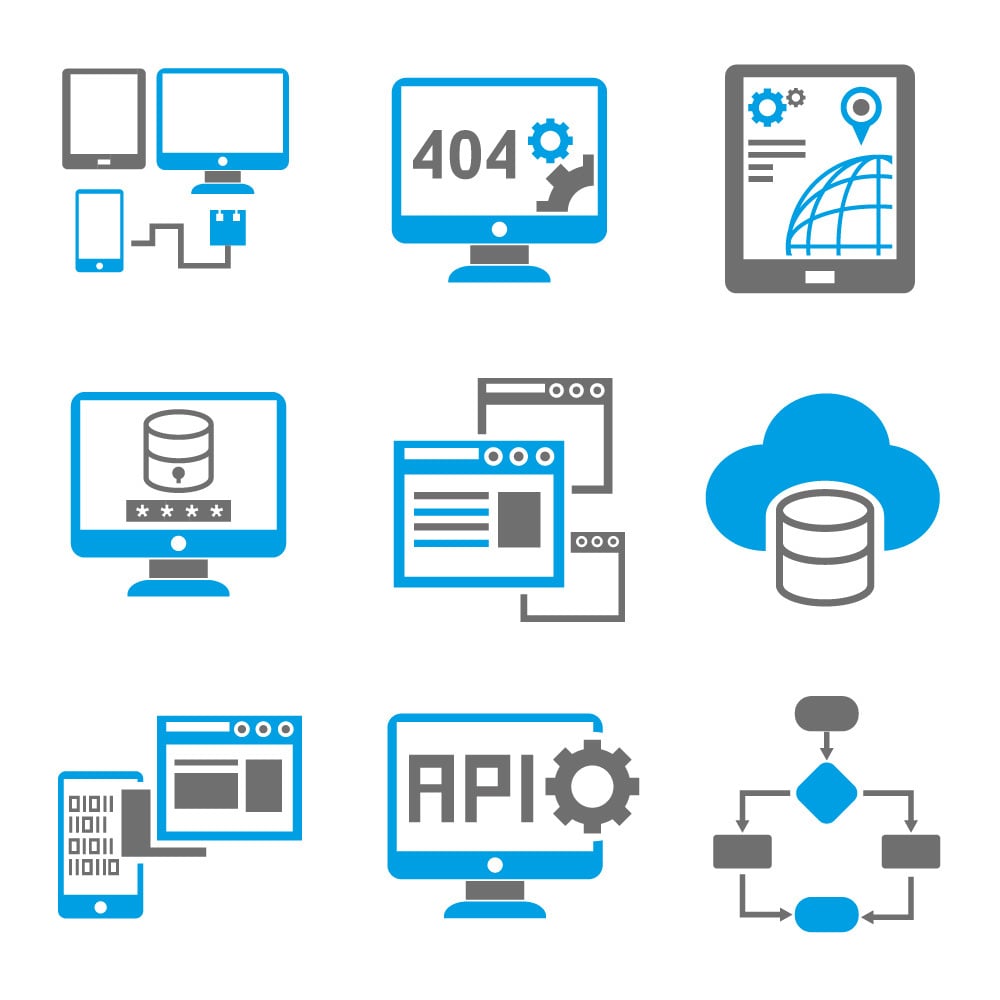 Photo/Shutterstock)
2. API Economy: From systems to business services
Application programming interfaces (API), i.e., routines, protocols and tools for building software applications, have been elevated from a development technique to a business model driver.
Public and private APIs provide value to insurers in four ways: through core insurance systems, in developing common insurance services, through government regulatory agencies and via intermediaries.
For example, software vendors can create APIs in their product development teams and share APIs among their client base. "This strategy has proven to be affective, particularly with regard to common insurance functions (e.g. address verification, standard industry transactions, geocoding) that need to be used by every customer," Deloitte writes in its report. In one such case, policy administration vendor Duck Creek teamed with Pitney Bowes to develop an API to validate address information and enrich address-related data for policy administration quote and issuance, according to the report.
From a regulatory perspective, many states require real-time verification of insurance data. Government entities can leverage APIs to simplify their access to insurance information.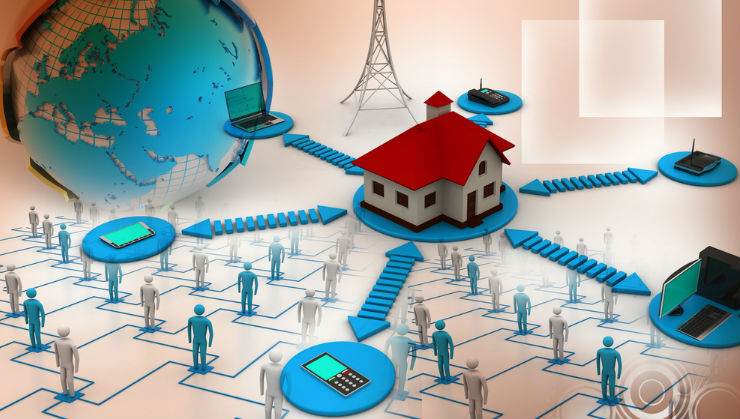 (Shutterstock/horoscope)
3. Ambient Computing: Putting the Internet of Things to work
Along with big data, the Internet of Things (IoT) will greatly impact the insurance industry. Companies now are exploring IoT, but only vaguely understand its potential.
Traditionally, underwriting risk has been a reflection of historical patterns of the behavior, Deloitte says in its report, but with the development and growth of the IoT, insurers now have a more accurate picture of risk exposure.
More consumer data is being tracked today than ever before, through wearable devices, smart thermostats and smart alarms. These technologies make it easier for companies outside of the insurance industry to enter the insurance market and become competitors.
At State Farm and PURE Insurance, policyholders who have smart home technologies—including smart thermostats that prevent water pipes from freezing or monitoring technology that prevents cooking fires from causing significant damage—are receiving discounts on their Homeowners' insurance. The result? More data for the insurer, and more personalized policies.
This technology extends beyond personal lines. High-tech sensors in agriculture fields provide farmers with data on crop health, soil condition, environmental conditions and pest infestations. Access to this data gives carriers an opportunity to become business partners with their policyholders, Deloitte says, by offering services that better analyze data to help farmers improve productivity.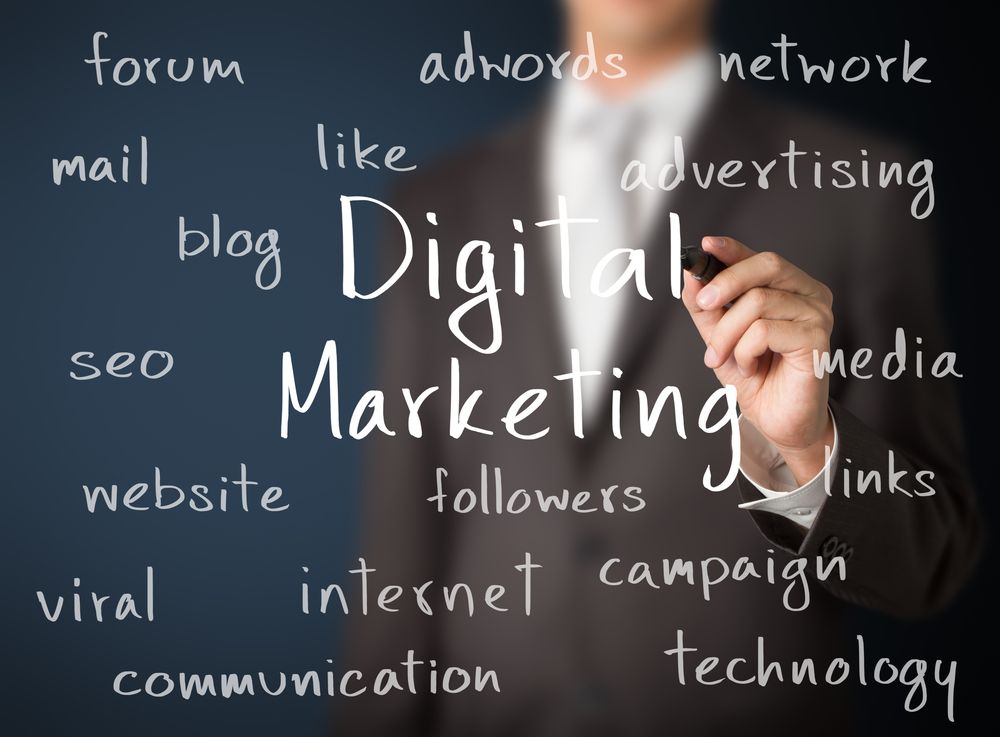 (Photo: Shutterstock)
4. Dimensional Marketing
As CMOs and CIOs invest in technology for marketing automation, omnichannel approaches and content development, this will bring new challenges in the areas of customer engagement, data and connectivity.
A single view of the insured is vital for personalized engagement. "The integration of touch points, social media, quotes, history and underwriting data into a customer relationship management platform enables enhanced analysis of the customer journey and helps direct what content, what services and what offers to supply prospective policyholders," the report states.
Through mobile phone quoting, customers can take a picture of their driver's license and vehicle identification number prior to quote generation. Add in enrollment via text messaging and online chats, and insurers have compelling portals for agents to easily quote, convert and enroll.
With streamlined capabilities across channels, carriers are becoming partners with agents in selling and servicing the process. "By enabling agents to be more productive, and more focused on selling, the carrier becomes the operations behind the agent, not just the source of the product and packaging," Deloitte says in its report.
5. Sofware-defined Everything
The entire operating environment—server, storage and network—can be virtual and automated. Tomorrow's data centers not only lower costs, but improve speeds and reduce complexity of provisioning, deploying and maintaining technology footprints.
6. Core Renaissance
Carriers are looking for ways to increase efficiency and reduce costs. Policy, billing and claims are the core of the insurance business, and insurers of all sizes are investing in these systems to expand business growth and enhance customer experience.
Core renaissance efforts vary, but usually include a combination of the following approaches (image sourced from Deloitte's report):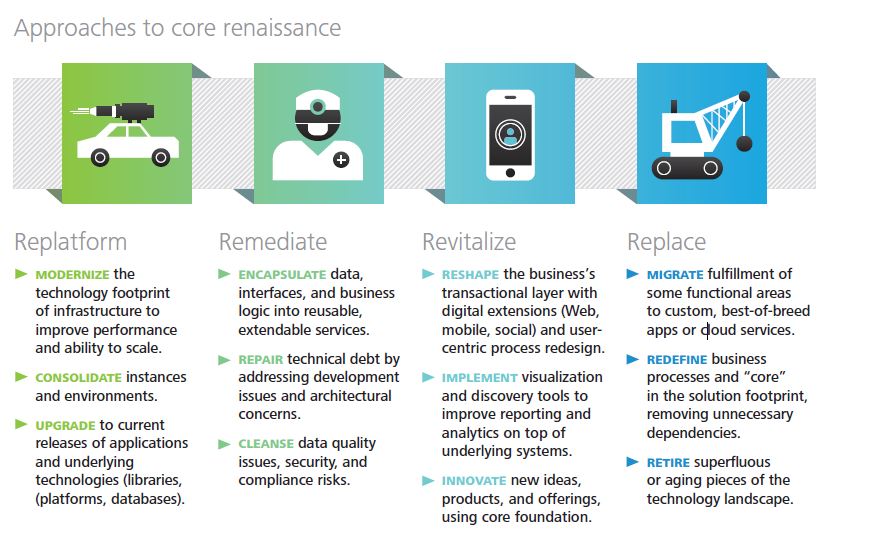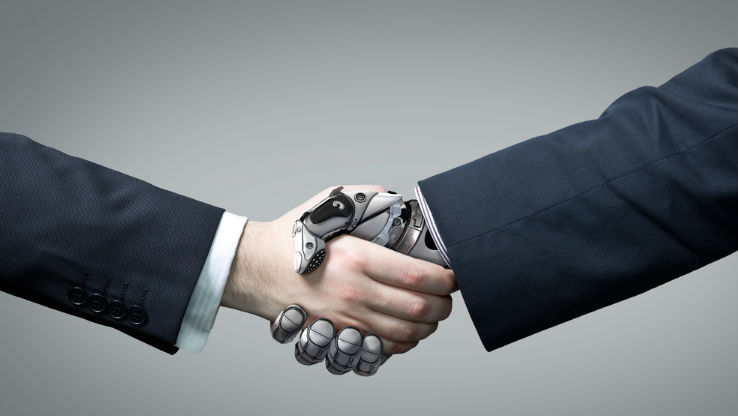 (Shutterstock/Willyam Bradberry)
7. Amplified Intelligence
Built to enhance an individual's knowledge, artificial intelligence is now a reality. Analytics techniques are growing in complexity, and insurers are applying predictive modeling to complex data sets.
Although the insurance industry is data-intensive, it lags behind other industries when it comes to analyzing it.
Insurers can leverage location-based information to assess and underwrite risk, make informed decisions to reinsure, detect and reduce fraudulent claims and improve customer experience. Many P&C insurers now enable tow trucks to be called based on the location of policyholders involved in an accident.
As natural disasters become more frequent, Deloitte suggests that carriers find better ways to model and visualize risk, so that agents can be more proactive in identifying risky policyholders and proactively suggest additional coverage based on location and natural disaster predictive models.
When a storm hits an area where a carrier has many insureds, the claims department can use geographic information systems to proactively send text alerts on how to protect property from disaster. Insurers also can overlay images of the damaged property with the path of the storm to assess damage and close claims.
8. IT Worker of the Future
Tech talent is a significant concern. The legacy-skilled workforce is retiring, and organizations are searching for those skilled in the latest emerging technologies.
From its report, Deloitte highlights which occupations are in demand and what "unusual" skills will assist in an IT job (image sourced from Deloitte's report):