Just in time for the summer movie blockbuster season, "San Andreas," an action-packed disaster thriller telling the fictional story of the aftermath of a magnitude 9 earthquake along the infamous San Andreas Fault in California, hits theaters. While the movie will undoubtedly be entertaining, it's also a good reminder to be prepared for Mother Nature's wrath.
Earthquakes can happen at any time of the year and occur without warning. While California has been the state most prone to serious earthquakes in recent years, there are many other fault zones in other areas of the United States. All 50 states and 5 U.S. territories are at some risk for earthquakes. As shown on the map below, 45 states and territories in the U.S. are considered at "moderate to very high risk" of earthquakes.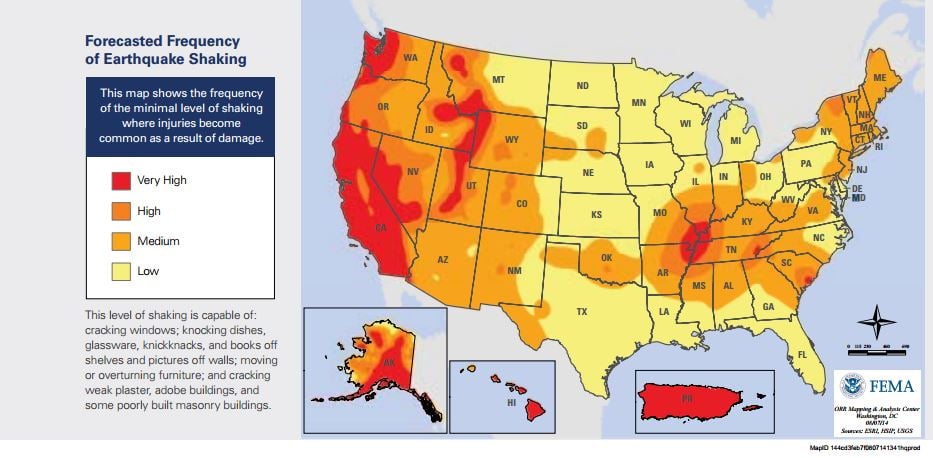 [From How To Prepare for an Earthquake, FEMA ORR Mapping & Analysis Center, Washington, DC, 08/07/14. Sources: ESRI, HSIP, USGS]
According to the Centers for Disease Control and Prevention (CDC), geologists and seismologists have predicted a 97% chance of a major earthquake in the New Madrid seismic zone of the central U.S. (including Arkansas, Missouri, Tennessee and Kentucky) between now and 2035. A March 2015 forecast from the U.S. Geological Survey (USGS) has upped the likelihood that California will be hit by a magnitude 8 earthquake over the next 30 years to 7% from 4.7% forecast in a 2008 report.
[Related: Ground-shaking facts about U.S. earthquakes]
Take action now, before an earthquake hits, to secure your property and help prevent injuries at home and at your place of business. Also, keep reading to learn more about protecting yourself financially with earthquake insurance.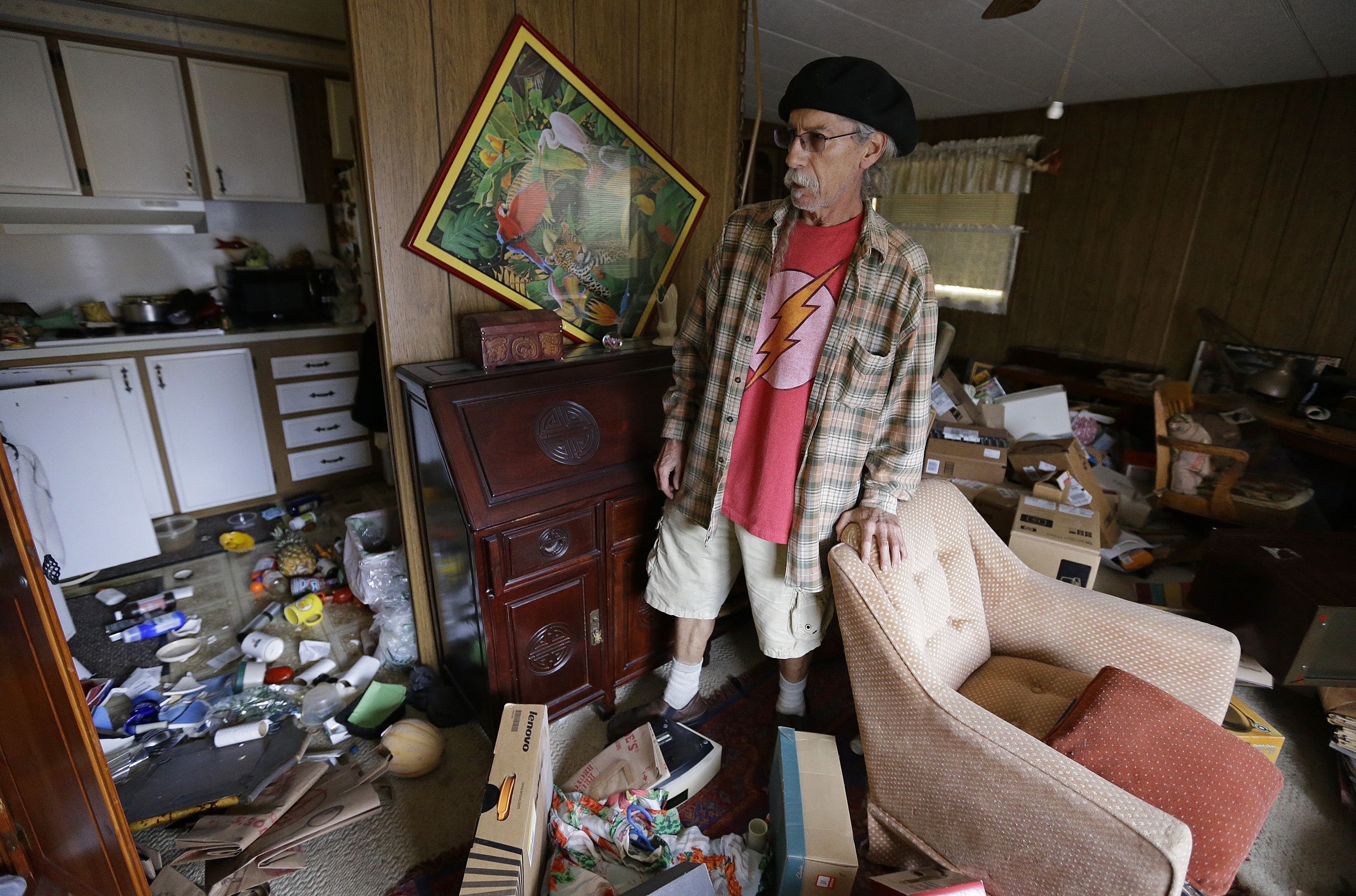 Steve Brody inspects damage to the interior of his mobile home after an earthquake Sunday, Aug. 24, 2014, at the Napa Valley Mobile Home Park, in Napa, Calif. A large earthquake caused significant damage and left at least three critically injured in California's northern Bay Area, igniting fires, sending at least 87 people to a hospital, knocking out power to tens of thousands and sending residents running out of their homes in the darkness. (AP Photo/Ben Margot)
Do a hazard hunt for things that might fall
Cabinet doors should be secured with latches to prevent contents from crashing to the floor.
Items on shelves and tables such as framed photos, books, and lamps should be secured with hooks, adhesives, or earthquake putty to keep them from becoming flying hazards. Move breakable or heavy items to lower shelves.
Mirrors, picture frames, and other hanging items should be secured to the wall with closed hooks or earthquake putty. Do not hang heavy objects over beds, sofas, desks, or any place you may be seated.
Secure electronics such as computers, televisions, and microwave ovens with flexible nylon straps.
Tall furniture like bookcases, filing cabinets, and china cabinets should be anchored to wall studs (not drywall, or masonry). Use flexible straps that allow them to sway without falling to the floor.
Major appliances like your water heater and refrigerator should be secured with the appropariate straps screwed into the wall studs or masonry to help keep them from falling over and rupturing gas or electric connections. Gas appliances should have flexible connectors to absorb the shaking while reducing the risk of fire.
Brace overhead light fixutures.
All the adhesives, straps, hooks, latches, and other safety devices mentioned above are available at most hardware and home improvement stores as well as online retailers.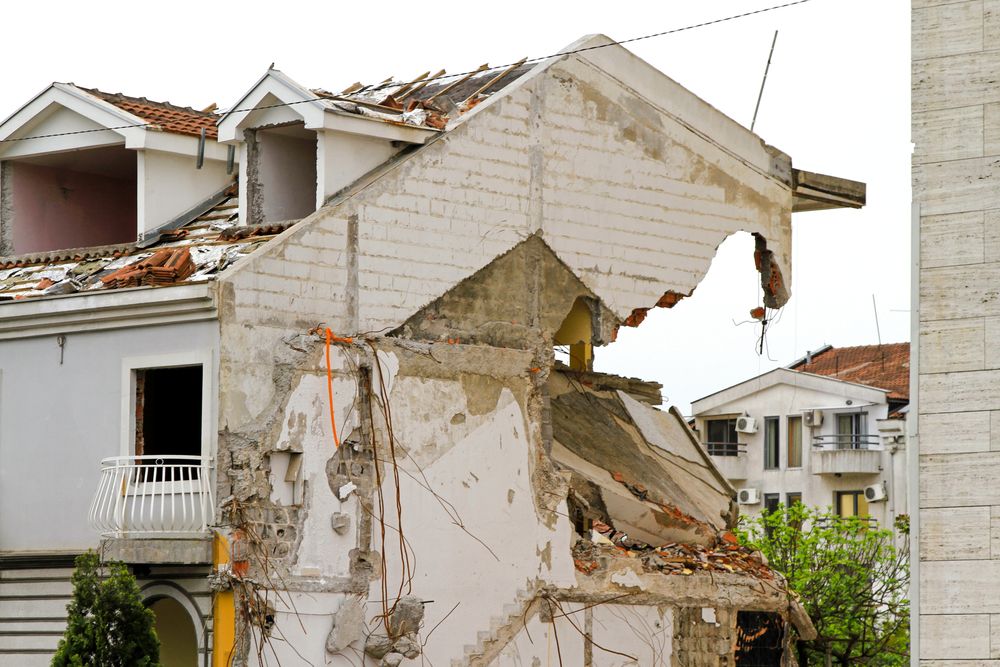 (Photo: Baloncici /Shutterstock.com)
Strengthen buildings
Examples of structures that may be more vulnerable in an earthquake are those not anchored to their foundations or structures that have weak crawl space walls, unbraced pier-and-post foundations, or unreinforced masonary walls or foundations.
Make sure your home and other buildings where you spend time are more resistant to earthquake damage.
Install foundation bolting, cripple wall bracing, and reinforce chimneys in your home and business.
If you live in a mobile home, consider installing an earthquake-resistant bracing system
Tip: Did you know that doorways are no stronger than any other part of a structure? Don't rely on doorways for protection. During an earthquake, the American Red Cross recommends getting under a sturdy piece of furniture and holding on. It will help shelter you from falling objects that could injure you during an earthquake.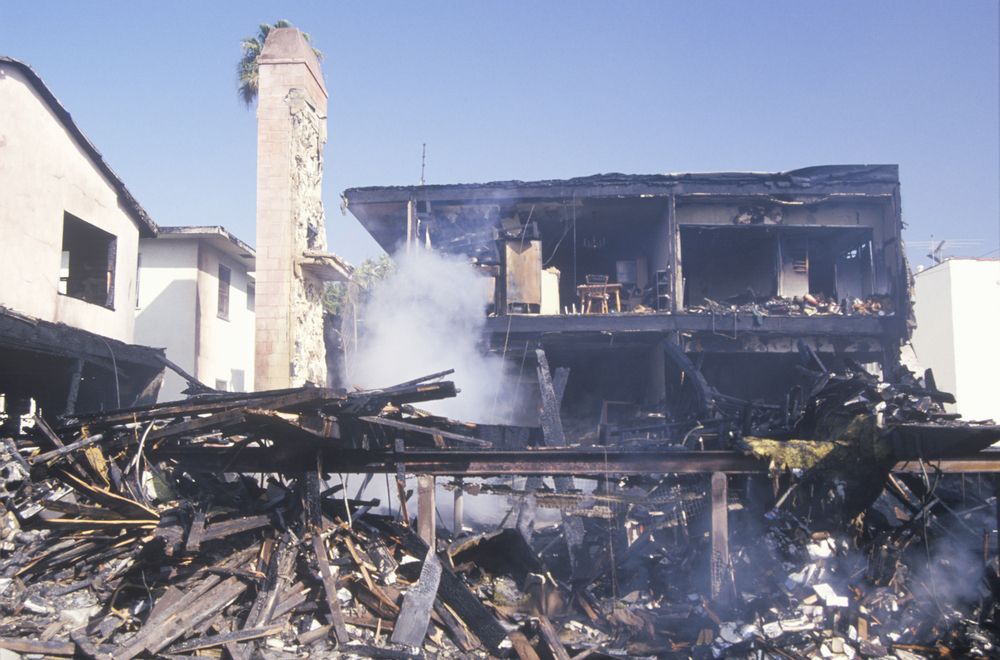 An apartment building on fire as a result of the Northridge, Calif., earthquake in 1994. (Joseph Sohm / Shutterstock.com)
Key earthquake preparations to protect property
Learn how to shut off the gas valves in your home and business. Keep a wrench handy for that purpose.
Create and maintain an emergency supplies kit in an easy-to-access location
Gather and store important documents in a fire-proof safe. Include:
Birth certificates
Ownership certificates (automobiles, boats, etc.)
Social Security cards
Insurance policies
Wills
Household inventory
Replace glass bottles from your medicine cabinet and around the bathtub with plastic containers.
Identify poisons, solvents, or toxic materials in breakable containers and move these containers to a safe, well-ventilated storage area.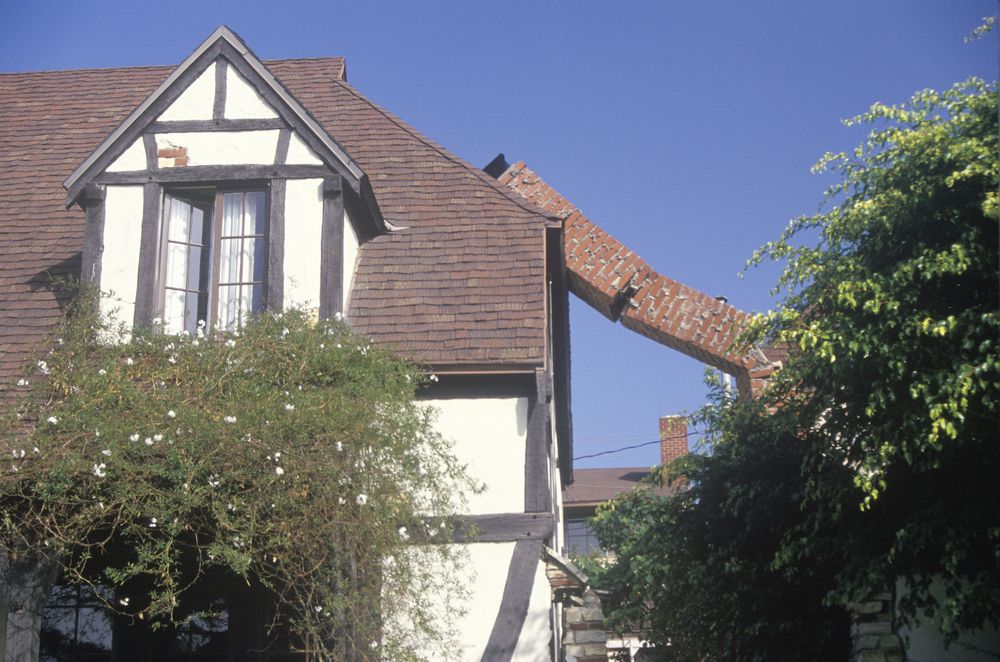 A chimney from a damaged house in Los Angeles leaning against another house after a January 17, 1994, earthquake. (Joseph Sohm / Shutterstock.com)
Earthquake insurance
Earthquakes in the U.S. are not covered under standard homeowners, renters, or business insurance policies, according to the Insurance Information Institute. Coverage is usually available for earthquake damage in the form of an endorsement to a home or business insurance policy. Earthquake insurance is available from most insurance companies in most states.
California law requires homeowners insurance companies to offer earthquake coverage to their homeowners insurance policyholders. Homeowners can decide to purchase it, purchase a policy from another insurer or decline it altogether.
Earthquake insurance provides protection from the shaking and cracking that can destroy buildings and personal possessions. Coverage for other kinds of damage that may result from earthquakes, such as fire and water damage due to burst gas and water pipes, is provided by standard home and business insurance policies in most states. Cars and other vehicles are covered for earthquake damage under the comprehensive part of the auto insurance policy.
Unlike flood insurance, earthquake coverage is available from private insurance companies rather than from the government. In California, homeowners can also get coverage from the California Earthquake Authority (CEA), a privately funded, publicly managed organization.
Earthquake insurance deductibles and costs
Earthquake insurance carries a deductible, generally in the form of a percentage rather than a dollar amount. Deductibles can range anywhere from 2% to 20% of the replacement value of the structure. This means that if it cost $100,000 to rebuild a home and there was 2% deductible, the consumer would be responsible for the first $2,000 dollars.
Insurers in states like Washington, Nevada and Utah, with higher than average risk of earthquakes, often set minimum deductibles at around 10%. In most cases, consumers can get higher deductibles to save money on earthquake premiums.
The standard California CEA policy includes a deductible that is 15% of the homes' replacement cost. The basic policy covers only the house (other structures such as garages, pools, etc. are not covered). Personal possessions are covered up to $5,000 and "loss of use" expenses, the additional cost of living elsewhere while home repairs are made, are covered up to $1,500.
Recognizing that some people want more comprehensive coverage, the CEA also offers a 10% deductible, insurance for other structures, personal items coverage up to $100,000 and $15,000 in "loss of use" coverage. Premiums vary widely among the 19 rating territories, based on the type of house, its age, the nature of the soil, and proximity to known fault lines. The CEA has reserves of about $9 billion.
Premiums vary widely
Premiums also differ widely by location, insurer and the type of structure that is covered. Generally, older buildings cost more to insure than new ones. Wood frame structures generally benefit from lower rates than brick buildings because they tend to withstand quake stresses better.
Regions are graded on a scale of 1 to 5 for likelihood of quakes, and this may be reflected in insurance rates offered in those areas. The cost of earthquake insurance is calculated on "per $1,000 basis." For instance, a frame house in the Pacific Northwest might cost between one to three dollars per $1,000 worth of coverage, while it may cost less than fifty cents per $1,000 on the East coast.
A brick home would cost approximately $3 to $15 dollars per $1,000 in the Pacific Northwest, while it would cost between 60 to 90 cents in New York.
Number of people buying earthquake insurance has declined, while risk is increasing
According to a 2014 Insurance Information Institute survey, 7% of American homeowners have earthquake insurance, down from 10% in 2013 and 13% in 2012. In the West, this measure fell from 22% in May 2013 to 10% in May 2014.
Seven percent of homeowners in the Midwest have earthquake insurance. In the South the proportion of homeowners who said they had earthquake coverage stood at 6%. Only 2% of homeowners in the Northeast said they have earthquake insurance. Eleven percent of homeowners earning $100,000 or more said they had earthquake insurance, down from 18% a year ago. Only 2% of homeowners who earned less than $35,000 said they had earthquake insurance in 2014, down from 6% in 2013.