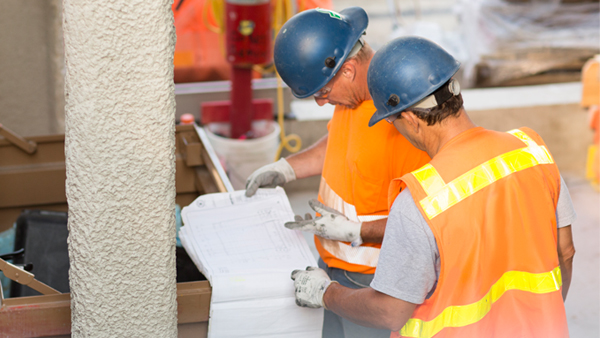 With an improving construction market comes greater competition, tighter margins and more opportunity to potentially experience construction defects.
General contractors, specialty contractors and project owners are increasingly recognizing the role quality control programs play as a driver of success in this new market, helping deliver quality projects on time and budget, and without the cost and reputational damage associated with construction defect claims.
Doug Cauti, chief underwriting officer of Liberty Mutual's National Insurance Specialty – Construction practice, on the importance of quality assurance.
However, an over-simplistic quality assurance approach often results in contractors, subcontractors and project owners reacting to problems that could have been prevented in the first place.
The traditional top-down approach to quality assurance typically consists of two steps. First, the general contractor reviews the project's plan and specifications prior to starting construction, looking for issues or errors that might spark potential problems. Second, the general contractor and subcontractors follow a formal or informal inspection process to assess work as it is completed.
Looking for problems and fixing them throughout construction sounds good. However, in practice, this approach often fails in two important ways. First, it does not systematically catch and resolve process errors – the underlying issues that can cause mistakes at every project phase – so the same mistakes are often repeated. Second, this approach fails to make subcontractors full partners in the quality assurance process.
A Better Approach to Quality
A more collaborative and continuous approach to quality assurance is needed to more effectively prevent construction defects, and the costly claims that can accompany them.
John Rabovsky, manager, Liberty Mutual Risk Control, on one key weakness with the traditional approach to QC taken by many contractors.
In Liberty Mutual's experience as a leading provider of a full range of insurance coverages to contractors, subcontractors and project owners, quality improves when all parties are brought together before the first shovel enters the ground.
Gathering designers, sub-contractors, suppliers and others in initial discussions aligns goals and expectations, and builds a solid foundation for the construction project.
To help create and guide such collaboration, general contractors can develop and circulate a draft quality control program, looking for input and feedback from key constituents. The GC can also form a quality committee, giving everyone a sense of ownership in quality control. Conducting pre-construction meetings is another way to build the quality team, set expectations and gain buy-in.
In addition to collaboration, developing a continuous improvement approach and control mechanism is vital to improving quality.
John Rabovsky, technical services manager, Liberty Mutual Risk Control, on some of the most important best practices for effective construction quality assurance programs.
Some best practices for achieving this include:
Construction reviews. These reviews, conducted by the designer and contractor, help anticipate and resolve field problems.
Pre-work site assessments. These verify that site conditions match job specifications, and ensure that the work can be performed as planned.
Performance mock-ups. These help everyone visualize certain aspects of the project (such as windows and walls) and anticipate potential issues before installation.
Inspections. Qualified individuals should regularly inspect completed work to identify errors that can be corrected before they lead to more expensive issues. Taking photographs and keeping logs of these inspections is critical to building the documentation that can help resolve future issues.
Change-order process. Documenting all specification changes, including project owner approval, is critical to preventing future claims and defending against them.
Value engineering. The process of balancing function and cost helps eliminate overpriced products and materials, and builds more value into the project. It also helps ensure that all materials meet or exceed the contract's requirements.
Materials acceptance. All materials arriving at the construction site must be inspected and the results of those inspections documented.
Approvals and verifications. Project management should obtain formal owner verification and approval of workmanship at key project milestones
Insurers: A Valuable Partner for Improving Quality
When seeking to improve quality, contractors, subcontractors and project owners should turn to their insurance broker and carrier.
Liberty Mutual Insurance has one of the largest teams of safety and risk management professionals dedicated to the construction market.
Every day, these professionals partner with policyholders to help them better manage the total cost of risk, including developing a world-class quality assurance program. This team brings a wealth of experience and expertise across the full range of construction techniques and jurisdiction.
The Case for Quality
Construction professionals may instinctually be wary of the additional paperwork, resources and commitment required to build a world-class quality assurance program.
But remember that such programs often result in financial gain.
Any contractor unsure of the value of quality, and the benefits of improving it, should remember past construction defect issues. Significant time, resources and money were wasted because work was not done correctly and problems had to be fixed. And that doesn't reflect the potential hit to a contractor's brand and new business development opportunities from shoddy construction.
The human and financial resources wasted on fixing errors likely far exceed the commitments involved in effectively improving quality.
Superior quality assurance programs require thoughtful planning, the close cooperation of all stakeholders, attention to detail and constant accountability from ground breaking to ribbon cutting.
Smart contractors understand the value of building right the first time.
About the Author:
Doug Cauti is chief underwriting office of Liberty Mutual Insurance's National Insurance Specialty – Construction operation. His area provides a full range of primary casualty coverages for mid-size and large contractors, sub-contractors and project owners, helping them better manage the total cost of construction risk.
Doug Cauti can be reached at douglas.cauti@libertymutual.com.
Additional Information
Doug Cauti, chief underwriting officer of Liberty Mutual's National Insurance Specialty – Construction practice, on the assistance insurers should provide contractors and project owners in improving quality assurance.
John Rabovsky, technical services manager, Liberty Mutual Risk Control, on the value of quality assurance.
Learn more at http://www.libertymutualgroup.com/business-insurance/industry-insurance/construction-insurance and at http://passiontoprotect.libertymutualgroup.com/construction.