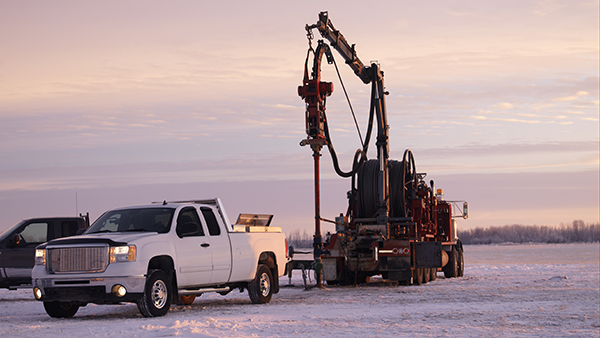 As the price of crude oil hovers near historic lows, now is the perfect time for energy companies – and the brokers and agents who support them – to address some of the potential exposures acquired during the recent energy boom.
One of the biggest of these involves drivers.
As the price for oil soared, horizontal drilling and hydraulic fracturing fueled a massive boom, from the Bakken to the Panhandle.
These new production methods brought with them specific risk issues, including the need for far more trips to production and exploration sites. Fracking and horizontal drilling significantly increased the number of miles driven by well drillers and servicers, given the need to deliver water for drilling fluids and fracking, remove spent fluids, bring hundreds of tons of chemicals and proppants, and transport all the specialty equipment required by these methods.
One result was a feeding frenzy for qualified commercial drivers, particularly those licensed to transport oil and chemicals. As oil prices and production soared, many firms were forced to lower standards for commercial drivers, particularly as the available pool of qualified drivers disappeared.
The competitive labor market may have also impacted an energy company's risk exposure beyond its fleet of heavy trucks driven by commercial drivers. Many other employees drive company pickup trucks to get to drill and well sites. As the boom intensified competition for these employees, companies may have left the keys to company vehicles with employees who have less than stellar driving records.
As energy firms retool to compete in the new market, smart companies are reviewing driver qualification and management procedures – both for commercial drivers and for employees who drive other company vehicles – and selecting those best able to help the company compete.
There are three best practices for effectively selecting, evaluating and managing an energy company's commercial drivers in order to minimize risk and better protect employees, the public and the bottom line.
Build a Map for Fleet Safety
The first best practice is to develop a written fleet safety program.
Driver selection, evaluation and management can't be arbitrary or inconsistent. A written program provides a map to fleet safety, assuming it is used every day throughout the company by all employees.
The document should detail the way the energy company chooses, evaluates and manages drivers.
Individual sections should reinforce safe vehicle operation, detail the necessary requirements for commercial drivers, summarize the company vehicle use agreement (clearly highlighting the appropriate use of company-provided vehicles), and explain how driving is monitored and evaluated.
It should also review the company's policies related to distracted driving, the consumption of alcohol and controlled substances, and the use of personal vehicles for company business, including minimum auto insurance requirements.
The plan must also clearly explain the consequence for employees who fail to comply with these requirements.
To effectively select drivers, the energy company should collect motor vehicle records (MVRs) from all states in which the applicant has held a driver's license. MVRs vary by state, but essentially summarize any driving accidents and infractions in which an individual was involved.
The company should also require potential drivers with commercial licenses to provide copies of any previous Department of Transportation violations.
Armed with this background – together with references from other employers, and perhaps the results of a ride-along road test – the company can compare the applicant against its standards for acceptable drivers.
MVRs and DOT reports also play a key role in managing drivers once they are hired. Those who violate the company's driving performance requirements must face the penalties outlined in the fleet safety program, including termination, suspension and retraining.
Collecting MRVs and DOT violations won't impact driver performance – and hence the company's risk exposure – unless the company reviews this information and acts upon it.
The best fleet safety program is useless if it sits on the shelf. It must live with drivers, and all employees. Communication is key.
Safe driver expectations and requirements must be highlighted during the initial job interview, throughout the year – particularly as issues arise with the fleet as a whole, or individual drivers – and in annual performance appraisals. Take every opportunity to remind employees of the importance of safe driving and the company policies that govern it.
Recognize the Value of Maintenance
The second best practice is to manage maintenance.
Even the best drivers can't perform safely if they're driving substandard equipment.
During the boom, energy fleets tended to include large trucks with heavy loads, traveling long distances to remote sites. The crush of work may have hindered vehicle maintenance.
The new energy market now allows companies to better manage vehicle and other equipment maintenance.
To ensure safe operations, a company should complete vehicle and equipment maintenance per manufacturer instructions and schedules.
It should also require drivers and equipment operators to inspect vehicles and machines prior to every use. Worn or bald tires are leading causes of vehicle accidents, injuries and property damage. A quick walk around a service truck can help potentially spot this and other dangerous conditions.
Energy firms should require the same inspection for any personal vehicle used for company business.
And as equipment is brought in from the field, the company should have a mobile mechanic inspect that machinery. It likely has been sitting idle for some time and should be looked at to make sure it is safe for transportation and storage.
Address Driver Fatigue
The third best practice for better managing an oil company's fleet involves driver fatigue.
In the oil industry, driver fatigue can be common. Often, employees who operate drilling support vehicles work 12 hours shifts and commute long distances to remote locations.
The Federal Motor Carrier Safety Administration (FMCSA) sets hours-of-service regulations for commercial drivers. Oil and gas operations are exempted from the normal definition of "duty" hours given the time drivers often spend waiting at drill sites.
However, work hours need to be carefully managed as this exemption applies only to specially trained drivers who operate specific equipment. Drivers transporting supplies, equipment and materials do not qualify for the FMCSA exemption.
To ensure drivers get the proper rest required to operate vehicles safely, energy companies should have drivers track and report drive time and related activities, such as rest, off-duty time, et cetera. To be effective, the company must take log violations and the appearance of false reporting seriously.
Often, employees work hundreds of miles from home on two week shifts. Some energy companies keep these employees on the clock and pay for another night's lodging in order to prevent accidents involving company-owned vehicles that might stem from these employees traveling home at the end of the final day of their shift.
Technology can also play an important role. In-vehicle monitoring systems can track hours of service and report when a driver is approaching his or her limit.
Bringing it all Together
As energy companies retool to meet the challenges of the new market, addressing driving safety will help better protect employees, the public and the bottom line.
About the Author
Matt Waters is chief underwriting officer of Liberty Mutual Insurance's National Insurance Specialty – Energy operation.
His area provides a full range of primary insurance coverages for up-stream and mid-stream onshore energy companies.
The operation helps such companies better manage the total cost of risk through effective insurance programs, the industry's largest staff of safety professionals and proprietary claims management procedures and tools, including sophisticated data analytics. More information can be seen at http://www.libertymutualgroup.com/business-insurance/industry-insurance/energy-insurance.