Americans have a love affair with classic cars. From James Bond's Aston Martin to Thomas Magnum's red Ferrari 308 GTS, some were iconic in their time and have since gone on to become famous classics. Consider the '69 Chevrolet Camaro SS, the '66 Ford Mustang GT or the Pontiac GTO Judge. These and others have more than stood the test of time.
As anyone who is a classic car aficionado knows, this is not a hobby for those with small wallets. Some well-known gearheads include Jay Leno, Reggie Jackson, Tim Allen, David Letterman, Mark Harmon, Billy Gibbons (ZZ Top), James Garner, Steve McQueen, Jerry Seinfeld and Paul Newman. Leno even hosts a show now about restoring classic cars.
So what makes a car a classic? The short definition according State Farm is that a classic car is any "vehicle 10 or more years old, which is rare or of special historical interest because of exceptionally fine workmanship or limited production." So just because you have an old clunker sitting in the driveway that is more than 10 years old doesn't mean it's valuable. Classic vehicles that are 25 years or older are considered antique automobiles.
According to American Collectors Insurance, collecting cars has grown exponentially over the past few years. Last year cars achieved record prices at auto auctions, generating more than $1.3 billion in sales and estimates are that the market will continue to grow by around 5% in 2015.
American Collectors says the most popular manufacturer was Ferrari since eight of the top 10 most expensive cars sold last year were vintage Ferraris. Baseball Hall of Famer Reggie Jackson paid $700,000 for a 1991 Ferrari F40 at the vintage car auction in Scottsdale last year, where a Ferrari California Spider sold for $8.8 million, and that wasn't even the most expensive car sold at auction. That honor goes to a 1962-63 Ferrari GTO which American Collectors says was sold for $38.1 million at an auction in Carmel, Calif., in 2014.
Needless to say, insurance coverage is a priority for classic car owners.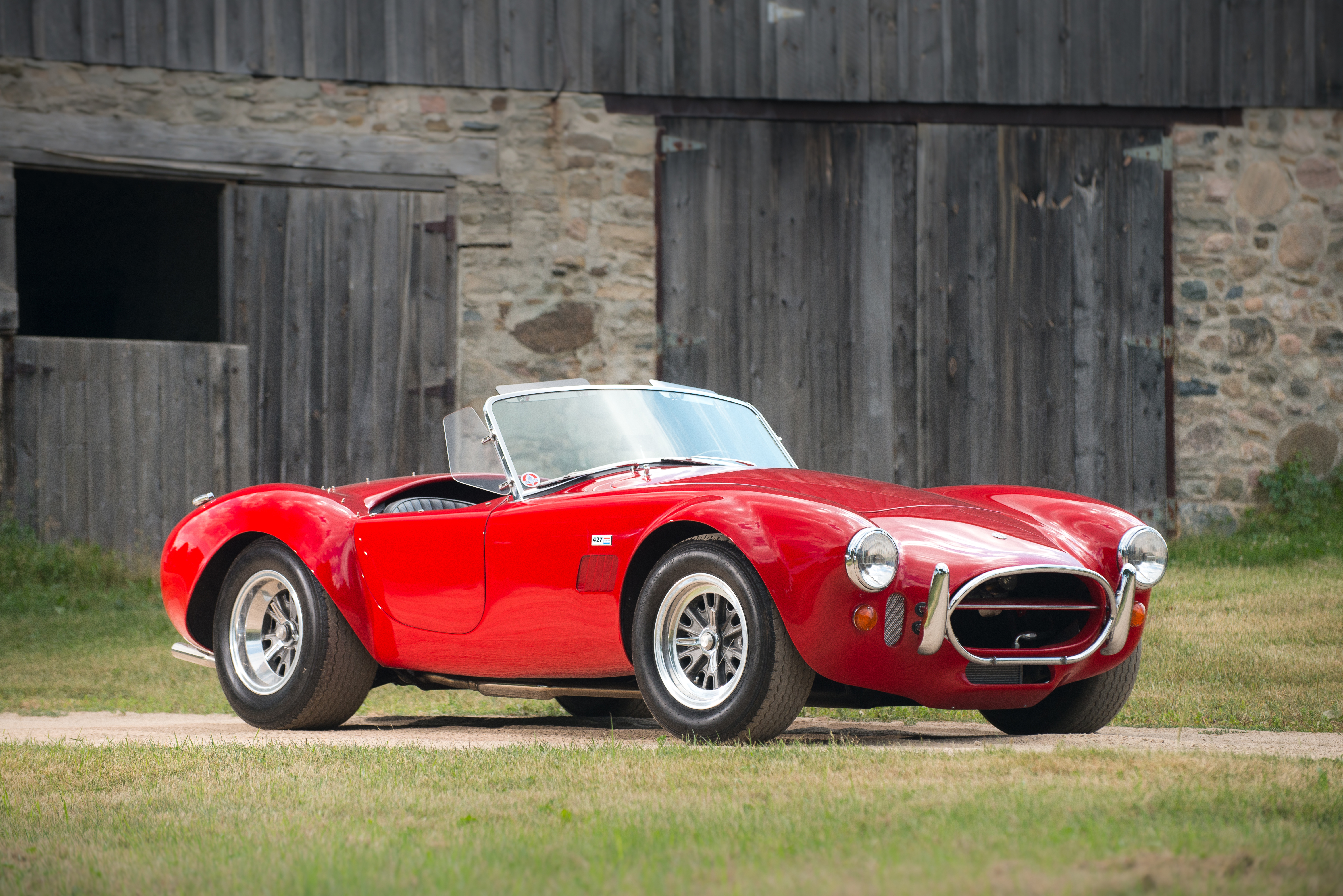 This 1965 Shelby 427 Cobra is valued at $1,350,000. Photo credit: RM Auctions.
So what's it worth?
The first question most owners will ask is, 'what is my car worth?' And the answer is: it depends. A whole range of factors will affect a vehicle's value. Hagerty started a price guide in 2007 to help owners determine the condition and value of their vehicles.
"A 1963 Ford Galaxy has 263 different model and submodel combinations," says Jonathan Klinger, vice president of public relations for Hagerty. "The value for that model could be anywhere from $10,000 to six figures. You need a much deeper level of understanding in order to value the car. We look at classic vehicles differently than modern vehicles. There is depreciation with modern vehicles. On the collector side, these cars have hit the bottom and are going up dramatically in value."
Hagerty uses four different vehicle condition descriptions to help classify them.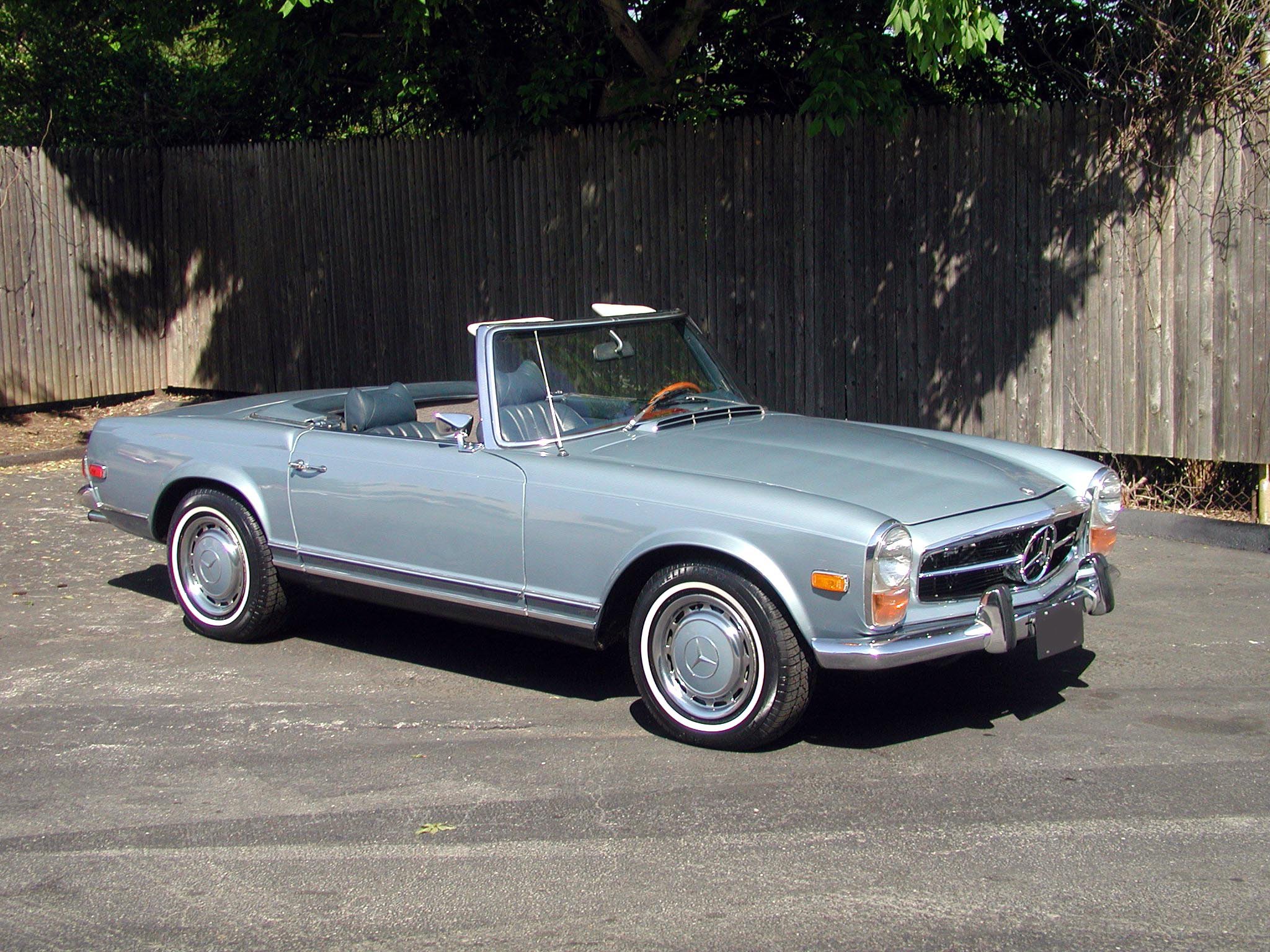 This 1971 Mercedes Benz 280SL is valued at $97,400. Photo credit: Hagerty.
Condition #1 – These vehicles can only be described as "the best in the world," immaculate perfection in every sense from the color of the vehicle, to the paint and chrome surfaces and tire treads. Not a speck of dust or dirt is on these vehicles. Hagerty describes these cars as "concours," denoting vehicles of only the finest quality.
Condition #2 – Hagerty defines these vehicles as "former #1 cars that have been driven or have aged." Flaws, if any, will not be obvious, and the exterior and interior will be described as "excellent." Mechanically, the car will not have any unusual noises or excessive smoke, and will even drive as if it was new in its era.
Condition #3 – These cars may have a fresh coat of paint and an accurate interior, but there may be some incorrect parts on them. While you wouldn't use them every day, they are certainly ready for long drives. Hagerty describes these cars as "good."
Condition #4 – Any flaws on these vehicles will be more obvious to the naked eye such as pitting, scratches, chips or dents. These vehicles might be driven regularly and they are showing some signs of wear and tear as their restoration begins to deteriorate a little. There may be substitute parts and other injuries like splits or cracks on the interior. These cars are described as "fair."
By way of comparison, a 1952 Jaguar C-Type, 6-cylinder, two-door roadster in Condition 1 would be valued at $4.9 million by Hagerty's online valuation tool. The same vehicle as a Condition 4 car would be worth significantly less at $2.9 million.
The 1971 Datsun 240Z is valued at $22,000. Photo credit: Hagerty.
Other questions to consider when establishing the value of a vehicle include:
What type of engine does the vehicle have?
Does it have any desirable trim options?
Does it have factory air conditioning?
Does it have a manual transmission?
Was the vehicle stock or has it been modified?
Klinger says there are several sources owners and adjusters can use for valuation information.
A quick search of eBay may provide some comparable figures to get you started, but Klinger recommends consulting a reputable price guide for determining true value. While the most desirable car is one that is undamaged, vehicles that have been properly rebuilt or restored will also retain their value.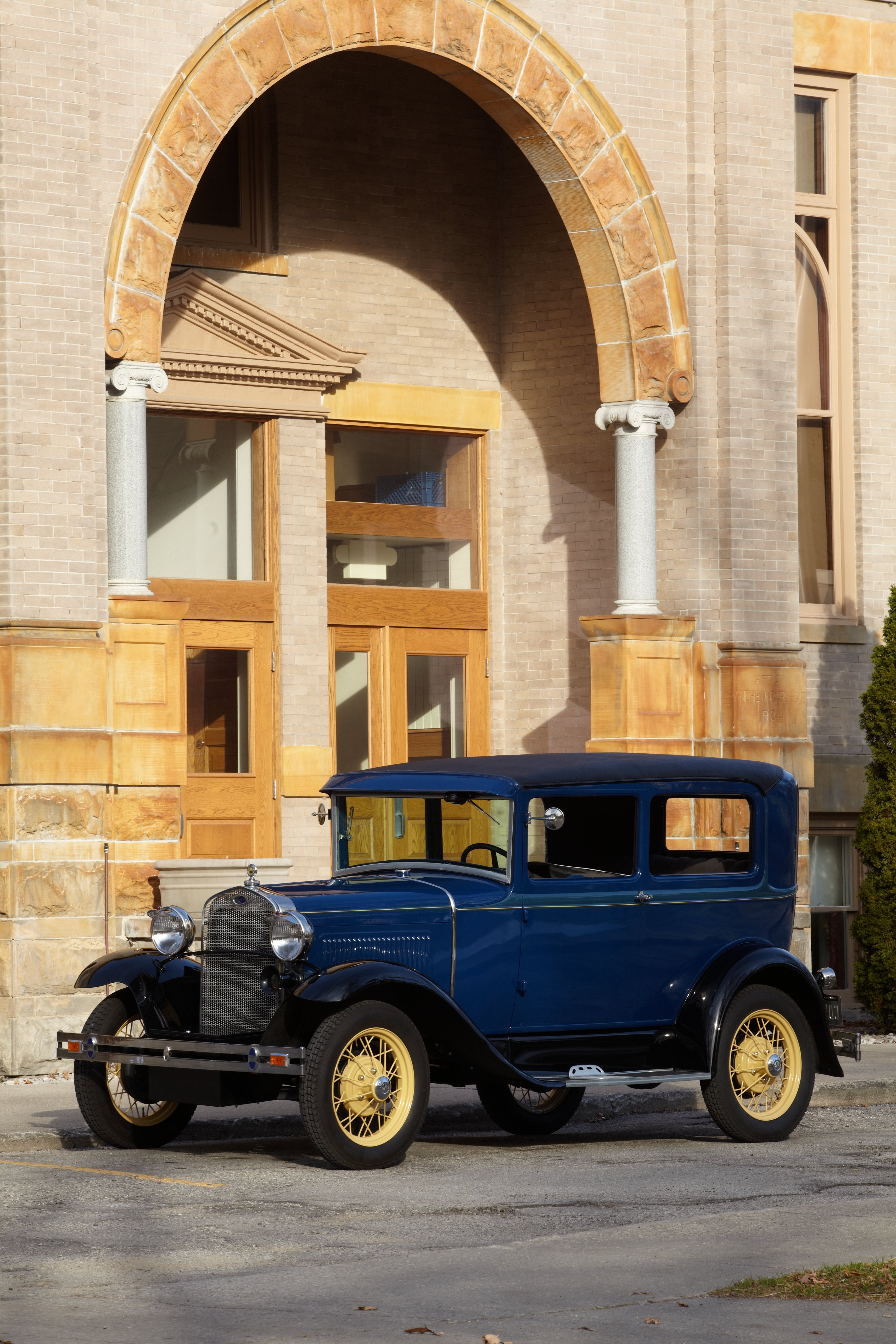 A 1930 Ford Model A Tudor Sedan valued at $22,000 courtesy of Hagerty.
Like fine art, sculptures and other fine collectibles, vehicles should have their own documentation that can be used to help assign a value.
Klinger says one place to start is with the vehicle identification number (VIN), although prior to 1981 there weren't any standardized VINs used. There is an online VIN decoder than can be used to provide information on vehicles.
"If the car matches up to how the VIN decodes, that eliminates a lot of questions," says Klinger.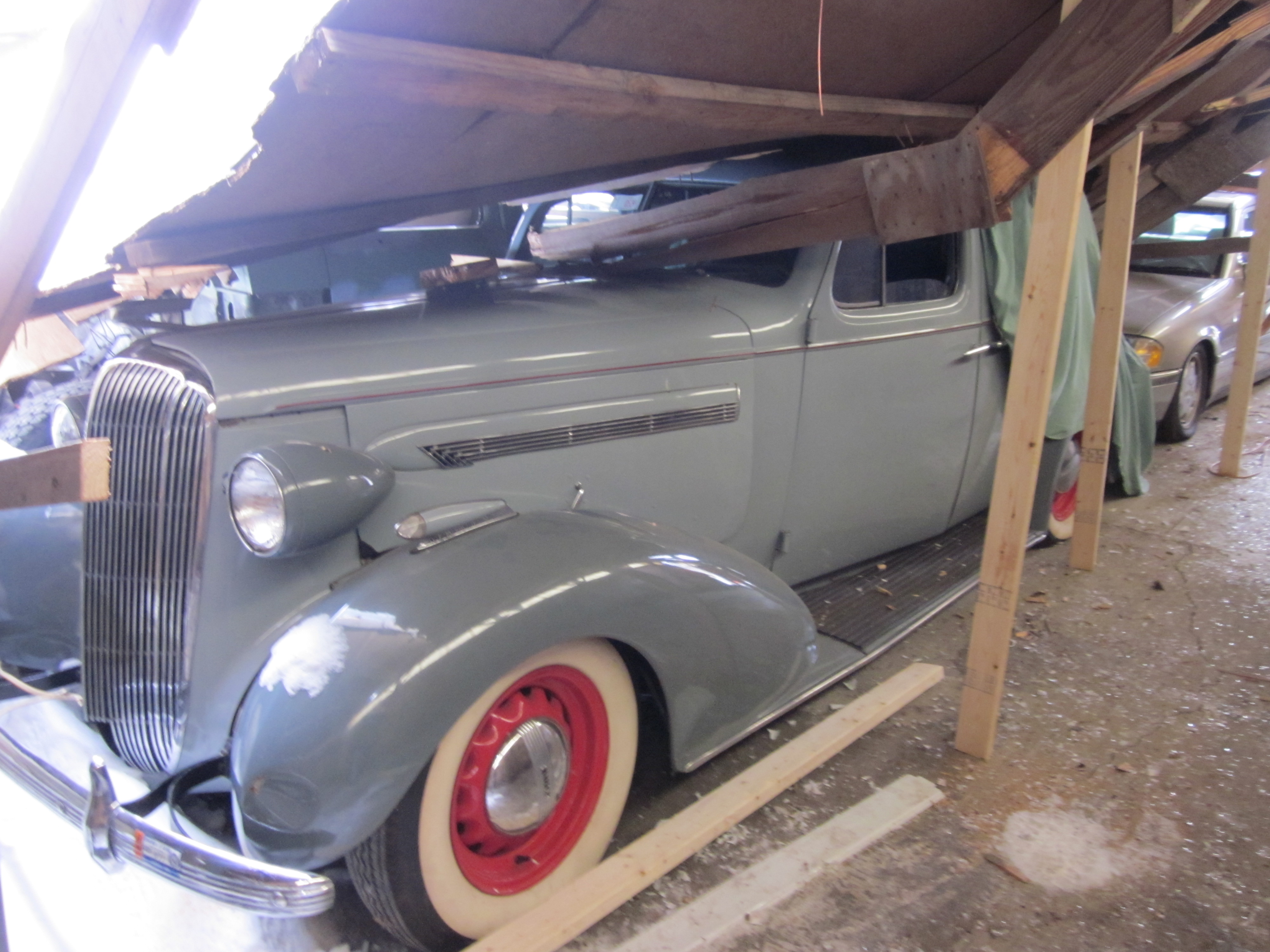 This 1936 Buick Special Model 41 is worth $25,000. Photo credit: Hagerty.
Insurance options
When it comes to insurance, there are a lot of different options based on how the car is valued and driven. Some owners prefer a guaranteed value or agreed value policy. This means if something happens to the car, the insurer pays the agreed value to the insured, which may or may not include a deductible.
For a stated value policy, the insurer agrees to pay up to a certain amount for a damaged vehicle, but not necessarily the full value. Using our Ferrari from earlier, if the car is worth $4 million, but the stated value on the policy is only $2 million, it's possible the owner could only receive half the car's value in a loss.
How many miles the car is driven annually will also impact the rate and type of insurance required. Some owners who drive their cars frequently may choose to insure them as regular vehicles rather than purchasing classic car coverage.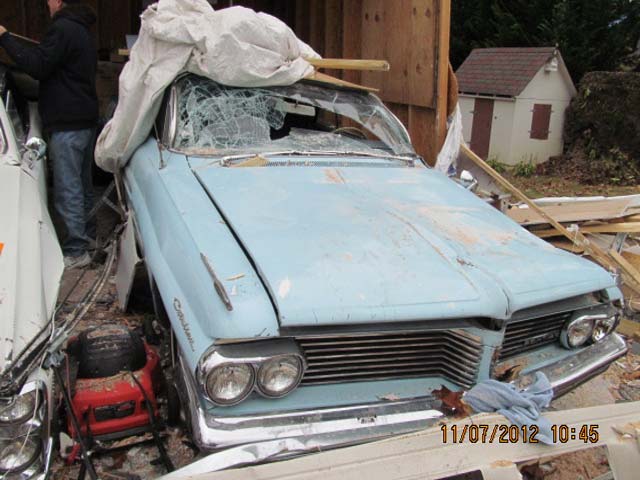 This vehicle suffered wind damage during Superstorm Sandy. Photo courtesy of Hagerty.
Other coverage owners should consider include:
Towing – Due to their age, these cars tend to break down more often, so towing coverage is a must. Coverage that includes flat-bed towing is best for collector vehicles.
Parts – Because car parts are hard to find, some owners will purchase extras pieces as they find them. Some insurers offer some form of parts and memorabilia coverage for spare car parts.
Under construction – Maybe that classic isn't quite to the Condition 1 stage, but it's definitely on its way. There is coverage for vehicles under construction that increases at regular intervals under the assumption that the car is increasing in value as the restoration continues.
Tools – Older cars may require special tools and some insurers provided coverage for automotive tools.
Klinger says it's important that vehicles be insured for their full value. If the value of a car exceeds the insurance, in many cases the insurer will total the car if there is a claim. He says insurers rarely see losses in the mid-six figures and up, but if it costs $1 million to restore a car, then it's worth even more than the restoration price.
In some cases an owner may decide to buy a car that's been totaled at the salvage price and choose to restore it again at his own cost.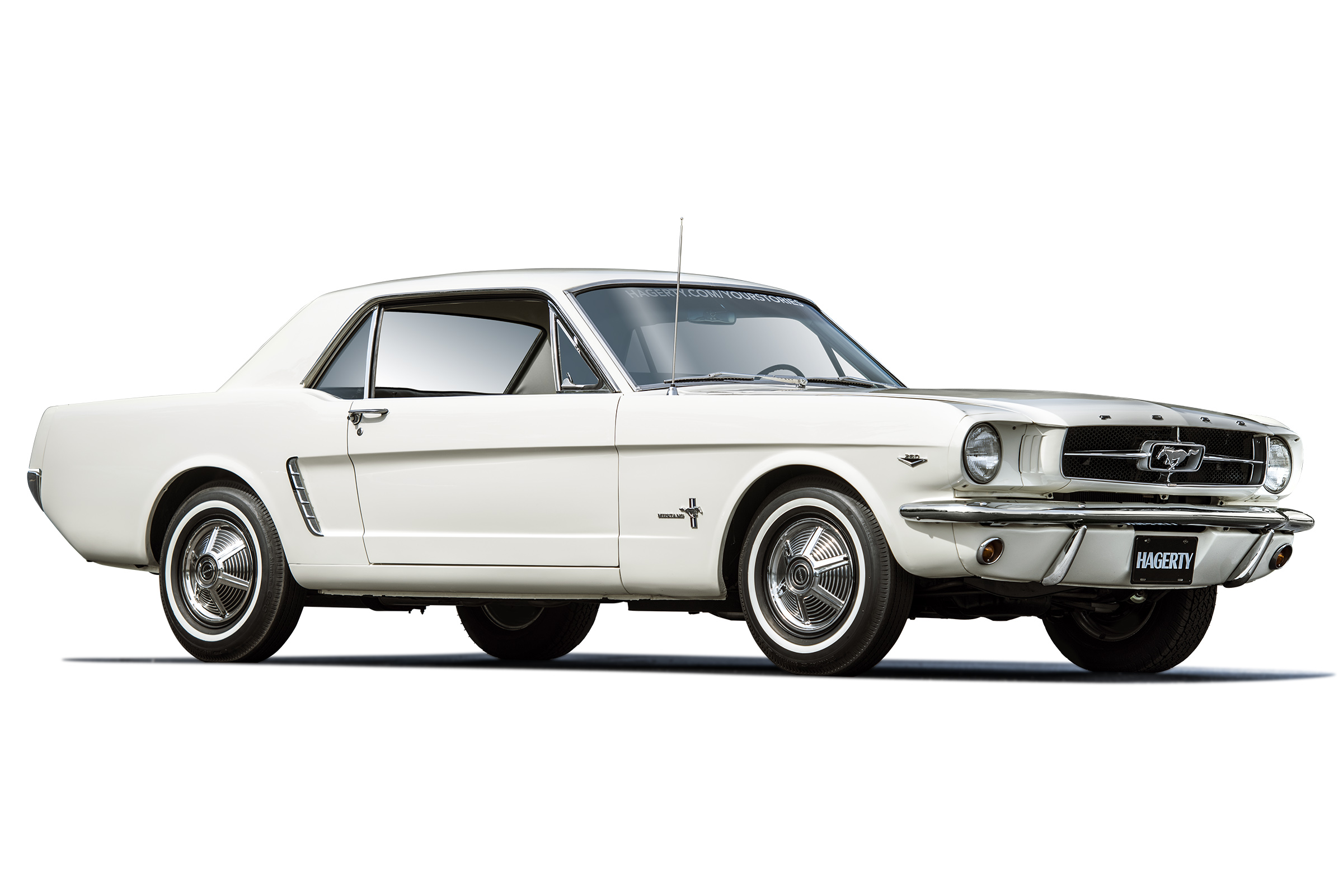 1965 Ford Mustang Coupe worth $22,600, courtesy of Hagerty.
Scams and frauds
When it comes to buying a car, it's important to do your homework. Klinger recommends that for any significantly priced car, consider paying a third-party to handle the verification.
"State DMVs were not always good about sharing information across state lines years ago," says Klinger. "Make sure it's a clear title and that the VIN doesn't show up as a stolen vehicle. A vehicles that is seized is not an insurance loss, it's a theft of money."
Another consideration is whether or not the vehicle is a tribute car or clone. These are vehicles that were restored to look like something they weren't when they originally left the factory.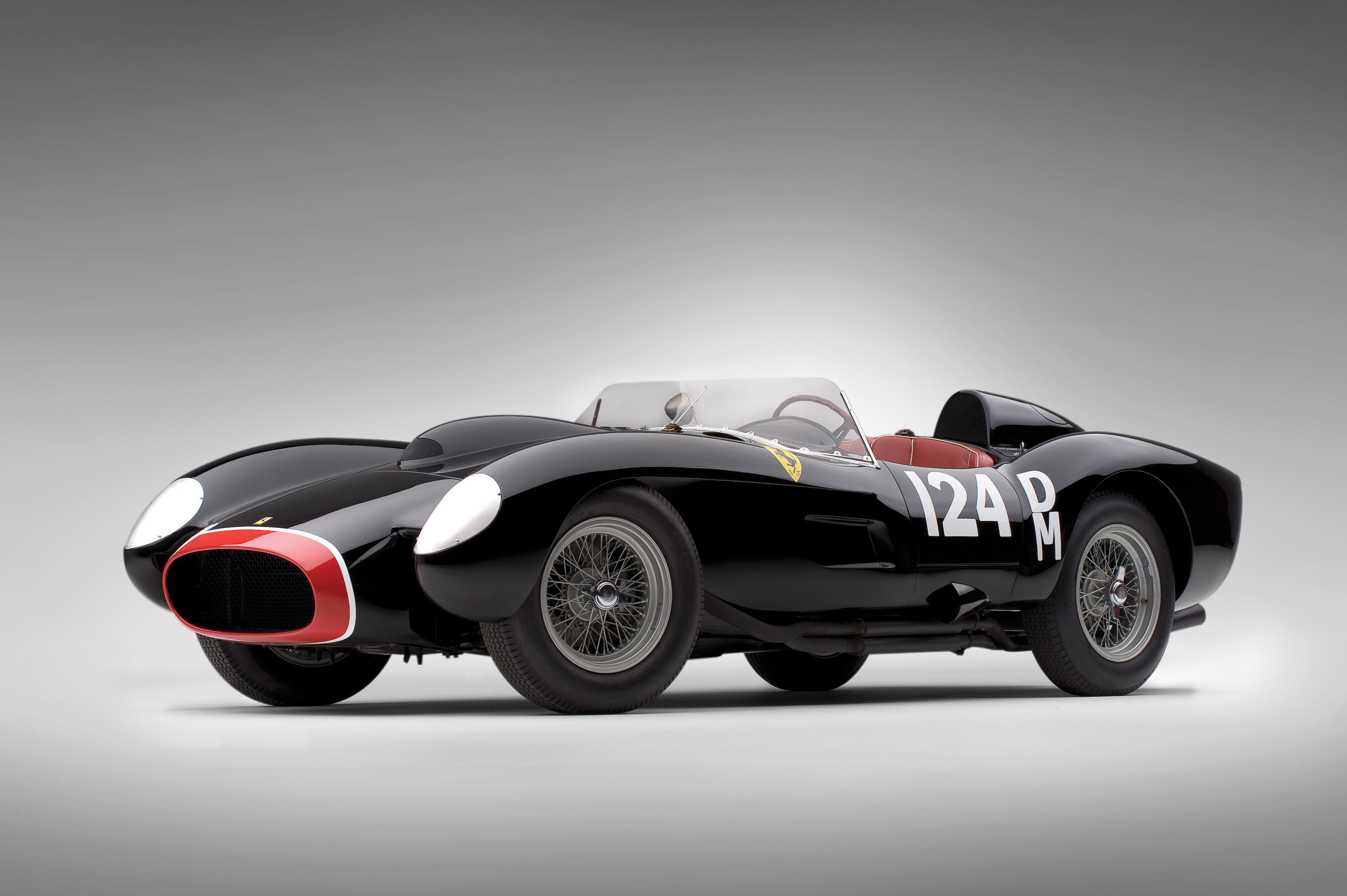 This 1957 Ferrari 250 Testa Rossa is valued at $24,300,000. Photo credit: RM Auctions.
Repairs
Owners and insurers need to be aware that some shops specialize in certain models for good reason.
"Not just any collision shop can restore a collector vehicle," says Klinger. "Hagerty allows customers to choose their own shop and recommends specialists if they need a referral. Restoration shops are a different animal and sometimes you need those specialists to work on a certain car."
It's important for owners to document any modifications to the vehicle for insurance purposes. They should also track where the parts came from and any supporting information in case additional parts need to be ordered.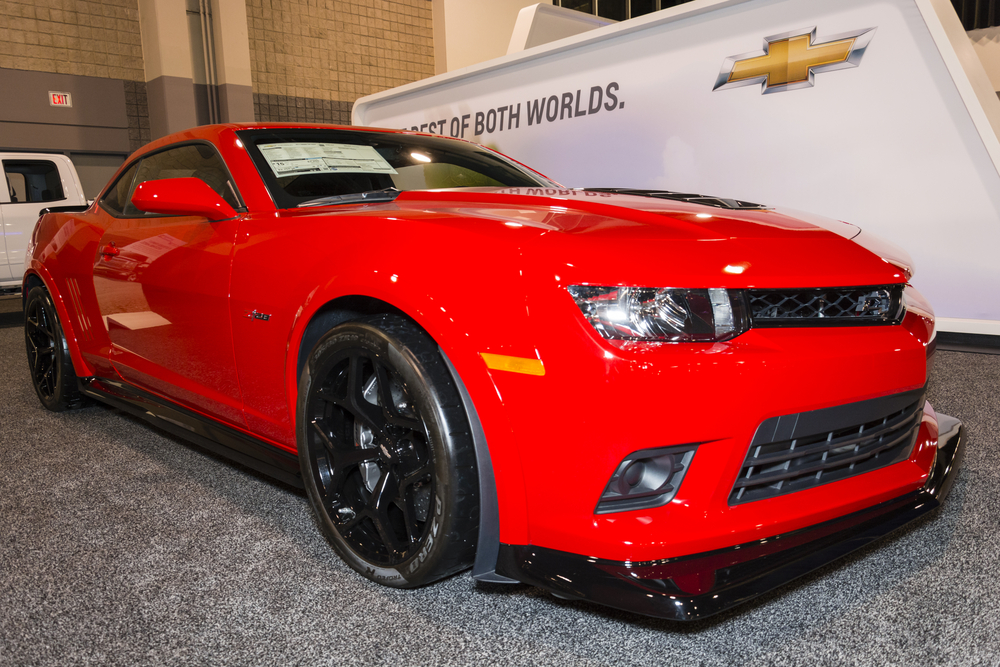 2015 Chevrolet Camaro Z28.
Cars to watch
Wondering which of today's cars have the staying power to become classics? Hagerty CEO McKeel Hagerty has released his list of 2015 cars to watch. To make the list the cars must be priced under $100,000 and produced within the 2015 model year. On the 2015 Hagerty Hot List are:
Alfa Romeo 4C Launch edition ($69,685)
BMW M4 Convertible ($73,450)
Chevrolet Camaro Z28 ($75,000)
Chevrolet Corvette Z06 ($78,995)
Dodge Challenger Hellcat ($58,295)
Ford Mustang GT Performance Package ($37,125)
Mazda MX-5 Miata 25th Anniversary Edition ($33,125)
MINI John Cooper Works Hardtop ($24,950)
Subaru WRX STI Launch Edition ($38,190)
Volkswagen Golf R ($36,595)
If you have one of these cars, seeing how classic cars hold their value just might be the inspiration you need to baby your car today.