Life was good in 2014.
For example, we saw a continuation of the previous year's relatively low overall catastrophic damage totals, according to CoreLogic's "Natural Hazard Risk" analysis report, which provides a summary and analysis of the most significant natural disasters of the year.
The U.S. has not experienced a single natural hazard that cost in the tens of billions of dollars since Superstorm Sandy ravaged parts of the East Coast in 2012.
However, calling 2014 a "quiet" year is not entirely accurate, as locally devastating events can wreak major destruction and drive losses. Late summer flooding caused widespread damage in Detroit and Phoenix, an April tornado outbreak killed dozens in the south and destroyed more than 400 homes, and an August earthquake in Napa Valley had a $2 billion impact on the wine industry.
Below and on the following pages, CoreLogic details 2014′s most catastrophic events.
Hurricanes
The 2014 hurricane season was the second consecutive year of low tropical storm and hurricane activity in the Atlantic Ocean. Last year, there were only eight named North Atlantic storms, six of which became hurricanes. And of those six, just two developed into a major hurricane (those that are Category 3 or larger).
Hurricane Arthur, the first named storm of the season, struck North Carolina on July 3. Because of its slow-moving path toward the north-northeast, its damage was relatively minor and primarily restricted to power outages and flooding.
"No other tropical storms or hurricanes caused damage or had any appreciable effect along the Gulf and Atlantic coasts of the U.S. in 2014," the report states.
The report authors hypothesized that the high levels of wind shear in the Atlantic, and stable temperature and moisture conditions impeded hurricane development.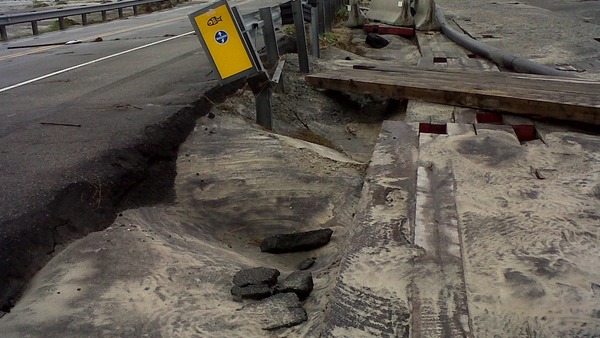 Water from Hurricane Arthur buckled a section of North Carolina Highway 12 on Hatteras Island, seen in a Friday, July 4, 2014, photo provided by the North Carolina Department of Transportation.
Next page: Flooding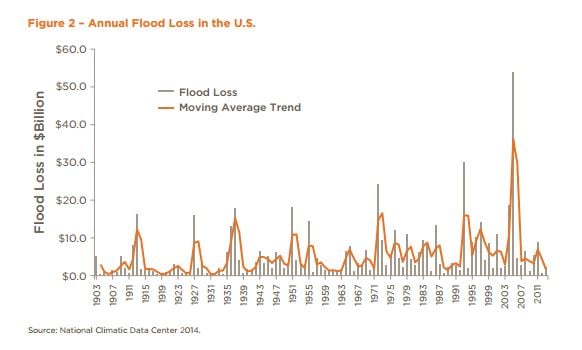 Flooding
Damage attributed to flooding in 2014 was below average, totaling $4.2 billion in losses for the year (the long-term historical average in the U.S. is $5.3 billion).
These events weren't limited to one area of the U.S. in 2014, but the largest property losses took place in larger metropolitan areas. Urban damage due to flash flood events causes substantial property loss, as a city storm water system is connected to the sewer. Flash floods quickly overwhelm these storm water drains and cause sewers to backup into property basements, the report says.
On Aug. 11, the Detroit Metro Airport received 4.57 inches of rainfall, which is the second-heaviest single day of rainfall on record in Michigan. The flooding caused more than $1.1 billion in damage and affected 118,000 homes and businesses in the area.
Just two days later, 13.27 inches of rain fell over the course of one day at Long Island's MacArthur Airport in Islip, N.Y., which surpassed the estimated 7 inches of rainfall that occurred during Superstorm Sandy and also set a one-day record for the state.
And on Sept. 8, the Phoenix metro area experienced a record-setting 3.29 inches of rainfall, which caused widespread property damage due to Phoenix's relatively flat landscape.
Next page: Hail & tornado events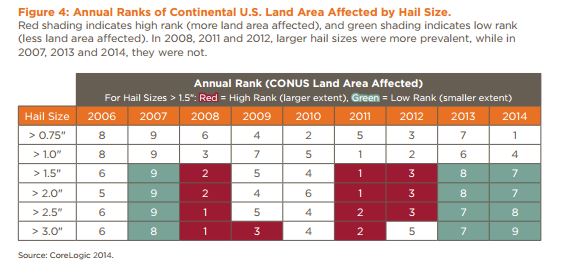 Hail
Despite frequent hail storms, 2014 will go down as quiet for claims activity. Last year's hail covered the largest geographic area in the past decade, but nearly 62% of the total hail fall was sized at less than one inch in diameter, and 96% was sized at less than 1.5 inches. For the largest hail sizes (greater than 3 inches), last year ranked lowest on record for the past nine years.
Knowing accurate hail sizes is just as important as knowing where hail occurred when considering loss, CoreLogic reports. "Widespread hail fall does not always coincide with widespread areas of larger, more severe hail."
Tornadoes
Based on data through August 2014, just 720 tornadoes were verified through the National Weather Service's Storm Prediction Center. Even if every storm report from September through the end of the year was processed and verified, the potential total would be 848, CoreLogic reports, which makes 2014 comparable to the two previous years in terms of total tornadoes and well below busier years like 2008 and 2011.
But a low tornado count does not guarantee an absence of severe physical damage or loss of life. On April 27, residents of Mayflower and Vilonia, Ark., suffered through an EF4 tornado that destroyed between 400-500 homes and claimed 16 lives. The following day also brought severe weather conditions, damaged property and loss of life to Tennessee, Georgia, Alabama and Mississippi.
Next page: Sinkholes & Wildfires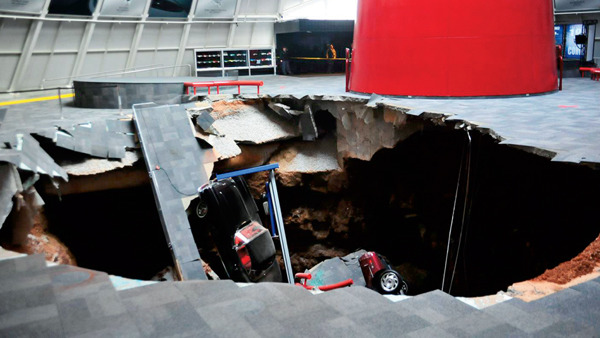 Sinkholes
Although Florida is the state most well-known for sinkhole events, it was Kentucky that experienced the most newsworthy event in 2014. In February, a sinkhole opened underneath the floor of the National Corvette Museum in Bowling Green. Eight cars fell into the hole, and the cost to repair the facility was estimated at more than $3 million.
Wildfires
"The 2014 wildfire season was a series of contradictions," CoreLogic reports. "California had more wildfire activity than ever before, but little property loss or damage."
Despite drought conditions, which contribute to wildfire growth, 2014 saw the second-fewest number of fires and the lowest wildfire acreage loss in the past 10 years. One possible explanation for the lack of wildfire damage could be that response and suppression efforts were quick, extensive and successful, CoreLogic hypothesizes. Contributing to this theory? Large-scale airplane and helicopter mobilization efforts are effective, but expensive. In California, the response to wildfire activity depleted the state's entire wildfire response budget in the first three months of the fiscal year.
Increased public awareness and community mitigation efforts also contributed to the reduction in wildfire damage. The installation of fire-resistant roofing and siding material, vent screens and other methods have proven to be effective against home ignitions.
Still, 2014 was not without loss. A total of 45,468 fires occurred as of October 2014, consuming 3.4 million acres of land. The largest fire of the year ravaged eastern Oregon in July when the Buzzard Complex Fire burned through nearly 400,000 acres. In July, the largest fire in Washington state history (Carlton Complex Fire) covered 256,000 acres and destroyed 322 homes.
Next page: Earthquakes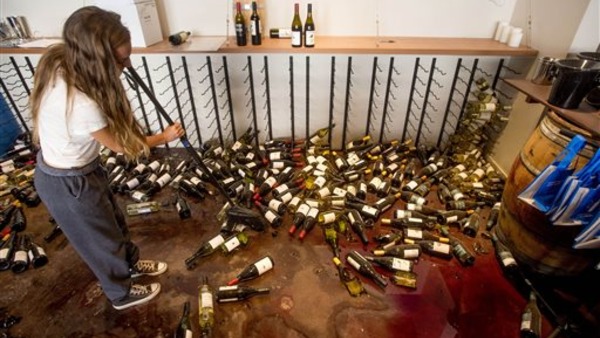 Grace Hardy cleans up wine bottles at nakedwines.com in Napa following Sunday's earthquake. (AP Photo/Noah Berger)
Earthquakes
The U.S. Geological Survey (USGS) estimates that several million earthquakes occur in the world each year, but many go undetected because they hit remote areas or have small magnitudes. The National Earthquake Center locates about 50 earthquakes per day, or about 20,000 each year.
In the U.S., California, unsurprisingly, was in the spotlight in 2014. A 6.8 magnitude temblor shook Humboldt County, located in the northwest part of the state on March 9, followed by a 4.4 earthquake in the Los Angeles area on March 17. SoCal wasn't spared, as yet another quake occurred on March 28 in the L.A. vicinity. CoreLogic estimates that damages from these three events were minimal.
However, the Golden State experienced its worst seismic event of the year when a 6.8 magnitude earthquake hit Napa Valley on August. 24, causing $2.1 billion in damage.
"Geologically, the San Francisco Bay region is underlain by many softer soils, commonly referred to as bay mud. Historically, it has been observed that softer soils amplify ground motions and contribute to a disproportionate amount of damage," CoreLogic reports.
This event primarily caused commercial losses, damaging a number of historic buildings in downtown Napa. Business interruption losses were also a major concern, due to the heavy reliance on tourism in the region. Non-structural damage, such as broken wine bottles and barrels, as well as substantial sprinkler leakage, was observed.
Away from California, the USGS reports that the rate of earthquakes in Oklahoma has increased by about 50% since October 2013. According to the organization, 580 earthquakes of 3.0 magnitude or higher happened in Oklahoma and Kansas in 2014, as compared to the years of 1978-2008, where only two 3.0 tremor events happened annually. The USGS reports that the increase coincides with the injection of wastewater in deep disposal wells.