The autonomous car industry is going far beyond Google's self-driving car.
Over the next two decades, self-driving cars are going to get a bigger share of the market. The number of such vehicles on the road will reach 11.8 million by 2035, according to Egil Juliussen, an analyst at IHS Automotive. And by 2050 he expects almost all cars to be self-driving. They are estimated to fetch premiums that will start at $7,000 to $10,000 in 2025, he said.
In August, the FBI cautioned automakers that driverless cars will impact how law enforcement officers and suspects use their vehicles. The FBI said these "lethal weapons" can be programmed to be used as getaway vehicles while suspects fire guns at their pursuers. Criminals could also override safety features to ignore traffic lights and speed limits, and terrorists could load up these cars with bombs and program them to drive and detonate at specific locations.
On the other hand, autonomous vehicles could be "game-changing" for police officers. Surveillance will be "made more effective and easier, with less of a chance that a patrol car will lose sight of a target vehicle," the FBI report claims. Driverless cars may be programmed to remain a certain distance behind targets to avoid detection.
Here's the latest in autonomous car technology.
As mentioned, Google has been testing driverless cars — including modified Prius and Lexus models from Toyota Motor Corp. — mounted with cameras, radar sensors and lasers on U.S. roads. Google's vehicles will initially have a top speed of 25 miles per hour and won't have a steering wheel, accelerator pedal or brake pedal, the Mountain View, Calif.-based company said in a blog post.
Next page: Mercedes-Benz

(Participants at the TecDay "Autonomous Mobility" experience the Mercedez-Benz interior concept via VR glasses)
Mercedes-Benz is scheduled to unveil its new autonomous car at the 2015 Consumer Electronics Show in January.
The automaker gave Motor Authority a preview of the car's interior, which the luxury car site says "looks more like a lounge than the cabin of a car." The cabin is expected to be devoid of a steering wheel, but in comparison to Google's car, the Mercedes should be more upmarket.
Basically, with the driving duties being handled by the car itself, the interior could be transformed into a private area of retreat in urban traffic. The seats could face each other to create a lounge-like environment, and display screens could be used for entertainment purposes or to provide information about the vehicle's surroundings.
"You'll notice that the concept is much wider than a normal car," the site says.
Can't wait until January to see a prototype? Motor Authority also has "spy shots" of the vehicle's exterior. Last year, Mercedes-Benz revealed the prototype for the S500 Intelligent Drive, an autonomous car that still contains a steering wheel. Engineers programmed the technology platform to know where it is, what it sees and how to react autonomously.
Mercedez-Benz hopes to have the vehicle on the market by 2020.
Next page: Audi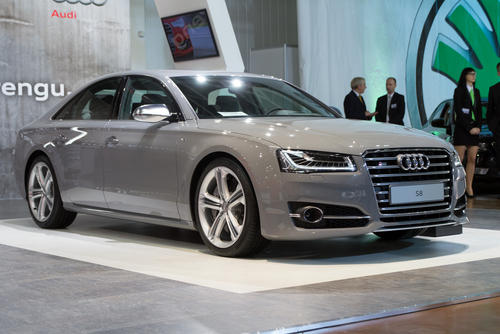 The next generation Audi A8 will be a fully autonomous, self-driving vehicle. Due in 2017, the car likely won't have much of a market as legislation has to catch up to technology. In Germany, for example, cars are allowed to drive in autonomous mode for just 10 seconds at a time. In the United States, only four states allow testing of autonomous vehicles (Florida, California, Nevada and Michigan).
Audi debuted its A6 Avant prototype at the Consumer Electronics Show earlier this year. The vehicle features "piloted driving," where the driver has the option to press a button on the wheel and let the car take over–if you are travelling at less than 40 mph. The prototype has sensors hidden in the front grill that, during piloted driving, keep the car a half length of the car's speed in meters per hour from the vehicle in front. The sensors also are aware of lane markings and are able read speed limit signs.
It is expected to hit the roads in three to five years.
Next page: Chevrolet
Chevrolet's EN-V (electric-networked vehicle) concept car has been around since 2010, and version 2.0 debuted at the Intelligent Transport System (ITS) World Congress in Detroit in September.
Like any concept car, the EN-V may not see street time, but it is equipped with cameras, sensors and vehicle-to-vehicle communication to enable hands-free driving. This micro-car is a 2-seater and caps out at 25 mph.
Walt Disney Pictures likes the look of the EN-V. The car will be featured in the 2015 film "Tomorrowland."
Next page: Cadillac
Besides the EN-V, GM is developing a second car that will feature semi-autonomous features. 2017 models (available in 2016) of the Cadillac will offer Super Cruise, a hands-free control that provides automated braking and allows drivers to ride on a highway (up to 70 mph) without controlling the steering wheel.
"With Super Cruise, when there's a congestion alert on roads like California's Santa Monica Freeway, you can let the car take over and drive hands free and feet free through the worst stop-and-go traffic around," said Chief Executive Officer Mary Barra in a speech at the Intelligent Transport System World Congress in Detroit. "If the mood strikes you on the high-speed road from Barstow, California, to Las Vegas, you can take a break from the wheel and pedals and let the car do the work."
Having it done for you — that's true luxury.
Next page: Ford
Developed in a partnership with State Farm and the University of Michigan, Ford is testing autonomous technology in the Automated Fusion Hybrid Research Vehicle.
First, Ford is working on vehicle-to-vehicle communication to alert drivers about congestion, accidents and weather. The automaker expects to then implement adaptive cruise control, steering and other V2V systems, with the eventual goal of creating a highly automated–not driverless–car.
The vehicle features four small scanners poking out of its roof. Linked together, the LIDAR (a portmanteau of "light" and "radar") units give a 360-degree, 3D view of surroundings that allow the vehicle to accelerate, brake and steer without driver intervention.