In the wake of the latest market correction toward softer conditions, some surplus lines experts are suggesting that once-hardening insurance markets are not what they used to be—and in fact, may never be the same again.
A year ago, the E&S market was still recovering from many of the lumps it took when Superstorm Sandy struck the East Coast in October 2012. The storm, which killed 280 people, caused $18.75 billion of insured damage—the third-costliest storm-damage loss for insurers in U.S. history, according to Verisk's Property Claims Service. With rates increasing across the board on P&C risks as a result, surplus lines insurers and brokers had described the market a year ago as definitely firming, if not quite hard. Today, the consensus among executives is that the market is softer.
"The Property sector in particular has grown softer than anyone would have anticipated a year ago," observes Robert J. Greenebaum Jr., Chicago-based executive vice president, national director of Marketplace Strategies and the Casualty Practice Group Leader for wholesaler Swett & Crawford.
Rates for many casualty risks also are falling or are renewing at no worse than their expiring rates, executives agree. What's more, underwriters have grown more willing to compete for existing accounts in addition to new business than they were a year ago.
Which is not to say that the surplus lines market is softening across the board, market executives say. "Nothing radical," observes Marla J. Donovan, vice president, product development at wholesaler Burns & Wilcox in Farmington Hills, Mich.
Indeed, underwriters are still seeking higher rates in several classes of business, including Professional Liability—a surplus lines staple.
"Rates are still in a great place" compared to where they were during the last soft market," says Matthew D. Nichols, president of All Risks Ltd. of Hunt Valley, Md. "I think we're in a great spot right now."
Capacity Snapshot
"The surplus lines market has never been healthier than it is today, so a lot of your companies are chasing market share," says Kevin T. Westrope, president of R-T Specialty in Kansas City, Mo., and managing director of parent company Ryan Specialty Group. The abundance of capital in the E&S industry, not unlike that seen in many lines of insurance, means the market is well-capitalized, but makes it more challenging for carriers to get rate.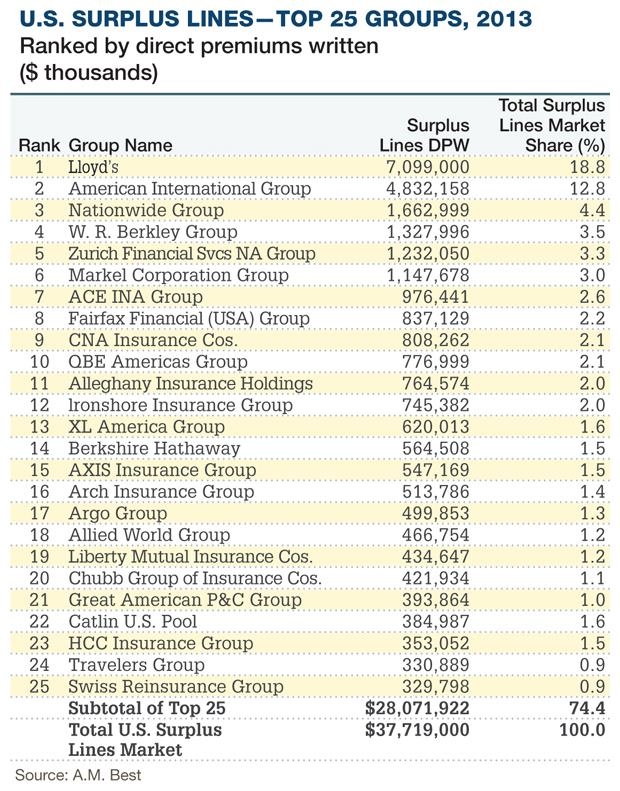 Meanwhile, competition from standard-lines insurers on certain risks is another contributing factor at times to softening rates, executives say. Admitted insurers' appetite for more premium has been whetted in part by that market's improving workers' compensation results in some states as well as cheaper reinsurance, Donovan points out.
But while always looking for additional business to write, admitted insurers are not attempting to sweep up large blocks of business from the surplus lines market, Donovan stresses. Instead, "They're nudging their way back in at the margins" of some risks that they considered "off-limits" two years ago by offering nominal or "subtle" rate reductions, she adds.
Most of the admitted market's interest lies in the largest accounts, according to Gary Tiepelman, senior vice president/underwriting at Scottsdale Insurance Co. in Arizona.
At the same time, Greenebaum notes, the fundamentals of competition between the non-admitted and admitted markets are not what they once were. The line distinguishing the two markets' players is much fuzzier these days as many insurers have units in each market, he adds.
Additionally, insurers have better data and more sophisticated modeling tools available to them these days, market executives note. As a result, "The industry is very good at managing its concentration of risk and managing its aggregate," Donovan says. "There's a lot better risk management by insurance companies than there was before Katrina" in 2005, she adds, when the hurricane pounded the Gulf Coast and caused a record $41.1 billion of insured damage, according to Property Claims Service.
Indeed, both buyers and sellers are more sophisticated today than before, adds Westrope: "I don't see the entire marketplace contracting like it did" after a huge loss. "Those days are gone."
The Rate Picture
Rates for property risks, especially windstorm-exposed properties, are softening the most, due to minimal catastrophe losses during the 2013 and current hurricane seasons. Nichols says those rates typically are down 5% to 15% for large accounts. The competition is less fierce, however, for smaller risks.
With a little competition from admitted insurers and alternative risk-financing vehicles—such as CAT bonds—catastrophe risks remain "pretty much entrenched" in the surplus lines marketplace, says Westrope, despite more encroachment by admitted insurers on better catastrophe risks, such as properties meeting the highest construction standards and inland properties that the insurers had covered years ago but began avoiding around 2011.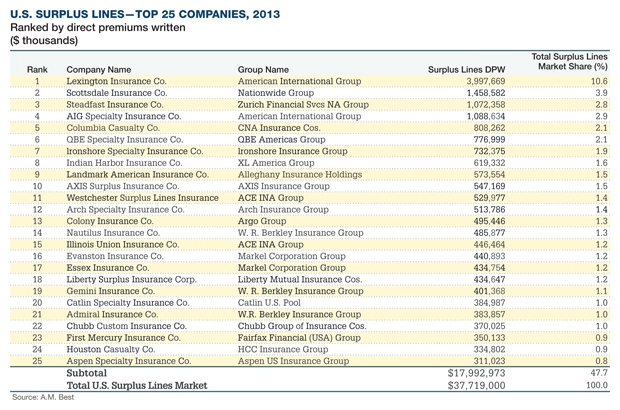 Donovan estimates that catastrophe property rates are down 5% to 10% generally and more than that in some cases. "But there's a lot more underwriting going on than there was five years ago in the last soft market," she stresses. "That's a good thing."
Rates for some casualty risks also are softening. As with property, non-admitted insurers largely are competing against each other, but admitted insurers are vying for some accounts, market executives say. Casualty risks for which rates are easing include some Product Liability accounts; owners and landlords; and bars and nightclubs. Competition for public-entity Professional Liability coverage, especially for smaller communities, has grown as well, says Tiepelman at Scottsdale.
For the accounts over which surplus lines insurers are competing that typically have good loss experience and have faced at least modest rate increase at their last few renewals, insurers are offering "moderate" rate reductions of 5% to 10%.
Admitted insurers that are increasing their appetites for some surplus lines risks are offering small rate reductions to some General Liability, Excess Liability, Professional Liability, miscellaneous E&O and employment practices accounts, according to Donovan. But admitted markets are being cautious; they are quoting on only those accounts they consider a little more prone to losses than the risks currently in the insurers' portfolios, she notes. The rate cuts those insurers offer typically are less than 2%, "but some accounts are willing to move for that," Donovan observes.
Surplus lines market executives have varying opinions about construction liability coverages, although most say that New York and California risks face continuing rate hikes. Other than for construction liability risks on the East and West coasts, rates are "pretty soft," or down about 10%, says Greenebaum at Swett & Crawford.
Tougher Risks Remain Pricy
Meanwhile, even abundant capacity and some admitted-market competition are not helping some tough risks land better rates. The aforementioned construction risks on the East and West Coasts, for example, remain among the classes facing the highest rate increases at renewal. West Coast risks face increases of 5% to 15%, says Nichols at All Risks; the rates for East Coast risks are so stiff, he adds, that assigning a percentage increase to them isn't meaningful when compared with the rest of the country: "It's as hard of a market segment as there is out there right now."
Tougher Product Liability risks—such as manufacturers of potentially dangerous industrial equipment, as well as pharmaceutical companies—also are paying more at renewal, says Westrope. Depending on the risk, rates could be 10% higher, he adds.
With hospitality risks, insurers want a minimum premium, and rates could be flat to 25% higher, adds Nichols. In extreme cases, rate hikes can be as much as 67% due to the lack of appetite for that business.