India, Pakistan and Mexico are the latest countries to be dealt devastating blows by Mother Nature in 2014 thus far.
Aon Benfield's catastrophe-model development center Impact Forecasting reveals in its newly released Global Catastrophe Recap some more of the costliest weather events for the year to date, including major hurricanes and flooding. Several of these events that happened during the month of September rank among the costliest weather events to date thus far in 2014.
Click through to see the 10 most costly weather events for the year to date, including those with some of the highest insured property loss.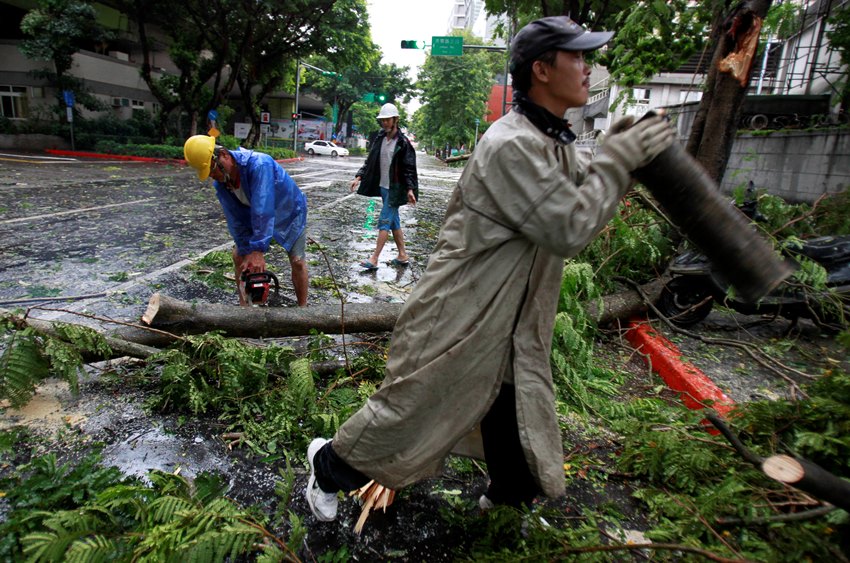 A city maintenance crew member removes fallen trees from a main road in Taipei, Taiwan on July 23, 2014. (AP Photo/Wally Santana)
10. Typhoon Matmo, in Taiwan, China and the Philippines (7/22-7/24)
Deaths: 15
Structures/Claims: 30,000-plus
Economic Losses: $570 Million-plus
Typhoon Matmo made separate landfalls in Taiwan and China between July 22 and 24 after first passing by the Philippines; at least 15 deaths were attributed to the storm. In Taiwan, Matmo's effects were felt across the entire island after rainfall totals reached nearly 23 inches in some townships. Agriculture was the hardest-hit sector, with losses totaling TWD 595 million (USD $20 million). In China, the storm caused widespread damage across the provincial regions of Fujian, Jiangxi, Shandong and five others.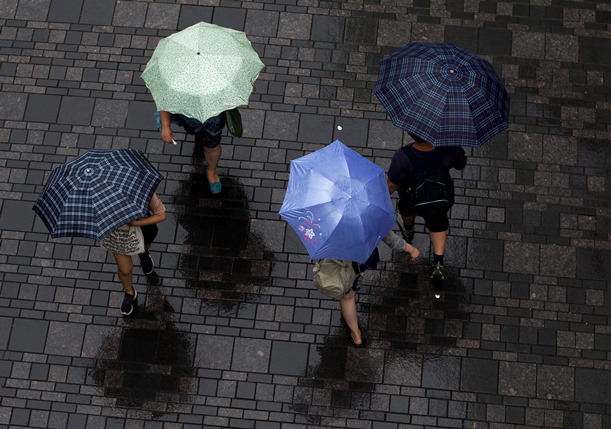 (AP Photo/Andy Wong)
9. Flooding in China (8/22-8/28)
Deaths: 10
Structures/Claims: 10,000-plus
Economic Losses: $700 Million-plus
Flooding rains, high winds and large hail lashed nine Chinese provincial regions between Aug. 22 and 28, killing at least 10 people. Multiple storm systems crossed the country, which led to more than 10,000 homes and other structures sustaining varying levels of damage, according to Aon Benfield. Parts of Guizhou, Hebei, Qinghai, Ningxia, Hunan, Sichuan, Inner Mongolia, Shaanxi, and Gansu provinces were all impacted. The MCA cited total economic losses at CNY4.3 billion (USD $700 million).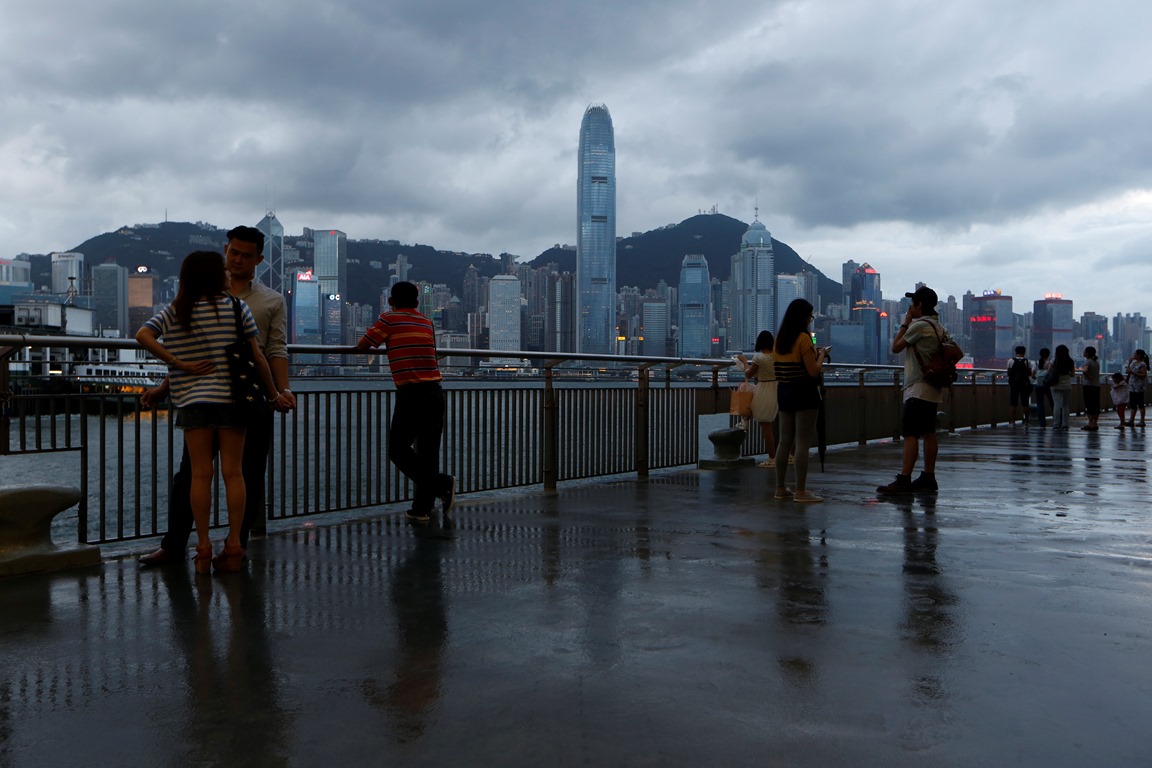 (AP Photo/Kin Cheung)
8. Flooding in China (7/13-7/18)
Deaths: 66
Structures/Claims: 80,000-plus
Economic Losses: $1.25 billion-plus
Torrential monsoon rains lashed southern China from July 13-18, affecting millions of people and leaving at least 66 people dead or missing. The storms triggered strong wind gusts, lightning, and unseasonably high amounts of rainfall in several provinces including Guizhou, Jiangxi, Hunan and Sichuan. More than 80,000 properties were damaged, and tens of thousands of hectares of crops were destroyed.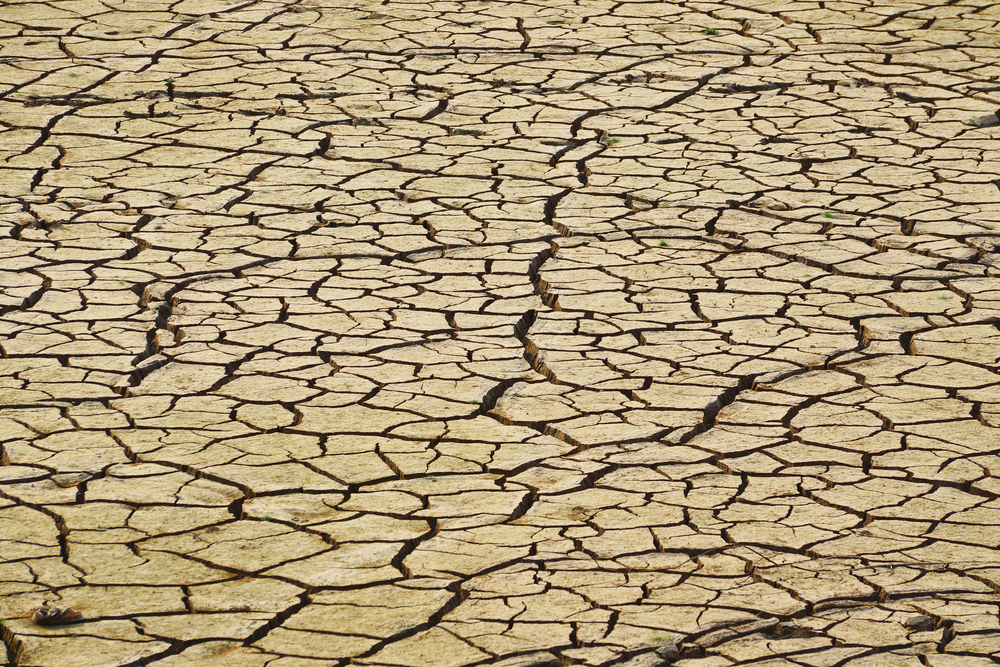 7. Drought in China (6/20-7/31)
Deaths: 0
Structures/Claims: Unknown
Economic Losses: $1.4 Billion-plus
Severe drought conditions affected portions of nine northern Chinese provinces from late June through the month of July. The provincial regions of Shandong, Shaanxi and Henan were worst affected, where rainfall totals were at their lowest since 1961.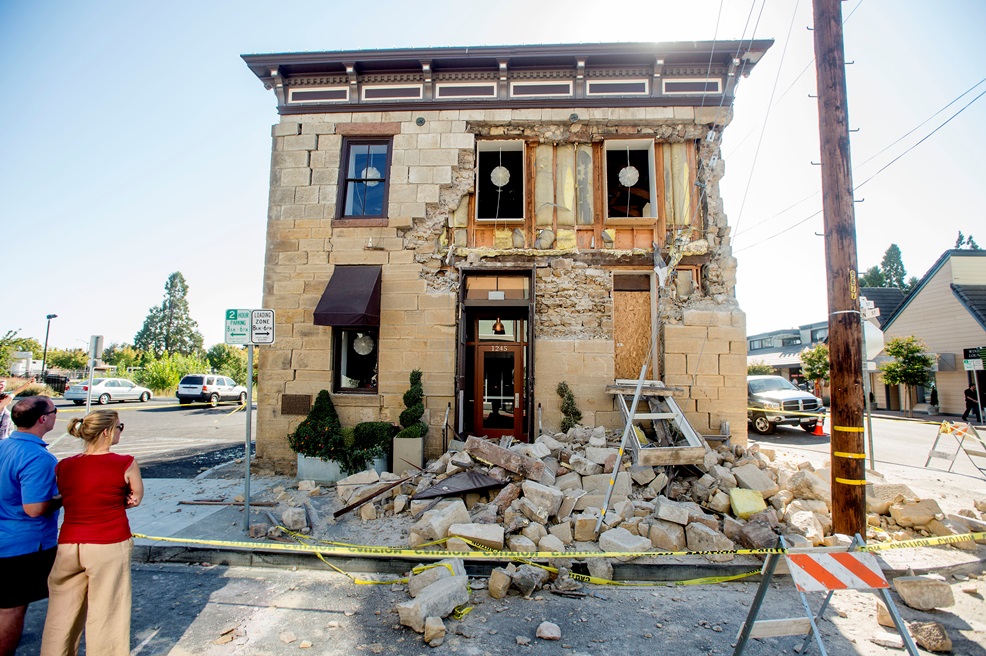 Pedestrians examine a crumbling facade following an earthquake at the Vintner's Collective tasting room in Napa, Calif. (AP Photo/Noah Berger)
6. Earthquake in California (8/24)
Deaths: 0
Structures/Claims: Thousands-plus
Economic Losses: $2.0 Billion-plus
The strongest earthquake to strike San Francisco's Bay Area in 25 years was recorded in the early morning of Aug. 24, causing widespread damage to property, infrastructure, and wineries. At least 258 people were injured.
The magnitude-6.0 tremor was registered at 3:20 a.m. local time with an epicenter located six kilometers (four miles) northwest of American Canyon, California. In the city of Napa, at least 1,120 homes and other buildings were structurally damaged, with additional damage noted in Vallejo and Mare Island, according to Aon Benfield. The main tremor caused at least 50 fires and more than 100 water main breaks.
Total economic losses were expected to minimally reach $2 billion, with insured losses much less due to low residential earthquake insurance penetration in Napa County and surrounding counties.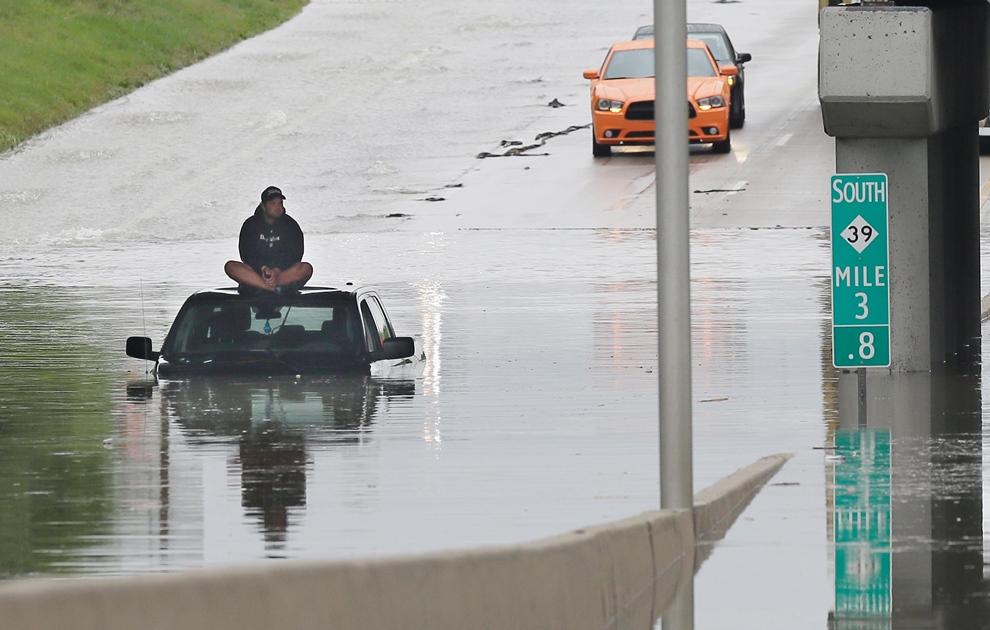 A stranded motorist sits on top his car as he awaits rescue from the flooded Southfield Freeway on Aug. 11, 2014, in Dearborn, Mich. (AP Photo/Carlos Osorio)
5. Flooding in the Midwest, Northeast and Mid-Atlantic U.S. (8/11-8/13)
Deaths: 1
Structures/Claims: 70,000-plus
Economic Losses: $2.0 Billion-plus
Multiple days of excessive rain led to substantial flooding in parts of the Midwest, Northeast and Mid-Atlantic between Aug. 11 and 13, killing at least one person. Some of the most severe damage was recorded in the greater Detroit metro region, where two months' worth of precipitation fell in just 24 hours. Tens of thousands of homes were damaged and infrastructure was severely impacted.
Similar rainfall and flooding occurred in Baltimore and in Long Island, N.Y., where rainfall totals equaled a 1-in-100 year event. Total economic losses were expected to reach $2 billion, with more than $1 billion cited in the Detroit metro area alone. Insured losses to private insurers and the NFIP were in excess of $500 million.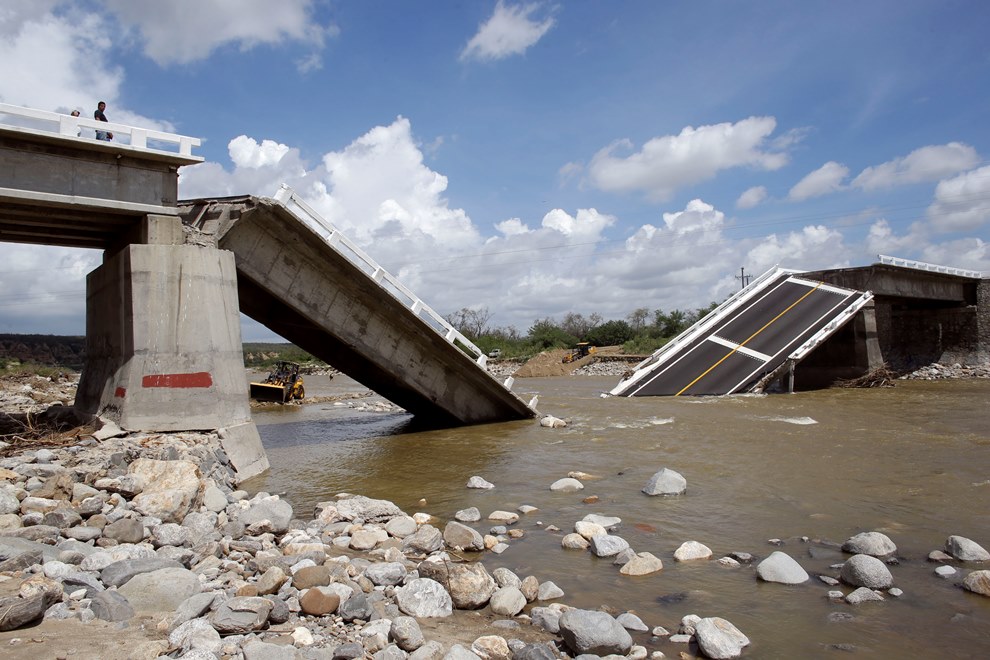 The collapsed Aduano bridge leading to in Los Cabos, Mexico on Sept. 17, 2014, several days after Hurricane Odile hit the region. (AP Photo/Victor R. Caivano)
4. Hurricane Odile (9/10-9/17)
Deaths: 5
Structures/Claims: 50,000-plus
Economic Losses: $ Billions (closest assessment available)
Hurricane Odile became the strongest storm on record to make landfall on Mexico's Baja Peninsula. The Category 3 storm with 125 mph (205 kph) winds left five dead and injured 135 others when it crashed ashore near Cabo San Lucas. Tens of thousands of homes, structures and vehicles were damaged or destroyed. Total economic losses were expected to reach the low-digit billions (USD).
Mexico's National Commission of Insurance and Bonds reported that preliminary insured losses were at least MXN 7.0 billion (USD $522 million).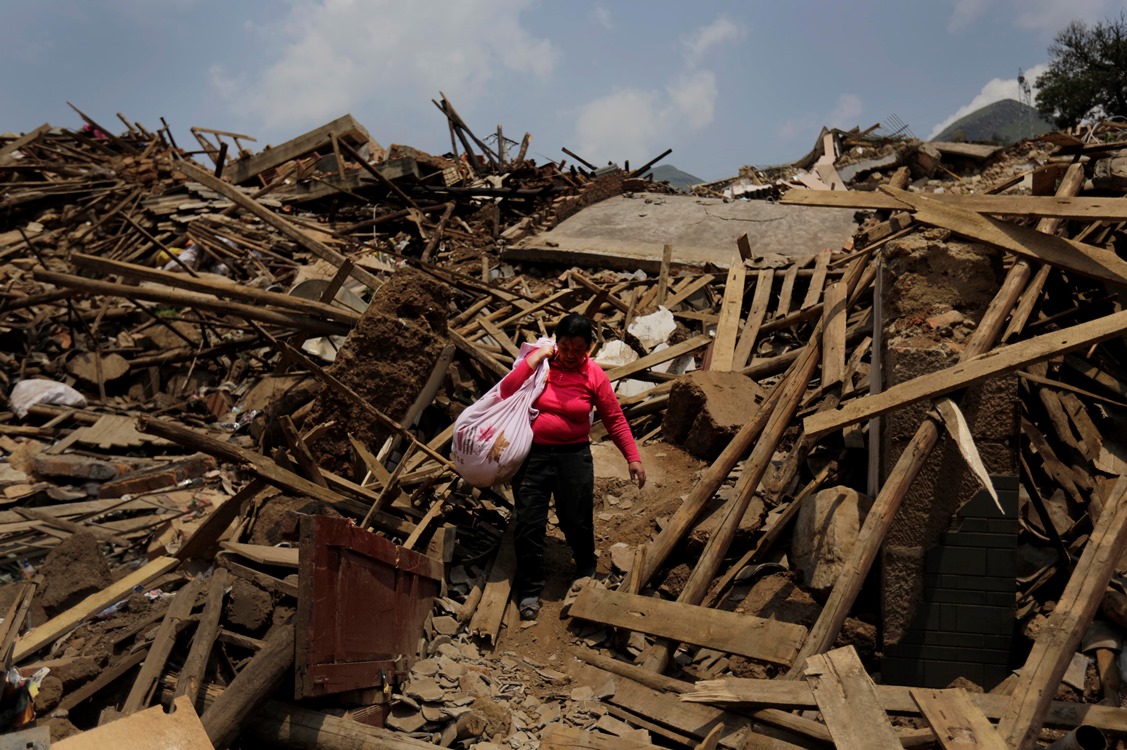 A woman carries her salvaged goods through the rubble of destroyed houses following a massive earthquake in China's Yunnan Province. (AP Photo/Andy Wong)
3. Earthquake in China (8/3)
Deaths: 617
Structures/Claims: 225,000-plus
Economic Losses: $6.3 Billion-plus
A USGS-registered magnitude-6.1 earthquake rocked Yunnan Province in southwest China on Aug. 3, killing at least 617 people and injuring more than 3,143. Extensive damage was recorded throughout Yunnan Province, with the heaviest impacts sustained nearest the epicenter in Ludian County's Longtoushan Township.
Data from the Ministry of Civil Affairs indicated that more than 25,800 homes collapsed, with an additional 40,600 sustaining severe levels of damage and a further 151,200 with lesser amounts of damage, according to Aon Benfield. Damage from ground shaking and landslides also occurred in nearby Guizhou and Sichuan provinces. Total economic losses were anticipated to be at least CNY38.5 billion (USD $6.3 billion).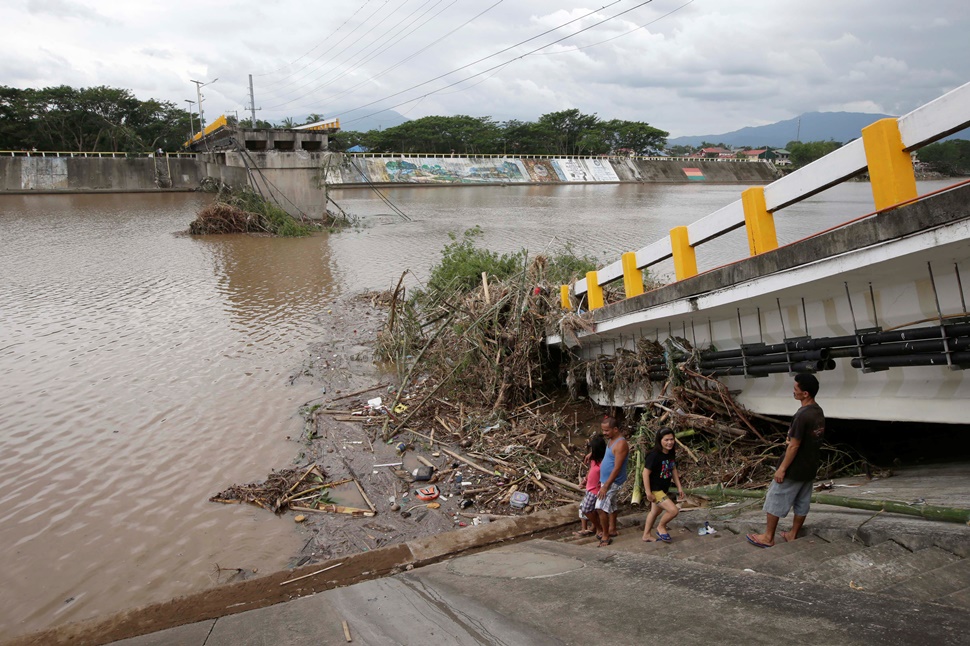 Residents check out a bridge that collapsed at the onslaught of Typhoon Rammasun in Batangas city, Philippines on July 17, 2014. (AP Photo/Bullit Marquez)

2. Super Typhoon Rammasun, in the Philippines, China & Vietnam (7/15-7/20)
Deaths: 206
Structures/Claims: 780,000
Economic Losses: $6.5 billion
Super Typhoon Rammasun made separate landfalls in the Philippines and China between the 15th and 20th, says Impact Forecasting, causing widespread damage and killing at least 206 people. Hundreds more were injured.
The typhoon was a Category 3 when it came ashore in the Philippines' Albay Province as it damaged or destroyed nearly 500,000 homes and decimated swaths of agriculture and infrastructure. Total damages to each sector were listed at PHP 10.8 billion (USD $250 million). More than 272,000 homes were damaged. Additional flood and wind damage was reported in Vietnam, where 7,200 properties were affected.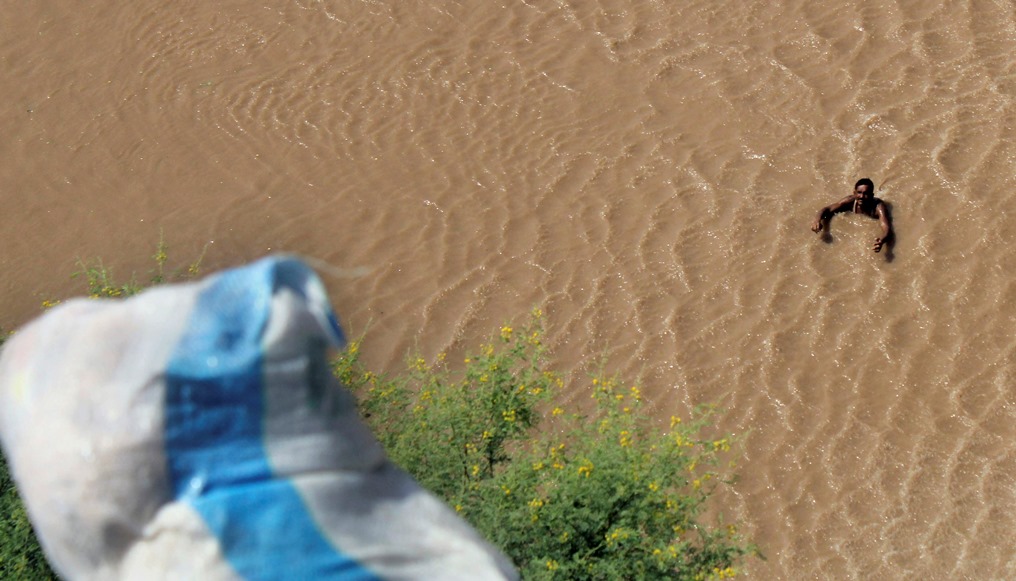 Sacks of relief goods are dropped from a helicopter in the flooded village of Multan district, Pakistan on Sept. 14, 2014. (AP Photo/Mansoor Abbas)
1. Flooding in India and Pakistan (9/2-9/15)
Deaths: 648
Structures/Claims: 375,000
Economic Losses: More than $18 Billion (*highest to date in 2014)
Torrential monsoon rains led to catastrophic flooding throughout parts of Pakistan and India, causing extensive damage and killing at least 648 people. A combined 375,000 homes and other structures were either damaged or destroyed, according to Aon Benfield.
In India's Jammu & Kashmir region, the local government tentatively estimated economic losses at INR1.0 trillion (USD16 billion)–though the total remains subject to change. The insurance industry estimated that payouts would reach INR9.0 billion (USD150 million). In Pakistan, government estimates cited economic losses in Punjab Province alone at PKR200 billion (USD2.0 billion).
This is the fifth consecutive year in which Pakistan has suffered a billion-dollar flood event.