Technology is a propulsive force essential to combating fraud against America's cornerstone industries, from credit cards to banking to investments and insurance. It's equally vital for dismantling terrorism. Untold billions of dollars, not to mention lives, can be at stake. Controlling such crimes also can have a stabilizing impact on America's economy.
Tech weaponry can identify insurance schemes, expose their inner workings, and uncover material evidence that helps break open the plots.
Insurers have entered an expansive era in their use of anti-fraud tech weaponry, and they understand the fraud pathogen is spreading. They are increasingly using more-sophisticated tech weaponry to counter a host of emerging fraud threats. Investments in technology also are growing, and insurers appear to be getting positive returns on those investments.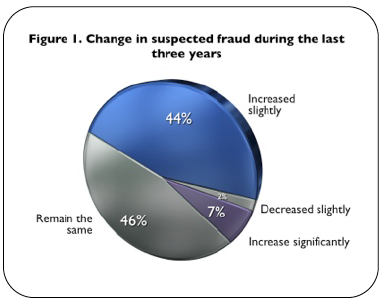 The State of Insurance Fraud Technology
These are among the findings of a just-released study, The State of Insurance Fraud Technology. It was conducted by the Coalition Against Insurance Fraud, with assistance from the business-analytics company SAS. More than 40 insurers participated, representing nearly 80% of the property-casualty market. This study is a follow-up to the 2012 effort.
The annual dollar losses to fraud against insurers are unknown, yet more than half of responding insurers agree that suspicious activity rose over the last three years.
Attempted fraud also flows throughout the entire claim cycle, insurers perceive. Scamming starts at the point of sale during the application and renewal process and continues through to the claims.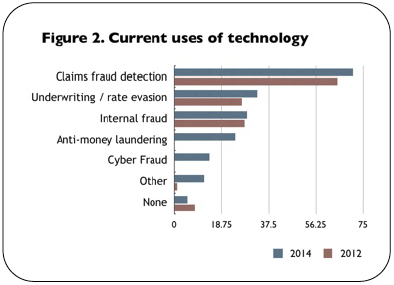 Emerging threats
Insurers require technology to be versatile enough to counter diverse and serious emerging threats. Innovative technology allows insurers to take an offensive, first-strike posture that disrupts schemes and denies swindlers a chance to make false claims.
Sophisticated rings appear to be growing. Major fraud is shifting to suspicious bodily-injury claims by medical providers. This is most true of auto and workers' compensation.
Thwarting fraud rings thus is a recurring theme of the study. In fact, slightly more than half of responding insurers agree that uncovering complex or organized fraud is a perceived benefit of technology — about the same as in 2012.
Money-laundering is a hallmark of organized schemes, and about 25% of insurers are now using technology to detect this crime.
Point-of-sale fraud is another growing area of insurer concern. Criminals are illegally garaging vehicles in other locales to illicitly lower their premiums, and committing other forms of rate evasion. About one-third of insurers use technology to counter rate evasion at policy inception.
Cyber fraud is an emerging crime as well. Insurers collect vast quantities of data that is valuable to identity thieves. The number of insurers reporting cyber attacks has grown markedly in recent years.
Yet only 14% of insurers use technology against this threat despite the potentially large-scale theft of sensitive policyholder identities and resulting damage to the insurer's brand. The number of insurers using technology of against cyber attacks, however, should rise significantly in the next few years.
Insurer use
The growing sophistication of fraudsters is reflected in the relatively wide insurer use of more-advanced tech weapons. Not surprisingly, traditional automated red flags/business rules form the first line of defense (81%). But large numbers of insurers also use:
Link analysis (50%);
Anomaly detection (45%);
Predictive modeling (43%);
Text mining (43%); and
Data visualization (40%).
Disrupting rings
One-quarter of insurers plan to expand their technology investments in the next 12-14 months. They appear to see a clear ROI. Only 8% said lack of ROI was a challenge to implementing technology, compared to 36% in 2013.
And the expanded tools surveyed are especially adept at disrupting organized fraud rings such as no-fault medical schemes. All of which suggests more insurers plan an increasingly proactive posture that places key fraud schemers on the defensive and denies more false claims earlier in the claim cycle.
Link analysis. This is where most insurers forecast expanded use. Link analysis can be especially effective in spotting complex relationships among ring members. A well-insulated no-fault ring with dozens of attorneys, doctors and chiropractors, recruiters and "injured car passengers" is a prime candidate for link analysis.
Nearly half of insurers (45%) say they plan to expand use of link analysis — more than double their 2012 investment increases.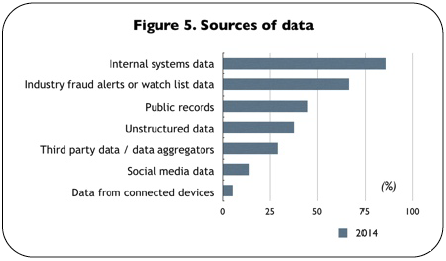 More technology options
Predictive modeling. Nearly 40% of insurers plan greater investments in a tool that can help identify suspicious claims in closer to real time, and even project a scheme's likelihood of occurring.
Text mining. Insurers can unearth large volumes of unstructured data embedded throughout the enterprise. Traditionally this case-breaking data has been largely inaccessible with other tech tools.
Scripted comments in claim notes and call-center logs, for instance, now can be quickly identified. Almost one-third (30%) of insurers plan to increase their investment in link analysis.
Data visualization (23 percent) enables insurers to quickly see shifts in things such as tactics or targeted product lines.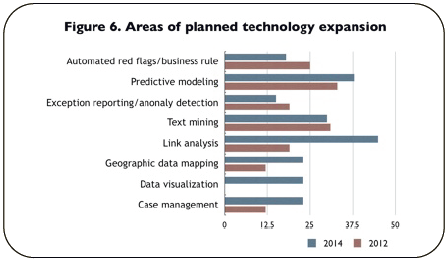 Going forward
On balance, the study paints an expansive picture. Insurers are moving steadily forward in adopting technology to counter emerging fraud threats, and move ahead of these scams. Advanced tools are a bigger part of the picture than ever and use will be expanded in the near future.
The study also raises questions about whether enough insurers are prepared for cyber fraud and other serious threats. But in the end, the survey results send a strong message: Fraudsters have good reason to worry.