Approximately 750 insurance professionals are expected to attend the 29th Annual International Association of Special Investigation Units (IASIU) Seminar and Expo on Insurance Fraud this week.
Seminar sessions include a look at auto body repair fraud, roofing claims, medical claims investigations, investigative tools, the impact of the Affordable Care Act on property and casualty insurers, investigating claims involving vacant and abandonded properties, and more.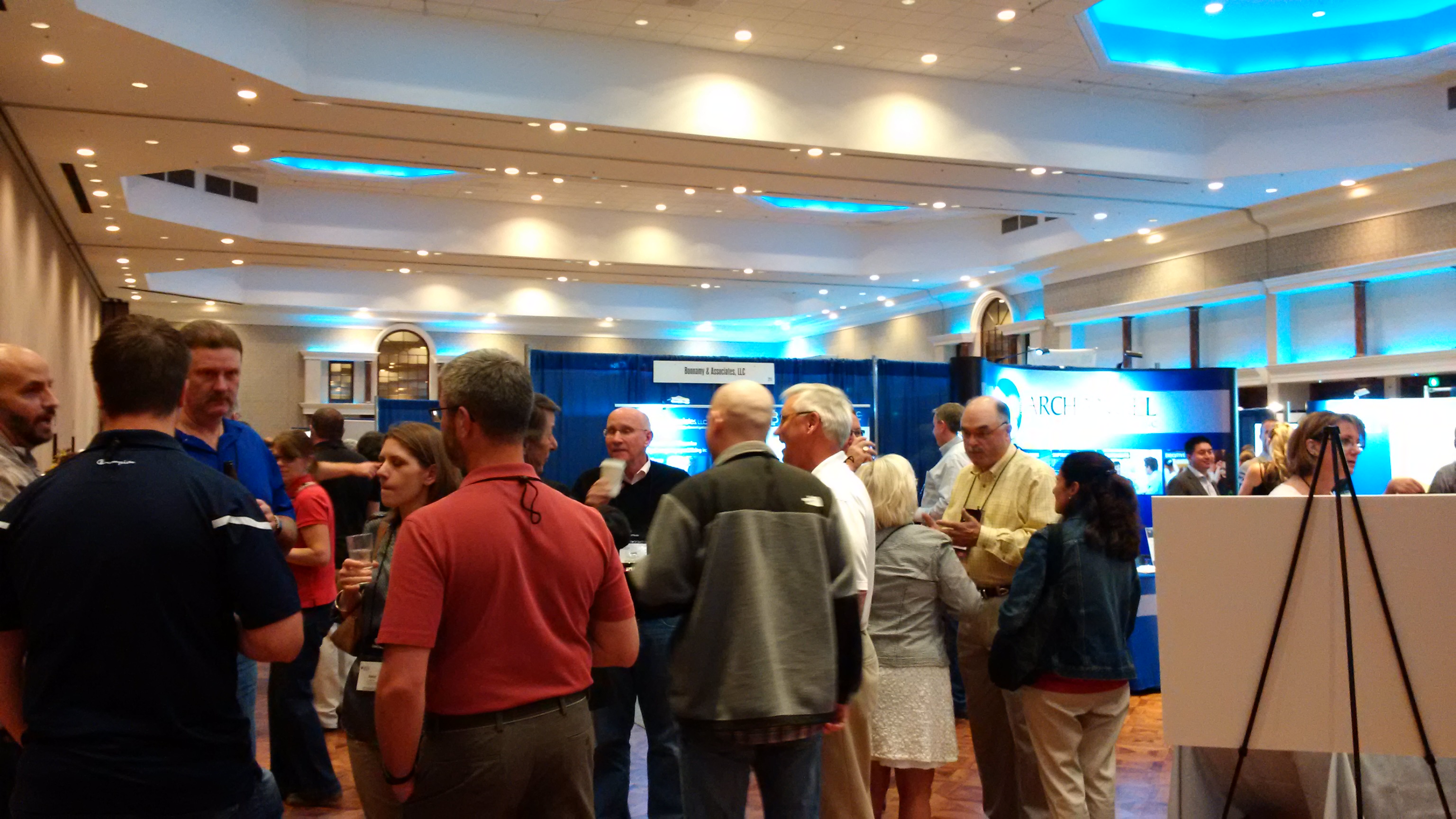 The Welcome Reception in the exhibit hall got the networking opportunities off to an early start.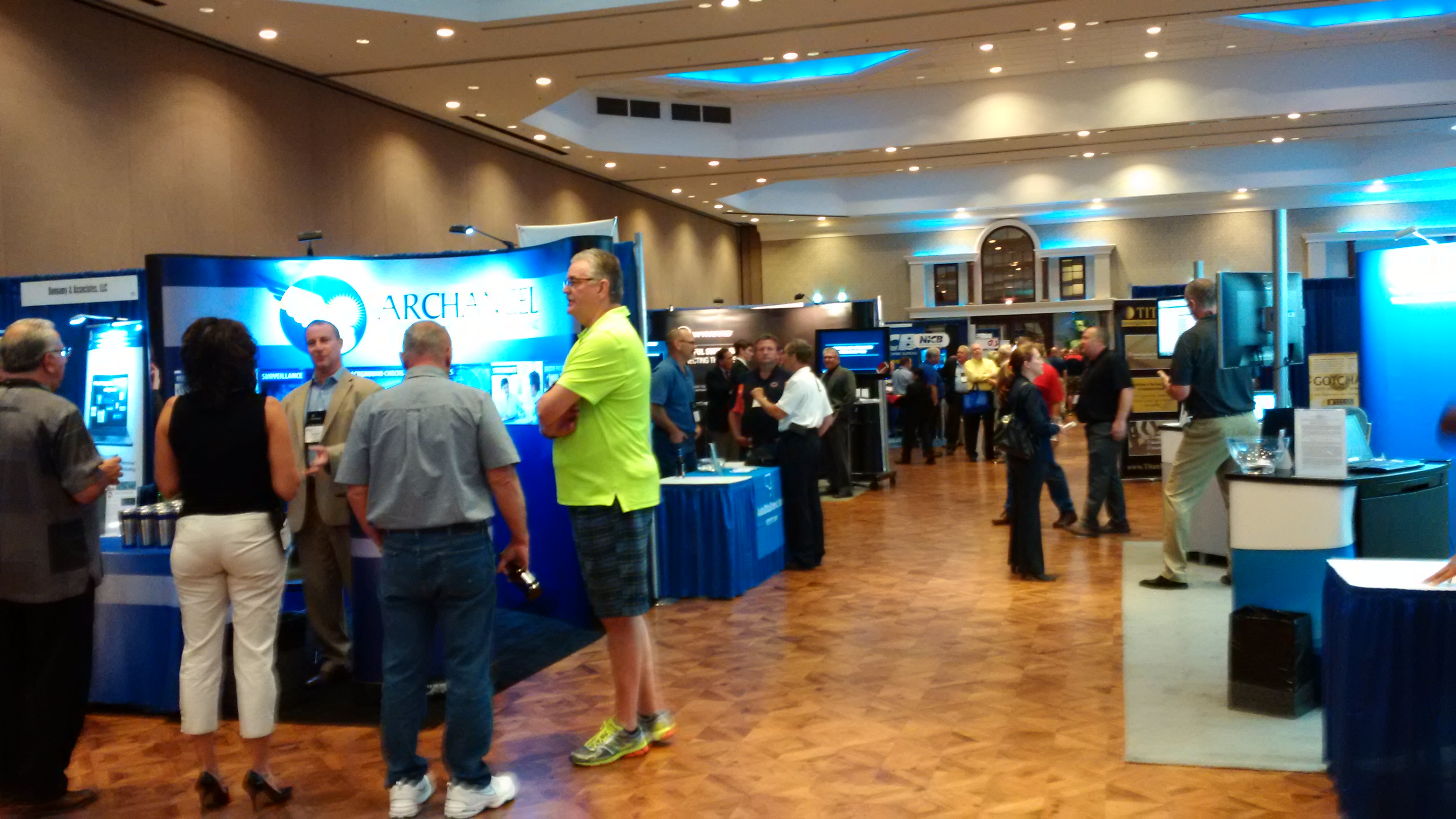 The exhibit hall featured technology for identifying and investigating fraud, tools for accessing information in vehicles, and exciting new technologies that will change how investigators are able to track and catch fraudsters.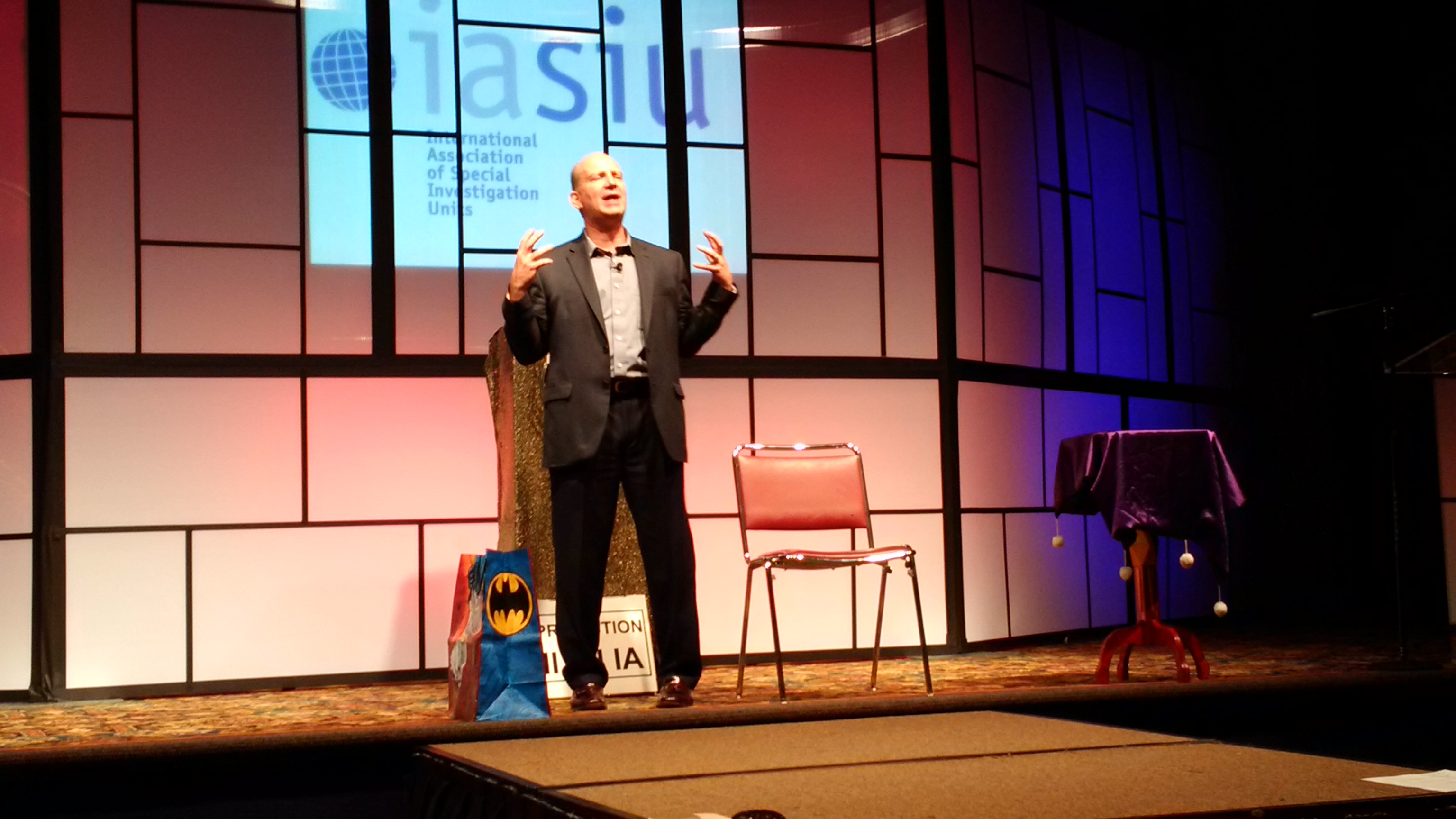 Keynote speaker Billy Riggs entertained the audience with his "disillusionment" presentation where he used magic to break down the preconceived illusions attendees had about themselves and their abilities.
When faced with change we must choose to change our attitude. He said that we choose what we are made of and whether we will see life as a glass "half full" or as "half empty." Those who choose to see life as half full despite the challenges they encounter will live fuller, more meaningful lives and their "glass" will grow and their lives will be richer. Those who choose to see life as half empty will find their lives and happiness getting smaller and less joyful.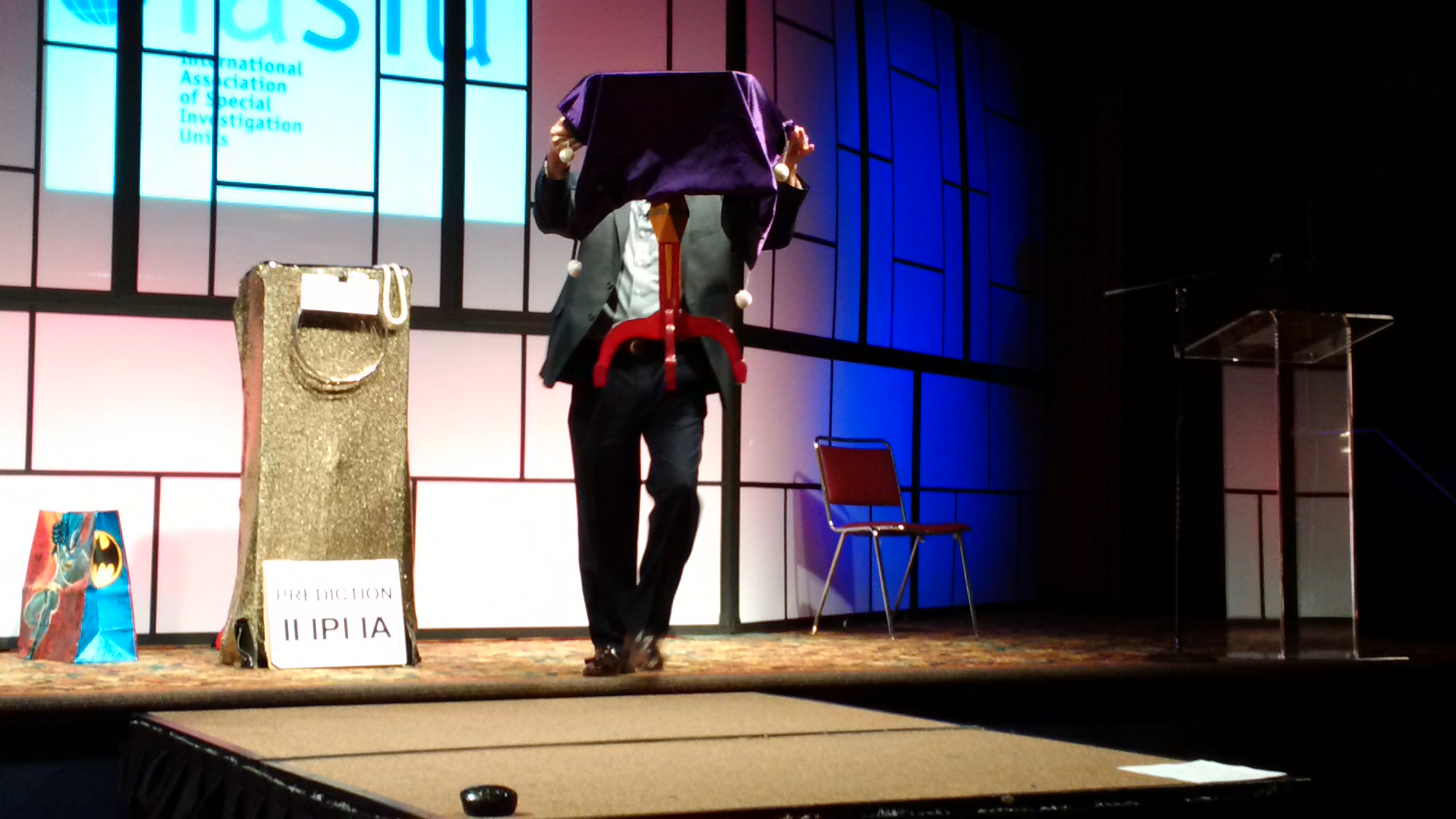 The Floating Table
Riggs appeared to hold a table only by the velvet cloth covering it and said that the table was being held by invisible forces. "Your life is impacted by invisible forces," he said, "don't let them impact your honor, character and integrity." Riggs explained that allowing your integrity to be compromised is like drilling a little hole in your soul. In the end you can have a boat that floats with integrity or you can have a sieve that everything runs through. "Insist on integrity from yourself even when you don't see it in other people."
So many factors influence our lives and we can spend them playing defense and being paralyzed by fear or we can play offense and take control of the issues that constantly challenge us.
He said that perseverence matters and used the example of Rocky Balboa from the Rocky movies. "It's about how much you can take and keep moving forward. You need to be able to take the hits and keep moving."
In the end, he concluded, it's about upgrading your attitude, increasing your resolve, staying on the offensive, insisting on integrity and getting up no matter how many times you get knocked down.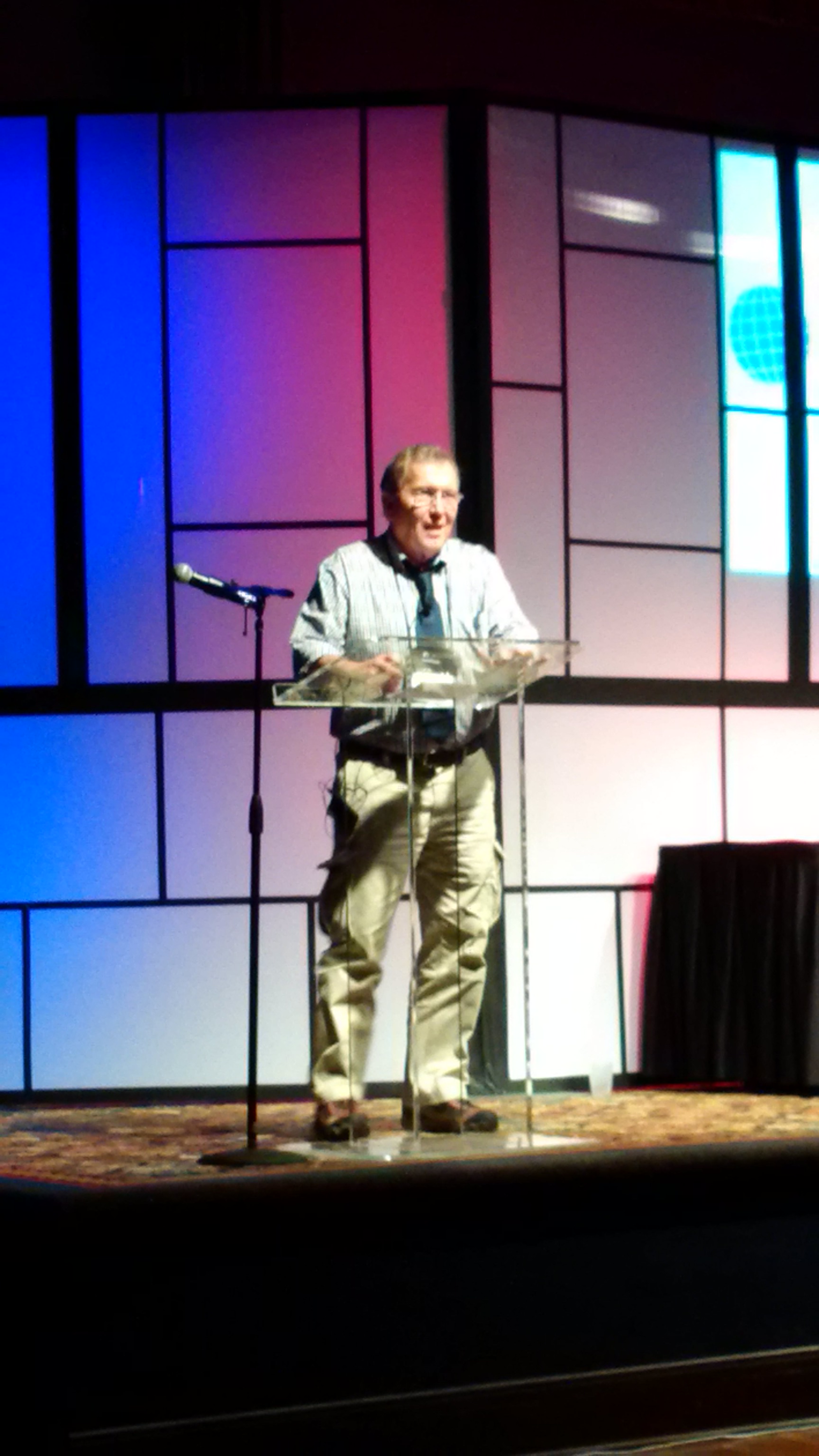 Interviewing Generation ME
Don Rabon (pictured here) and Whit Rogers discussed interview techniques and the implications of emerging technology on the interview process. A number of recent surveys found that high school students are willing to use lying, cheating and backstabbing to get ahead in the business world and they think this is acceptable behavior.
Many in what they called the ME generation share a number of characteristics – they are self-important and narcissistic; get diplomas but not necessarily the education a diploma implies; they are easily bored and have an inflated sense of self-esteem. They believe they deserve well-paying jobs without the experience to necessarily do them.
Rabon said millennials cannot be interviewed the same manner as individuals in other generations. Some are not comfortable with face-to-face conversations. They don't concede errors – even when confronted with them, may not show remorse when they are caught lying, don't have a core belief system and feel entitled to what they want. They frequently shift the blame and rationalize their behavior.
He cautioned the investigators to understand what the rules of engagement are when conducting an interview and to stick to those rules to reduce the chances of any legal repercussions. Rabon also said that technology is changing the way investigations are conducted. FaceTime, Skype, SparkHire and Go-to-Meeting are just some of the programs being used today. Companies are investing millions of dollars annually in new technologies.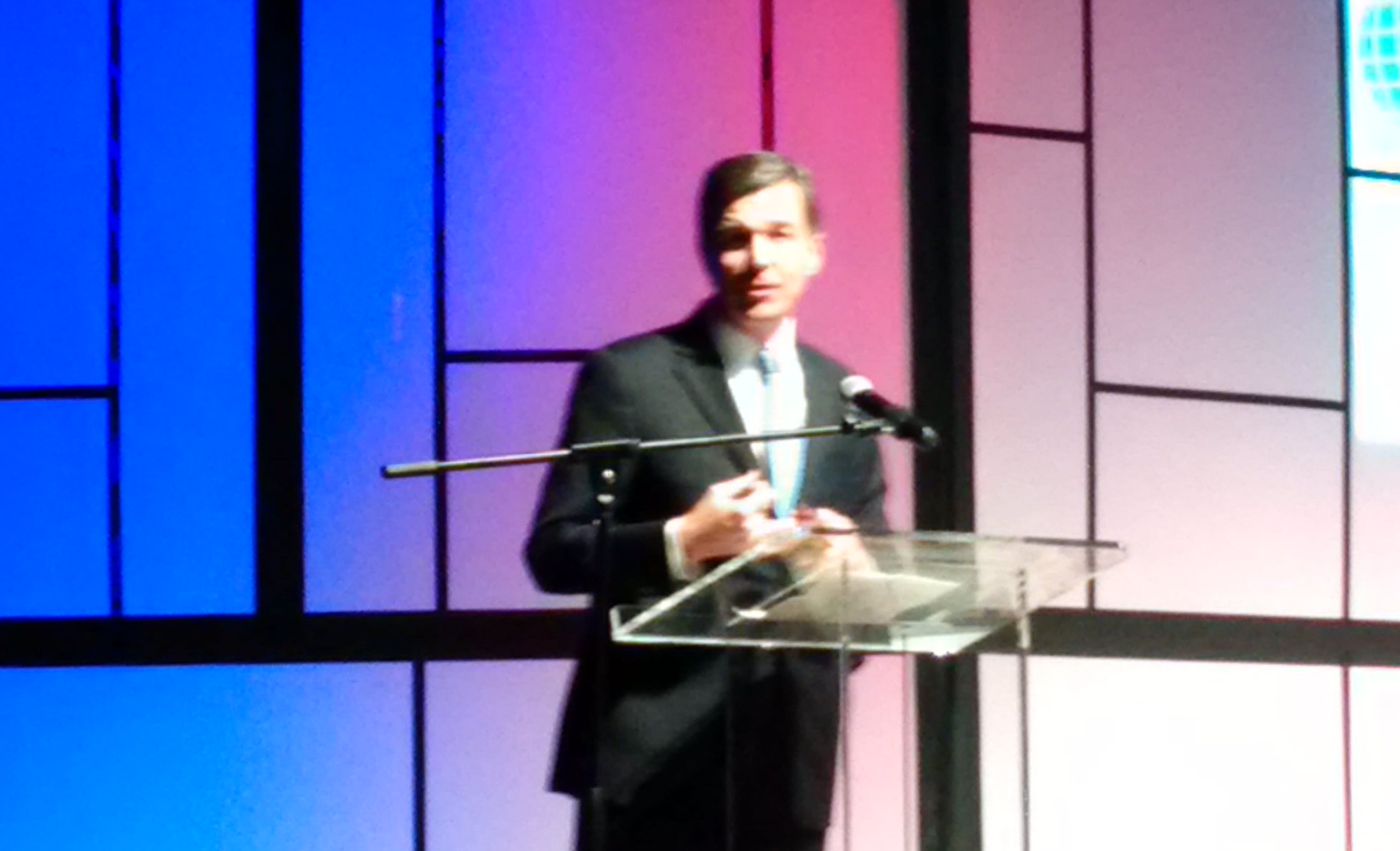 North Carolina Attorney General Roy Cooper
As the chief law enforcement officer for North Carolina, Attorney General Roy Cooper thanked the members of IASIU for the work they do to capture fraudsters and keep insurance costs down.
He provided an overview of some of the state's fraud efforts and recommended that the audience members work with their local attorneys general in their fraud efforts.
Cooper said that social media has made it much easier for fraudsters to gather personal information on people and explained that a new scam targets grandparents who get a phone call or email from someone pretending to be one of their grandchildren. The individual says he has been arrested in a foreign country and needs money to be bailed out of jail. Seniors have been swindled out of thousands of dollars to free their "grandchildren."
He said that debt settlement scams are another growing area of fraud because they will take someone's money up front to help them settle their debts. The state is also going after individuals who sell discount insurance cards that provide extremely limited insurance coverage, if any at all, and they are pursuing various financial frauds.