Flash flooding from record-breaking rainfall in the Southwestern U.S. yesterday has killed at least two people in Arizona when flood waters swept away their vehicles, reports Fox News.
A woman died after her car was swept away and became trapped against a bridge in Tucson, and a 76-year-old woman drowned when her husband tried to drive across a flooded wash in Pinal County south of Phoenix.
Remnants of Hurricane Norbert pushed into the Southwest to create severe floods in Nevada and Arizona, and swamped Phoenix with enough rainfall — about 3 inches — to break the previous rainfall record of 2.91 inches set in 1933.
Floodwaters were threatening up to 100 homes in suburban Mesa, Ariz. by Monday evening, says Fox News. Crews were working to disconnect power to submerged transformers, provide sandbags to threatened homes, and pump water from affected areas.
Interstate 10 in Arizona was shut down yesterday as floodwaters stranded motorists on their morning commute. Cars and SUVs sat in water up to their hoods on the highway, while dozens of motorists parked on its banked borders to stay clear of the water.
In Nevada, 190 people from an American Indian reservation were evacuated yesterday. Officials feared riverbanks could overflow in the small town of Moapa, northeast of Las Vegas.
Click "next" to see images from the flooding.
Photos provided by AP Images.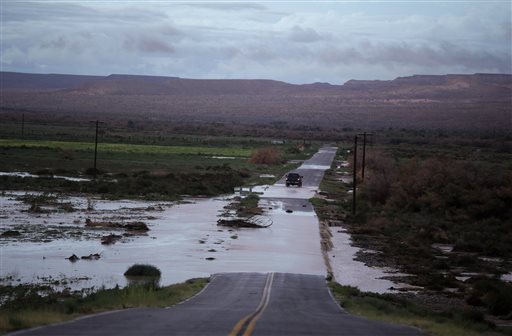 A truck crosses floodwaters on a road in Moapa, Nev., Monday, Sept. 8, 2014. Flooding throughout the area damaged homes and roads.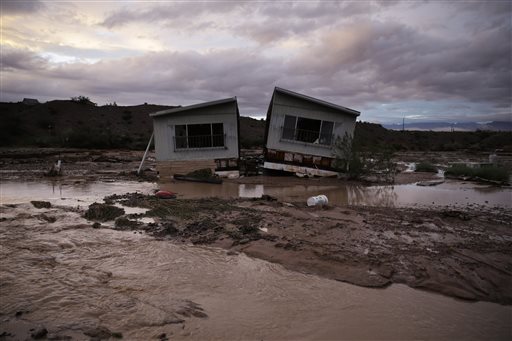 Receding flood water surrounds a home in Moapa.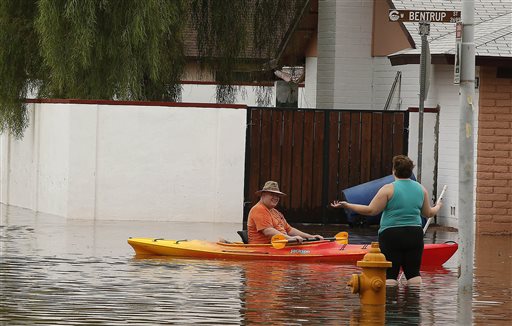 Two neighbors talk in a flooded street in Chandler, Ariz.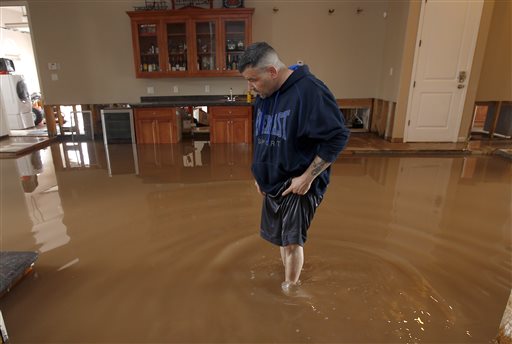 A dismayed Nick Kriaris wades through his flooded home in Phoenix. His home has flooded three times in the past month, and he had just finished fixing the damage in his home from the previous two monsoon storm floodings when yesterday's storm hit.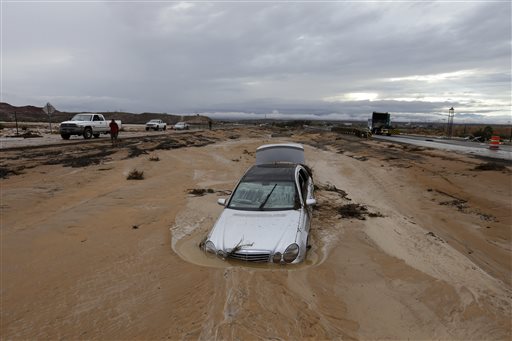 A car is partially buried in mud on Interstate 15 in Moapa, Nev. on Sept. 8, 2014. The road is closed in both directions because of the flood damage.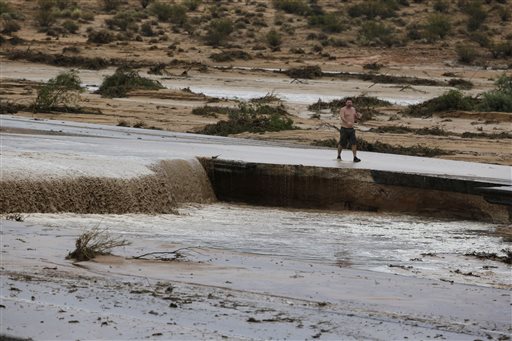 Water flows down the middle of Interstate 15 in Moapa.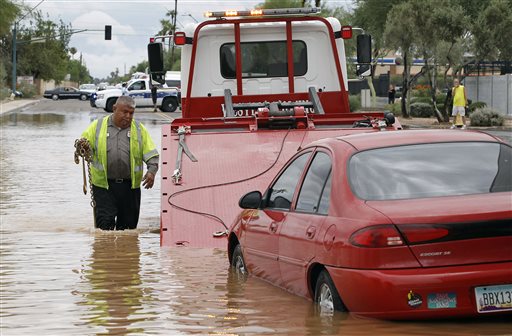 Steven Martinez of Western Towing prepares to lift a vehicle stranded in about two feet of water near Roosevelt and 44th Avenue in Phoenix.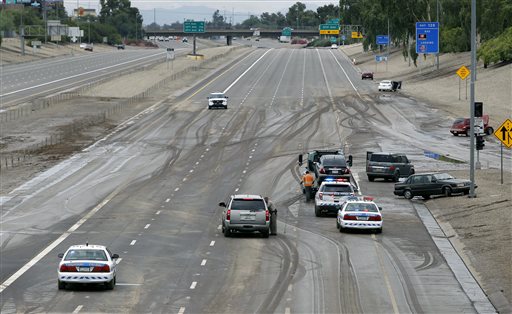 Arizona Department of Transportation (ADOT) crews work to clean up and remove vehicles on a section of westbound Interstate 10 following heavy rains and flooding that left motorists stranded during their morning commute on Monday in Phoenix.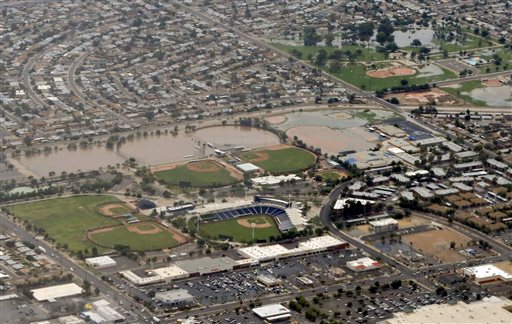 A section of the Milwaukee Brewers' spring training facility is underwater following heavy rains and flooding that left motorists stranded during their morning commute on Sept. 8, 2014 in Phoenix.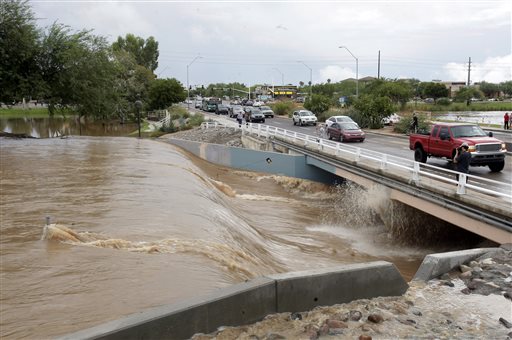 Cars drive by flooding in Scottsdale, Ariz.