Natural catastrophes quite often prove the most costly in terms of insured P&C losses, including a wide spectrum of triggers from auto and property damage to business interruption and even supply chain losses.
Insured losses were roughly $45 billion U.S., down from $81 billion in 2012 and below the inflation-adjusted average of $61 billion for the previous 10 years, due largely to a benign hurricane season in the U.S., says Swiss Re in its latest Sigma report on natural catastrophes in 2013.
In 2013 almost 26,000 people lost their lives or went missing due to natural catastrophes and man-made disasters, making the year the 20th most deadly on Sigma records. The number of lives lost was up 83% from the previous year but was well below the yearly average since 1990 of around 68,000 deaths.
Globally, about 20,000 people were killed or went missing in natural disasters in 2013, the majority in storms, floods and other severe-weather events.
Click through to view the list of Top 10 most costly insured natural catastrophe losses (in billions) of 2013.
10. Typhoon Fitow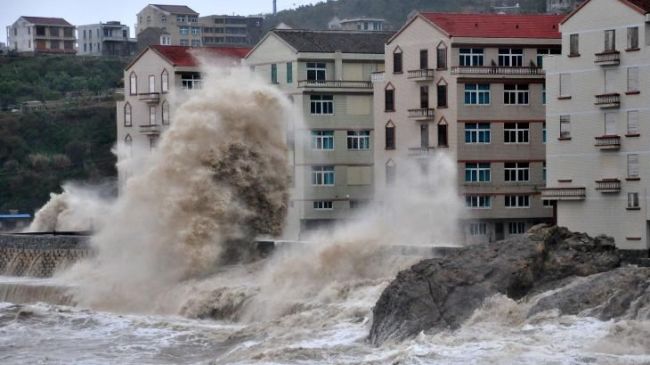 A wave hits the shore as Typhoon Fitow makes its landfall in Wenling, east China's Zhejiang province on October 6, 2013. (Photo: PressTV)
Date: 9/29/2013
Insured Losses (in USD): $1.1B
Economic Losses (in USD): $10.3B
Country/Countries Affected: China, Japan
Typhoon Fitow, the strongest typhoon to reach mainland China since 1949. delivered punishing rains resulting in major flooding, which led to most of the estimated total losses of $10 billion USD. The insured losses of $1.1 billion make it the second-largest claims event ever in China.
9. Winter Storms, Ice, Tornadoes, Heavy Rains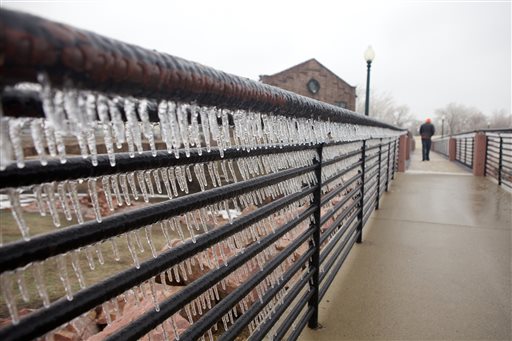 Ice accumulates on a bridge at The Falls Park in Sioux Falls, S.D. (AP Photo/Amber Hunt)
Date: 4/7/2013
Insured Losses: $1.2B
Economic Losses: $1.6 B
Country/Countries Affected: U.S.
8. Severe Thunderstorms, Tornadoes, Large Hail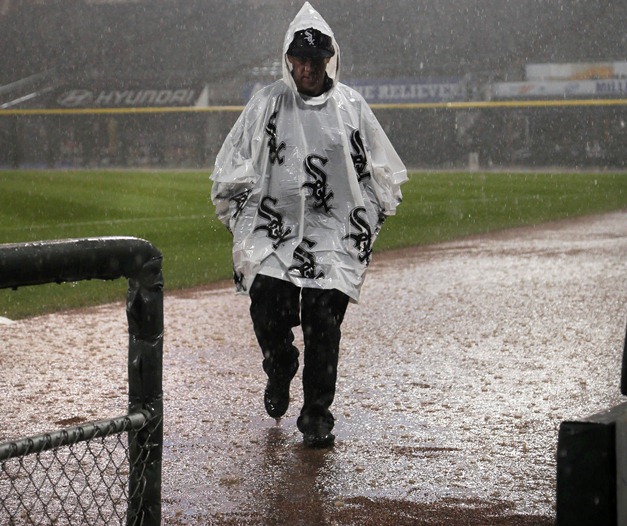 A security guard heads for shelter as heavy rain and hail brings a halt to a game between the Chicago White Sox and Chicago Cubs on May 28, 2013. (AP Photo/Charles Rex Arbogast)
Date: 5/28/2013
Insured Losses: $1.4B
Economic Losses: $2.8B
Country/Countries Affected: U.S.
7. Windstorm Christian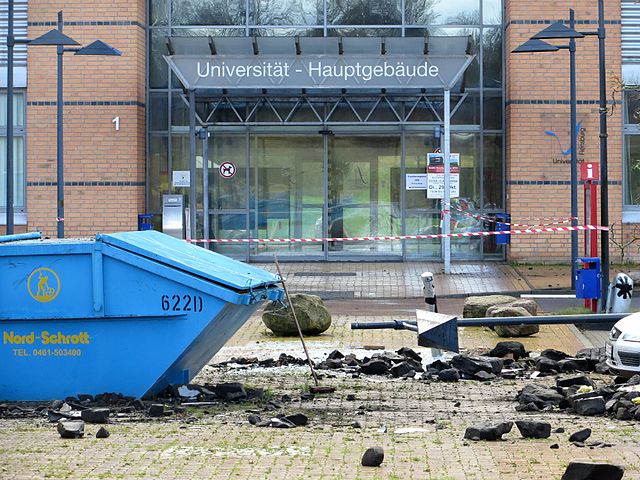 Damage is seen at the University of Flensburg in Flensburg, Germany after Windstorm Christian.
Date: 10/27/2013
Insured Losses: $1.5B
Economic Losses: $2.8B
Country/Countries Affected: Germany, Denmark, et al
Windstorm Christian, known as the St. Jude's day storm in the U.K., produced record-setting wind speeds at several meteorological stations. The majority of insured losses occurred in Denmark and Germany, with further losses in the Netherlands, France, the U.K. and Sweden.
The storm hit southern Britain on Oct. 28, knocking down trees, flooding lowlands and disrupting travel, before moving north and east, hitting France, the Netherlands, northern Germany, Denmark, Sweden and Russia.
6. Typhoon Haiyan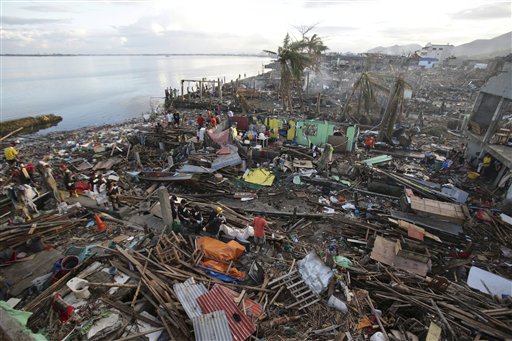 Filipino firemen and volunteers walk along the debris of damaged homes in Tacloban city on Nov. 17, 2013. (AP Photo/Aaron Favila)
Date: 11/8/2013
Insured Losses: $1.5B
Economic Losses: $12.5B
Country/Countries Affected: Philippines, et al
The deadliest disaster event in the history of the Philippines, Typhoon Haiyan caused the greatest amount of deaths in 2013, with around 7,500 people killed or declared missing in the Philippines, Vietnam and China.
In terms of economic loss, the biggest loss-inducing event was Haiyan, the Category 5 strength super typhoon that made multiple landfalls in central Philippines with record wind speeds and was the largest humanitarian catastrophe of the year globally and one of the strongest typhoons to have ever been recorded worldwide.
Haiyan triggered coastal storm surges with subsequent flooding and mudslides that wiped out entire coastal towns such as Tacloban, where the water level was estimated to have risen to 6.5m.
The Philippine authorities provisionally estimate the property, agriculture and infrastructure damage from Typhoon Haiyan to be at least $12 billion. Insured losses are estimated to be $1.5 billion, including losses from public-infrastructure cover.
5. Thunderstorms, Tornadoes, Hail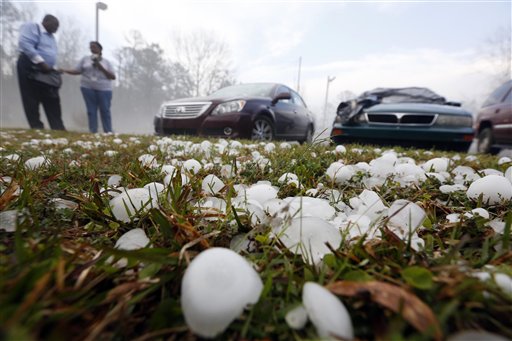 Golfball sized hail litter the ground by shattered cars in Pearl, Miss. on March 18, 2013, following a hailstorm. (AP Photo/Rogelio V. Solis)
Date: 3/18/2013
Insured Losses: $1.6B
Economic Losses: $2.2B
Country/Countries Affected: U.S.
4. Severe Thunderstorms, Tornadoes (EF5 Tornado in Moore, Okla.)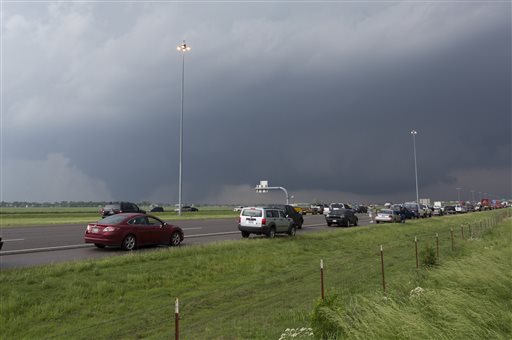 A tornado moves through Moore, Okla. on May 18, 2013 as northbound traffic on Interstate 35 stops. (AP Photo/Alonzo Adams)
Date: 5/18/2013
Insured Losses: $1.8B
Economic Losses: $3.0B
Country/Countries Affected: U.S.
3. Floods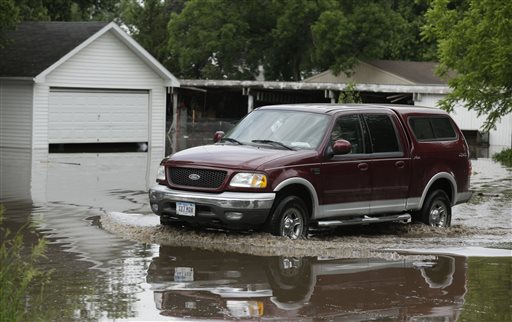 A resident drives through flood waters. (AP Photo/Charlie Neibergall)
Date: 6/19/2013
Insured Losses: $1.9B
Economic Losses: $4.7B
Country/Countries Affected: Canada
2. Hailstorms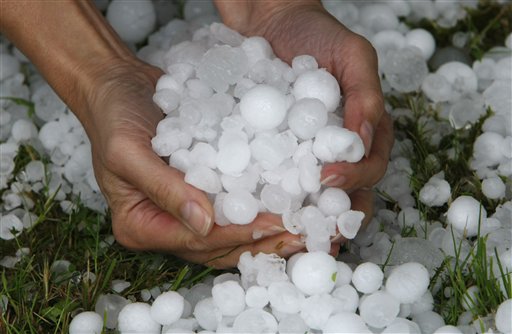 A woman holds handfuls of hail after a thunderstorm in Germany. (AP Photo/Thomas Kienzle)
Date: 7/27/2013
Insured Losses: $3.8B
Economic Losses: $4.8B
Country/Countries Affected: Germany, France
1. Floods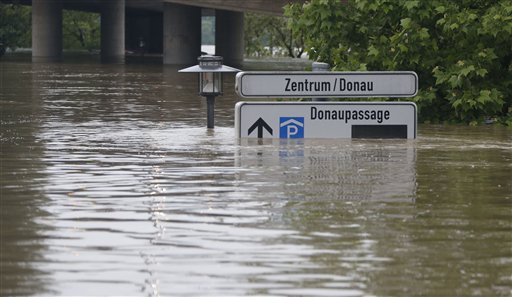 A street sign is flooded in Passau, Germany. (AP Photo/Matthias Schrader)
Date: 5/27/2013
Insured Losses: $4.1B
Economic Losses: $16.5B
Country/Countries Affected: Germany, Czech Republic, et al