A megatrend is not a prediction but a certainty, an event with global ramifications that is already unfolding and affecting people. And although the more massive of these megatrends can be intimidating, they present more opportunities for creative thinkers who can rise to the challenge of solving them.
Learning to surf the wave of megatrends was the topic of "Trailblazing: Frontiers of the Future," a presentation at the IICF Women in Insurance Regional Forum, held last week in Chicago. The event was part of IICF's four-city (Chicago, Los Angeles, New York and Dallas) event, designed to accommodate more attendees than last year's inaugural event in Manhattan.
In "Trailblazing: Frontiers of the Future," Tim Ryan, vice chairman, markets, strategy and stakeholders leader, and Kelley Buchanan, managing director, insurance advisory, PwC, examined how global megatrends will impact all of us, and how businesses can benefit by addressing them full on.
Calling today the "best time to be in business," Ryan says that in PwC's quarterly meetings with its clients, all trends point to growth: patent filings are up 9%, business bankruptcies are down, and corporate giving has increased 40% since the recession.
At a time when the world in general is fraught with uncertainty, how are these businesses performing so well? Ryan attributes it to two factors: creative leaders who are driving and adapting to change by learning how to "fail fast," and the global megatrends that are presenting more opportunities to leaders who can recognize them.
PwC began studying global megatrends three years ago, and since then has identified five critical areas that will affect everyone. These are:
1) Technological breakthroughs
2) Climate change and resource scarcity
3) Demographic shifts
4) Accelerating urbanization
5) Shift in global economic power.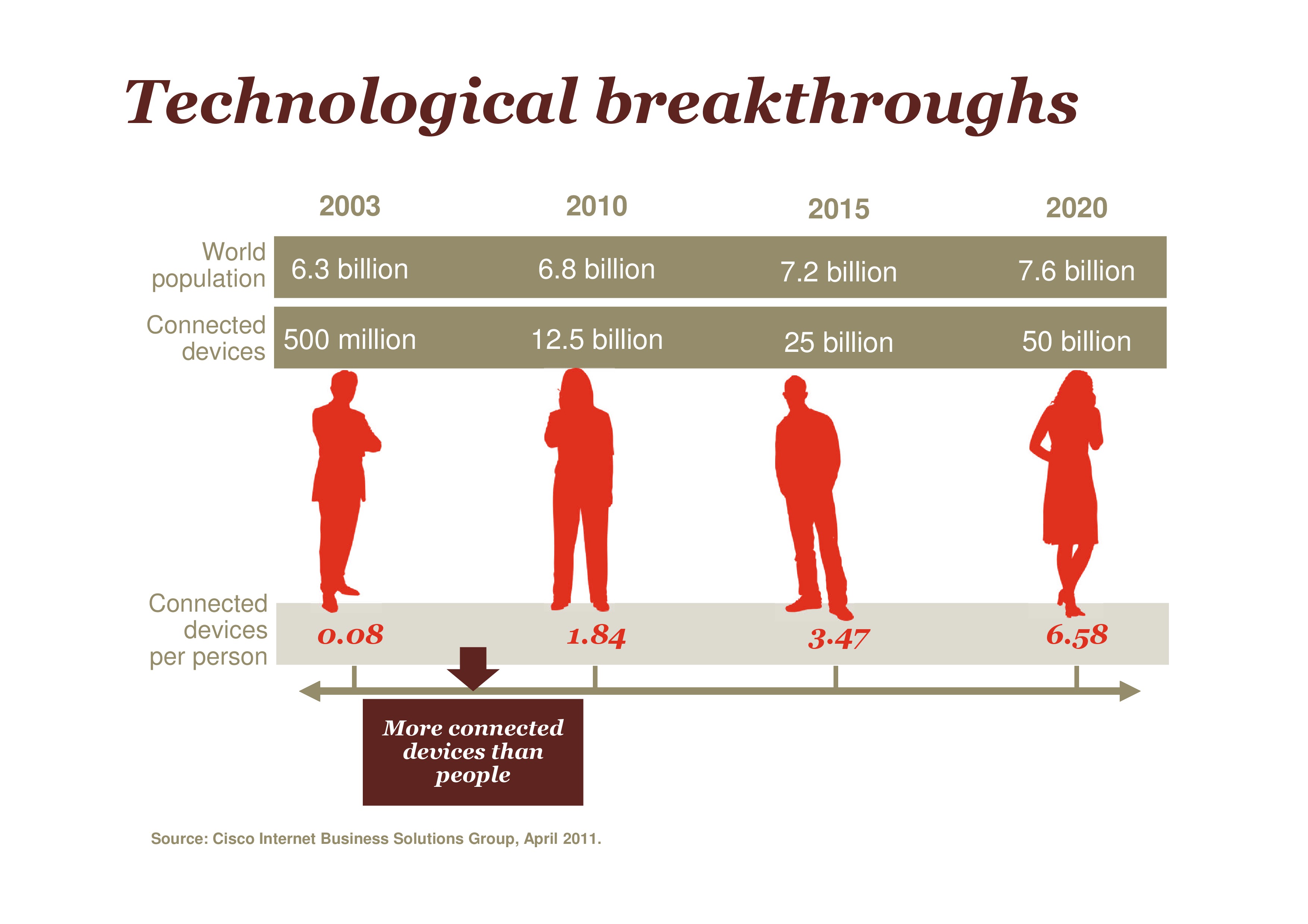 Technological breakthroughs. Everyone is aware of the rapid pace of tech advances, but few stop to consider just how revolutionary the tech boom actually is. In 2003, the world population was 6.3 billion with 500 million connected devices, for 0.08 devices per person. By 2020, the world population will hit 7.6 billion and there will be 50 billion connected devices, at 6.58 devices per person.
In Africa today, the prevalence of mobile technology means that companies can reach consumers without first having to build an infrastructure to reach them–something that has never happened before, Ryan says. Social media, data analytics and the cloud will continue to change the landscape of business and beyond. In fact, PwC almost made the pace of change and interconnectedness into a sixth megatrend.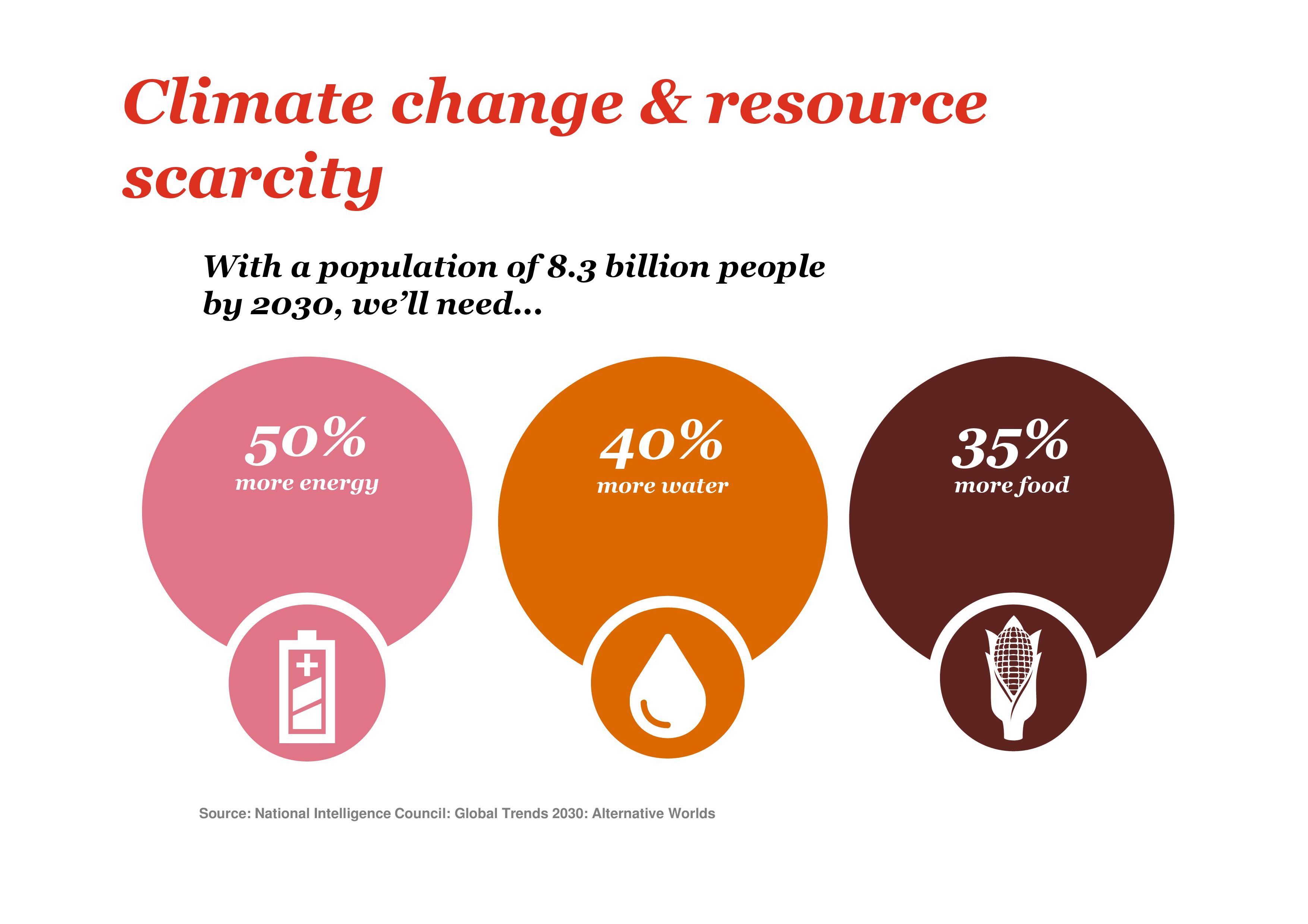 Climate change and resource scarcity. It's not a political view or mere "tree-hugging," but a stark demographic reality, Ryan stresses. Present-day Los Angeles does not have enough clean water; and in Atlanta, 40% of clean water is lost through faulty infrastructure.
Based on current population growth statistics, there will be an estimated 8.3 billion people on the planet by 2030. To sustain this growth, the world will need to produce 50% more energy, 40% more water, and 35% more food. Businesses that refuse to deal with the issue will alienate people and are destined for extinction, while creative thinkers are working on solutions. Examples: A California company is working on turning water moisture into drinking water, and in Israel, most potable water comes through desalinization.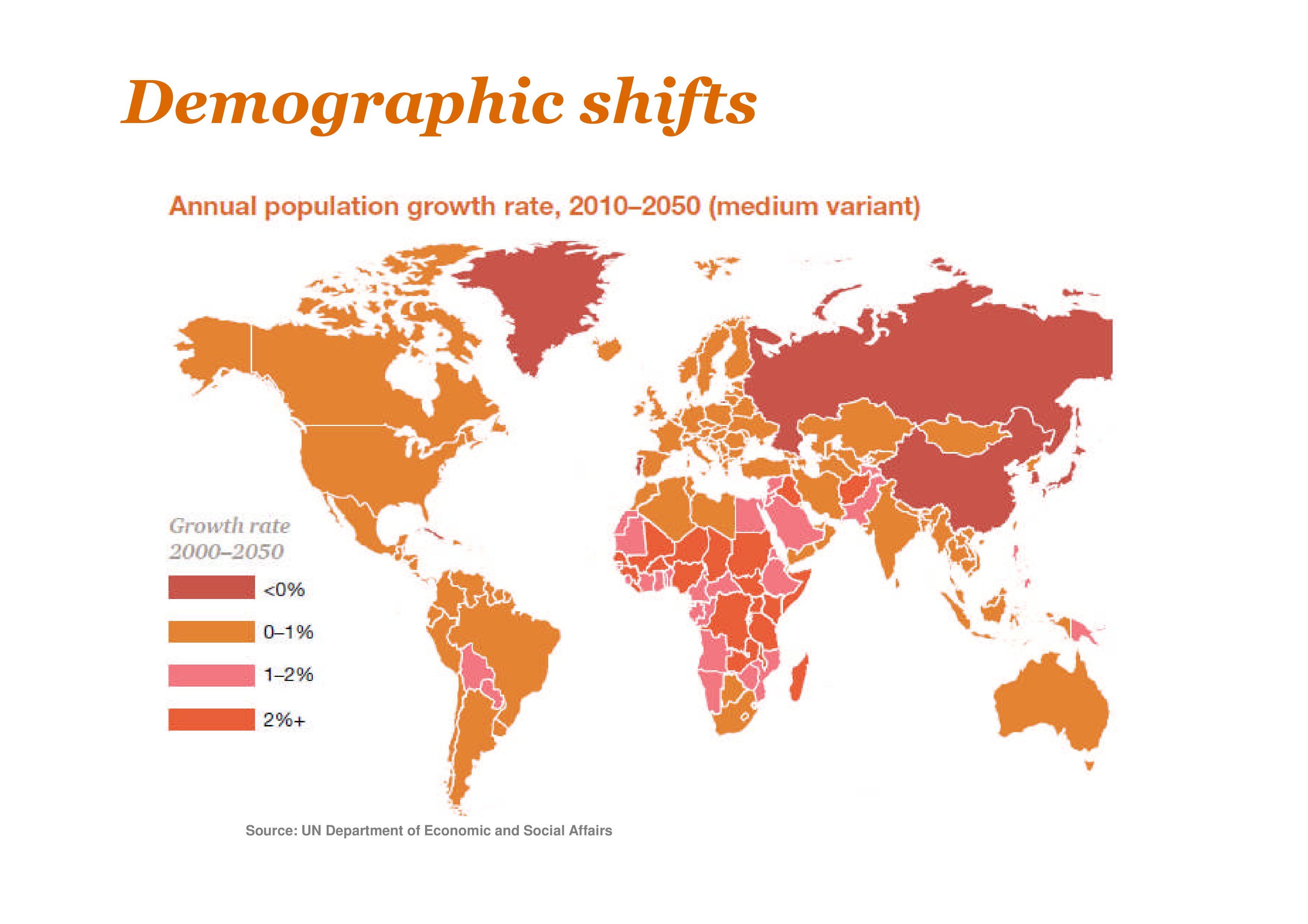 Demographic shifts. The global population is seeing unprecedented shifts in race and age. Based on current birth rates, the U.S. Census Bureau projects that whites will become a minority in the U.S. by 2043. And in a few years, the U.S. population will have roughly the same amount of people over age 70 and under age 5, something that's never happened before, Ryan says. At least 45 countries are experiencing population declines, with the other 60% flat or increasing. There are currently about 350 million globally over age 70; in 10 years, this figure will go to 1 billion.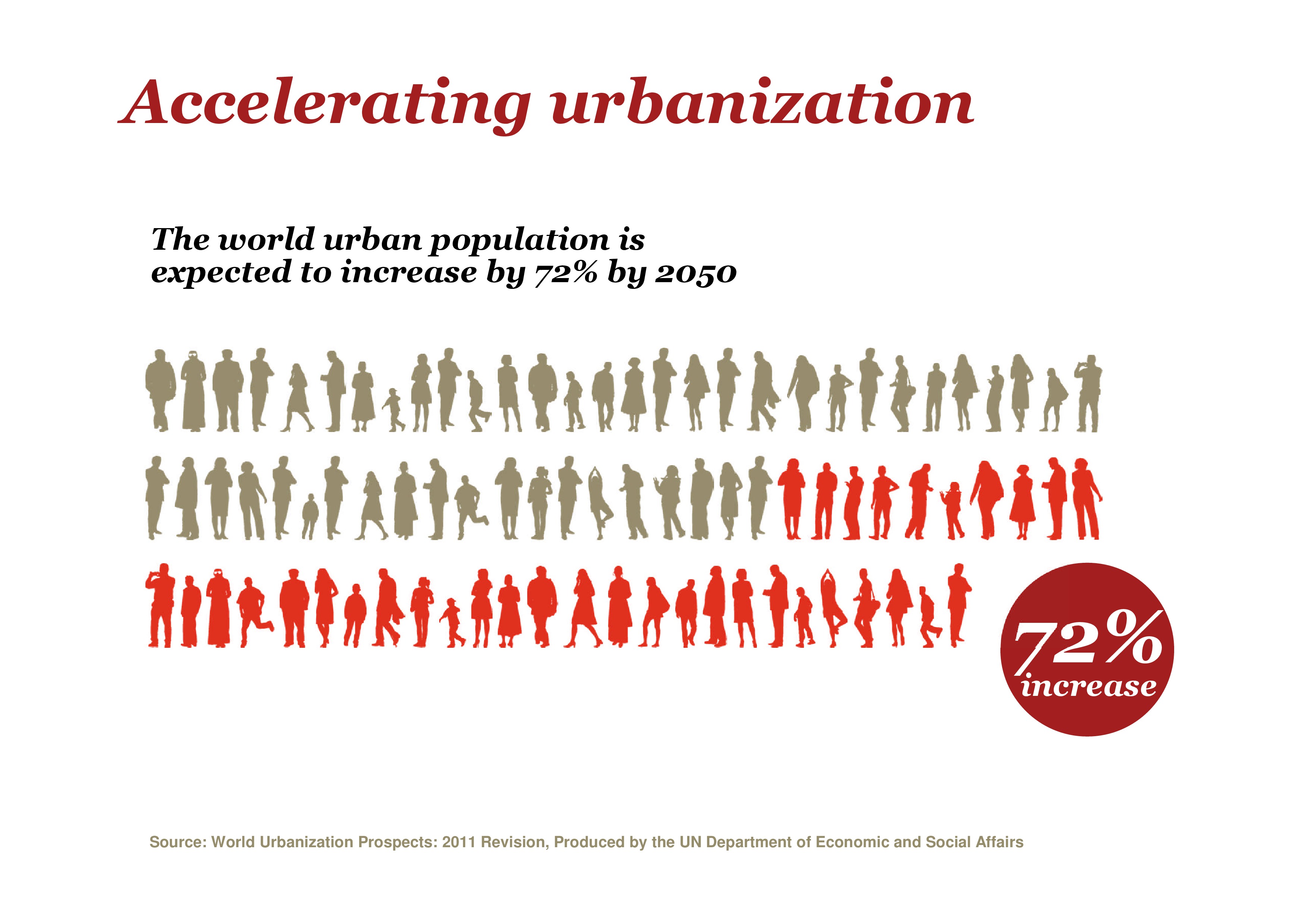 Accelerating urbanization. As part of changing demographics, more people around the world are moving to urban areas. In 2008, 50% of the planet's population lived in cities. This number will swell to more than 72% by 2050, in a migration that Ryan calls "the biggest drama this world has ever seen."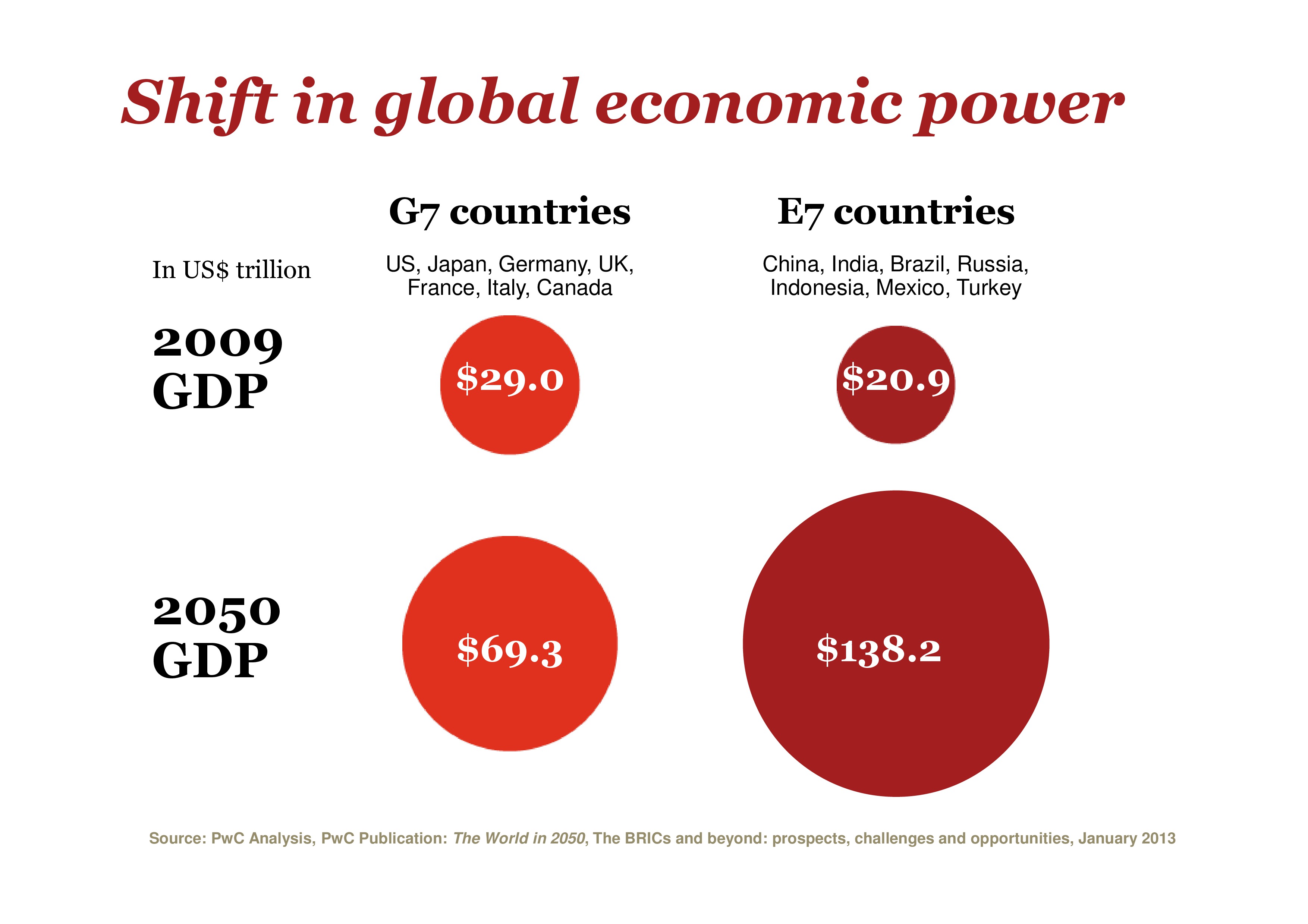 Shift in global economic power. The U.S. will no longer be the economic powerhouse that has defined the country since the post-World War II days. This change is "inevitable" based on the hothouse growth of emerging markets, Ryan says. In 30 years, the GDP of these emerging markets of the E7 countries (China, India, Brazil, Russia, Indonesia, Mexio and Turkey) will be double that of the shrinking G7 countries (U.S., Japan, Germany, UK, France, Italy and Canada).
However, although the relevancy of the U.S. will change, we can build on our current strengths: the best university/college system in the world, and our success at innovation (the number of patents filed in the U.S. rival the rest of the world).
How can insurance respond to these megatrends in a way that will foster success? The answer lies in outlier thinking and adapting to consumers' changing needs.
Ryan recalls attending a meeting 15 years ago where the CEO of a national drugstore chain was publicly pondering the risks involved with establishing drive-through pharmacies. It would have been easy for the company to veto the idea based on that risk, but in the process would have been ignoring a social need–and in turn, would have ruined the company, he says.
Megatrends can also directly benefit the industry. Technological advances, process changes, and the emerging "contingent workforce"–primarily millennial freelancers who work for multiple employers–will help drive down costs for the insurance industry, he predicts. Leveraging data will result in more efficient underwriting and better product pricing.
Insurance CEOs and businesses in general must learn how to balance the short-term needs of stock performance and shareholder demand with the long-term needs presented by these megatrends, Ryan says. Foresighted boards are already becoming more aware of the importance of focusing on long-term growth and success.