Hello, All, and Happy New Year! We are particularly excited about some new adventures here at Claims and PropertyCasualty360.com, as 2014 represents a time to get back to our roots, so to speak. This will translate to more ways than ever for readers from virtually every nook and cranny of the industry to weigh in on what keeps them up at night and how we can educate future claims rock stars. I'd be remiss not to point out some exciting additions to our editorial lineup, including monthly "quizzes" on tricky claims scenarios—from comparative negligence to subrogation— and a virtual claims management roundtable to foster deeper collaboration amongst underwriters, litigators, SIU, risk professionals and, of course, our treasured claims managers.
It also bears mention that I am embarking upon a personal adventure of sorts—marriage—so you can call me "Mrs. Wichard," though I'd prefer "Christy." Talk to you soon!
---
Introducing Our "Boots on the Ground" Series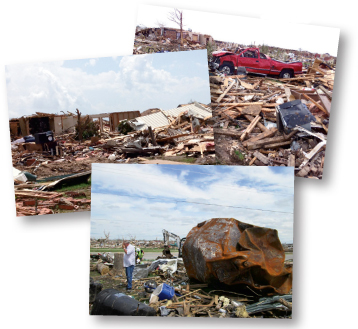 When pondering the 2013 cat season, it is important to reflect on both claims-handling successes and the myriad opportunities for improvement. So it seems fitting that we kick off the inaugural installment of our "Boots on the Ground" series with riveting personal accounts from some of the many who worked in the trenches after a powerful EF5 tornado struck Moore, Okla. Combining technical prowess with compassion, these dedicated claims pros discuss impediments they faced and the lives they touched.
For more information about the series and how to submit your own story to be featured in Claims Magazine, visit PropertyCasualty360.com/claims and select the Catastrophe & Restoration tab. Or, drop Editor Christina Bramlet a line at cbramlet@summitpronets.com.
---
What To Expect from Your Claims Administrator
By Gary Jennings, CPCU, ARM, ALCM, AIC, ARe, SCLA
In the December 2013 issue, we presented "8 Corporate Claims Management Fundamentals," which focused on the steps a corporation can take to improve claims management. In that same article, we hinted at the importance of effective communication with claims administrators. Here, we continue the discussion about realistic expectations of claims administrators and the integral role they play in helping organizations create a roadmap toward better claims outcomes.
---