A severe storm system caused multiple tornadoes to rip through the Midwest on Sunday, Nov. 17, destroying homes, knocking out power, and delaying the Bears-Ravens football game at Soldier Field as it blew through the region. As of Monday morning, six deaths have been reported.
The tornadoes leveled homes and demolished entire neighborhoods in Illinois and Indiana. Some 80 tornado reports were received, along with 358 reports of damaging winds and 40 reports of large hail, according to Rich Thompson, a lead forecaster with the weather service's Storm Prediction Center in Norman, Okla.
The National Weather Service confirmed preliminary EF-4 tornado damage in Washington County in southern Illinois, with winds of 166 to 200 miles per hour.
Read more about the storm and its effects HERE.
Click "next" to see tornado damage in Illinois and Indiana.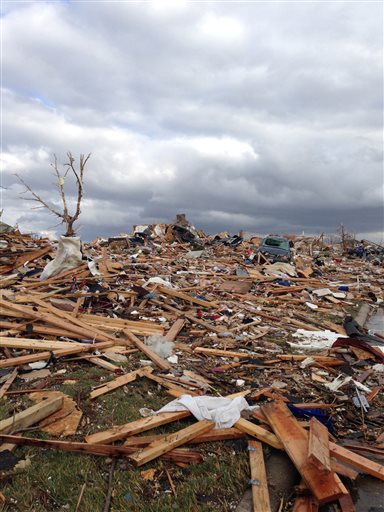 Washington, Ill. as seen from Mackenzie Street on Nov. 17, 2013 after a tornado moved through the area.
Intense thunderstorms and tornadoes swept across the Midwest on Sunday, causing extensive damage in several central Illinois communities while sending people to their basements for shelter.
(AP Photo/Alex Kareotes)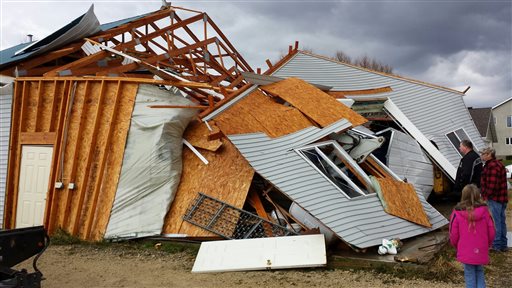 A garage in the town of Hustisford, Ill. collapsed and its walls were turned inside-out after severe weather moved through the area.
(AP Photo/Dodge County Emergency Management, Joseph Meagher)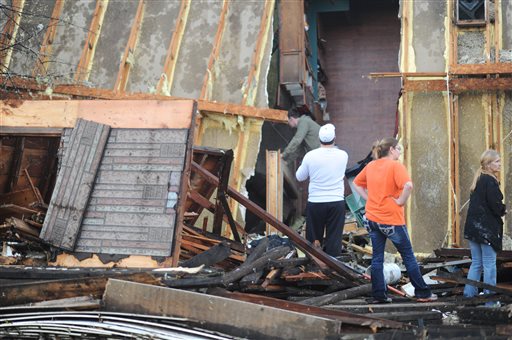 Tornado victims sift through an overturned mobile home in Brookport, Ill. after a tornado ripped through the small far southern Illinois town.
(AP Photo/Stephen Lance Dennee)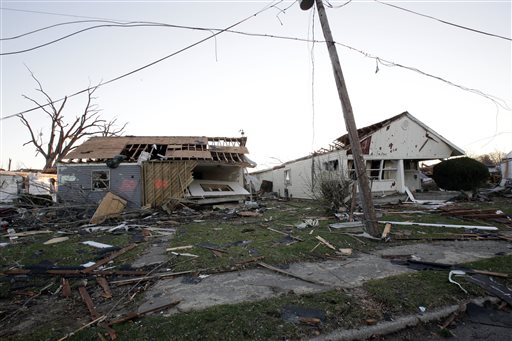 Homes that were in the path of Sunday's tornado are damaged in Kokomo, Ind.
Gov. Mike Pence plans to visit three Indiana communities–Kokomo, Lafayette and Washington–hard-hit by tornadoes and severe thunderstorms. Government officials and residents continue assessing the damage left by Sunday's storms.
(AP Photo/AJ Mast)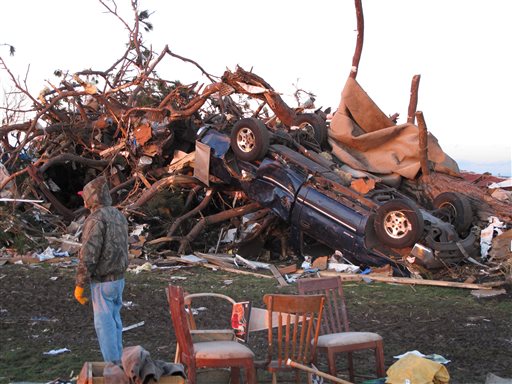 A man stands near a pickup that belonged to farmer Curt Zehr after a tornado blew through his farm. The storm destroyed Zehr's home just outside Washington, Ill., and caused extensive damage in the town. Zehr's wife and son were at home at the time, but were not injured.
(AP Photo/David Mercer)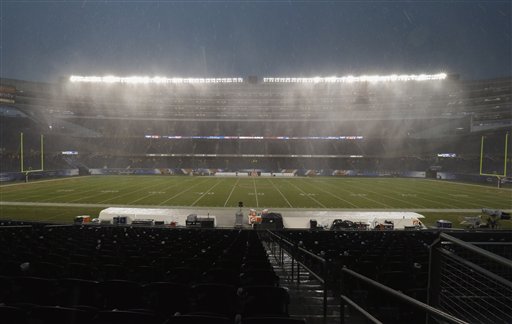 Heavy rain falls as play was suspended during the first half of an NFL football game between the Chicago Bears and Baltimore Ravens. Fans were evacuated from the stands and took cover inside Soldier Field as a severe storm blew through. Play resumed almost three hours after the game was originally scheduled to start, and conditions on the field were slippery. The Bears won 23-20 in overtime.
(AP Photo/Nam Y. Huh)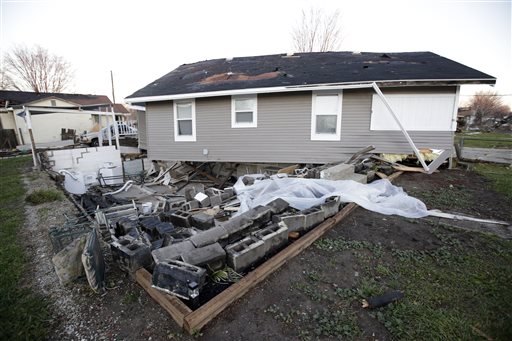 A house is knocked off its foundation after Sunday's tornado in Kokomo, Ind.
(AP Photo/AJ Mast)