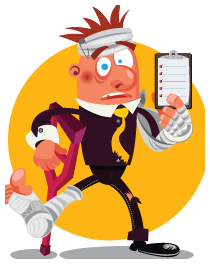 Insurers Can and must improve their claims-handling and underwriting practices in several key areas. that's the message market conduct regulators are sending to both life and health and property & casualty insurers.
When the regulatory experts at Wolters Kluwer Financial Services reviewed and analyzed the results of last year's state market-conduct exams, two criticisms were cited most frequently: P&C insurers' failure to handle claims within specified time frames and their use of unapproved forms and rates.
The Waltham, Mass.-based compliance and risk management services provider condensed the findings of its annual report to a "top 10" list in order to create an easy reference to assist insurers seeking to minimize their compliance-risk exposure.
When asked to explain what may be preventing insurers from staying compliant, Kathy Donovan, senior compliance counsel of insurance at Wolters Kluwer Financial Services, said, "The regulatory landscape is getting more complex as industry requirements and laws change constantly under the direction of government and industry oversight. [This makes] it extremely challenging to embed regulatory requirements into claims, underwriting, and distribution processes. Strong regulatory change management processes and frequent self-audits, however, are extremely effective in helping [insurers] stay on top of these changes."
In addition to the complaints noted below, regulators criticized insurers for the manner in which they maintain complaint handling; their failure to provide requested data to market conduct examiners; and a failure to conduct business in their "own name."
The report's 10 most common compliance criticisms of P&C insurers:
Failure to acknowledge, to pay, or to deny claims within specified time frames

Using unapproved/unfiled forms and rates

Failure to provide required compliant disclosures in claims processing

Improper documentation of underwriting files

Failure to maintain claims documentation

Failure to process/pay total-loss claims properly

Failure to provide required compliant disclosures in underwriting processing

Failure to adhere to producer appointment, termination and/or licensing requirements and adjuster licensing requirements

Failure to issue compliant adverse action underwriting notices

Failure to apply rates, rules and guidelines correctly