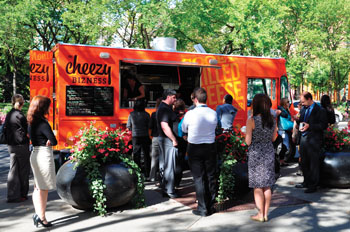 Food trucks make up a small but rapidly expanding segment of the restaurant market, producers say.
"The food-truck industry is growing tremendously," says Marcio Pepe, president of MPX Insurance Services in Aliso, Viejo, Calif. Pepe, who specializes in eateries, has seen his food-truck business increase steadily for several years. He estimates he places coverage for 75 to 80 food truck owners, some of whom operate a half-dozen trucks.
Many food trucks are getting more sophisticated, Pepe adds. More owners are specializing in gourmet foods, so their trucks have expensive ovens, refrigerators, generators and sinks that have to be insured.
"The whole gourmet food-truck movement didn't even exist five years ago," says David Baker, a principal at Costa Mesa, Calif.-based Stratum Insurance Agency. Stratum, which places coverage in every state but Massachusetts, has clients who own 300 to 400 food trucks, Baker notes.
The business is taking off particularly fast in San Francisco, Southern California, Florida, New York, New Jersey and Pennsylvania, says Baker.
Plus, with the construction industry improving, the food-truck business looks increasingly promising, observes Steve R. Franke, a vice president of contract underwriting in the West region at surplus-lines carrier Scottsdale Insurance Co.
TOUGH PLACEMENTS
Scottsdale will cover food trucks, but many insurers, especially admitted markets, won't. Brokers say the admitted markets don't have a good understanding of the risk, so they're unsure how to rate it properly.
Truck owners need General Liability and Commercial Auto coverage, and many also should carry Property insurance to cover their kitchen equipment. In addition, food spoilage can be covered under Property for an additional premium.
Truck owners need Workers' Compensation insurance if they hire even temporary help, says Pepe. When an owner hires help, Pepe also recommends Employer Practices Liability insurance.
Altogether, those coverages cost a minimum of $10,000, about a 6 percent to 7 percent increase from a year ago, Pepe notes. However, few owner/operators purchase EPLI coverage, he says.
For General Liability, Auto and Property coverage, Baker says Stratum has access to a program, but he would not identify the insurer for competitive reasons. The rates he's seeing? "Stable," he says.
To work some events, truck owners need up to $5 million of General Liability limits—far more than the $500,000 of limits the Stratum program provides, Baker notes. In those cases, Stratum must find Umbrella or Excess coverage, he adds.