For three seasons, "Downton Abbey," the widely popular PBS television program, has offered viewers an escape to the seemingly carefree world of British nobility during the reign of King George V.
The lives of the Crawley family and their servants are filled with dinner parties, hunting excursions and Ford Model-T cars, but also liability issues and risks—shared with the real-life owners of Highclere Castle and other high net worth clients.
Click through the slides to learn 5 insurance lessons from "Downton Abbey."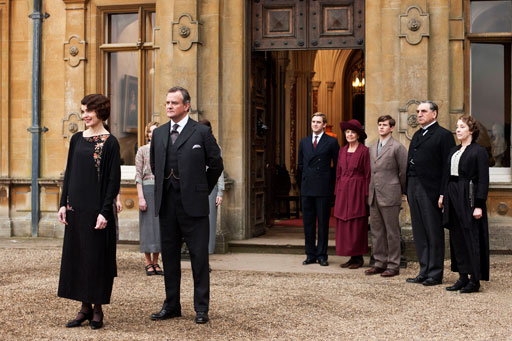 Keep an Eye on the Employees
Many of the television show's scenes are filmed at Highclere Castle, a 1,000-acre estate that is home to Lord and Lady Carnavon, who employ between 60 to 80 people from 16 to 90 years old.
The most generous residential EPLI policies cover up to 12 employees, said Christie Alderman, vice president of new products and service manager for Chubb Personal Insurance. Larger estates operate more like a business than a residence, and those homeowners would require broader policies that cover business exposures.
Chubb provides employee practice consultation and also employee background checks, something the Crawley family could have used before hiring Thomas Barrow, a trouble-making footman who stole wine from the cellar and also one of Lord Grantham's snuff boxes.
"Bringing in good quality staff is one of the best ways to prevent losses," Alderman said.
(AP Photo/PBS, Carnival Film & Television Limited 2012 for MASTERPIECE, Nick Briggs)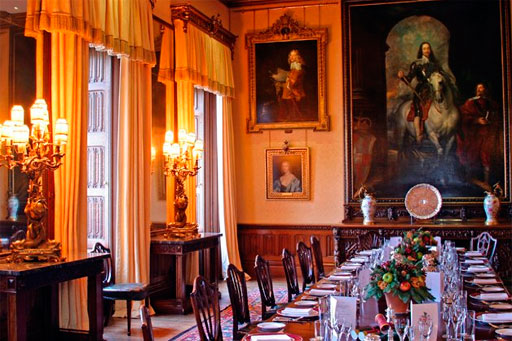 Protect the Treasures
The Crawley family hosts many formal dinner parties, and scenes of the dining room are dominated by the large painting of a man on his horse behind Lord Grantham's seat. The painting, a 1635 portrait of King Charles I, is one of three Anthony van Dyck pieces in the dining room.
Beyond the dining room, Highclere Castle displays much art and antiques. Italian embroideries from the 15th century hang in the Music Room, which also contains a baroque ceiling and a mahogany desk and chair that belonged to Napoleon; bedrooms host 18th-century silk bed hangings; and the Saloon has leather wall coverings from 1631.
About Highclere Castle, Lady Carnavon told the Los Angeles Times, "There are probably 200 to 300 rooms, and 50 to 80 bedrooms."
"If they don't know how many rooms are in their house, do they know the contents?" Michelle Impey, fine art director for Fireman's Fund, asks. "What is valuable versus general contents?" Along those lines, she cautions against an estate appraisal, which may leave owners underinsured.
Most contents policies have limits. High net worth individuals should schedule their policies to detail the worth of each piece and also provide additional coverage, as Fireman's Fund allows paintings to be scheduled at 150 percent inflation protection.
Impey said that the average sale price for a van Dyck painting at public auction has increased by 50 percent over the last 3 years. She details an example: If a van Dyck was scheduled in 2010 for $2 million and is damaged or lost, its value today ($3 million) would be covered.
Art should be appraised every 3 to 5 years, Impey said, although that figure varies. Contemporary art has increased in value more quickly than other pieces. English furniture has decreased in value.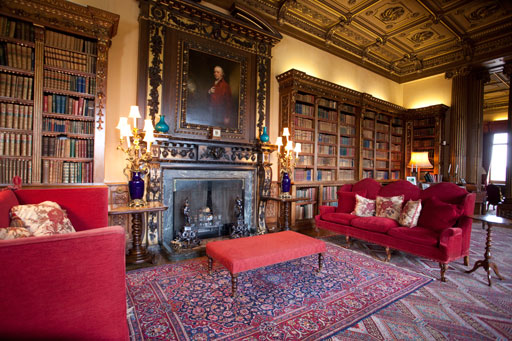 Read Up on Rare Books
Lord Grantham often withdraws to the library, which spans nearly the entire length of the Castle. The library contains more than 5,650 books, among them many first editions and some dating back to the early 1500s.
Impey recommends an inventory of an expansive book collection. With a collection this large, missing books can often go unnoticed for some time.
Also consider where the books are displayed for long-term preservation as books are subject to environmental considerations. "If books are placed on exterior walls, the coldness and dampness could come in and damage the books," Impey said.
(Photo by Rex Features (1434002N) via AP Images)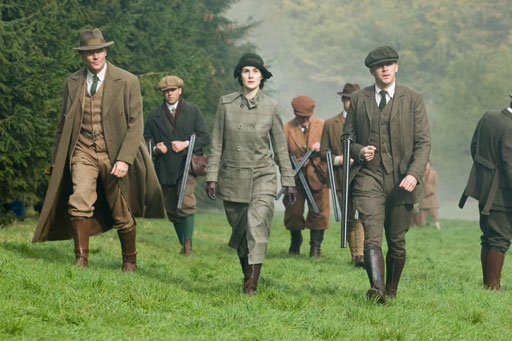 The Great Outdoors
The Crawley family hosts garden parties, cricket matches, fox hunts and other events on their property.
Having large events on your property where large numbers are people are coming, particularly if they are paying admission, is a business risk, and Alderman points out that agents should be aware of what property goes toward residents and what is used for commercial exposures.
With 1,000 acres, Highclere Castle maintains extensive landscaping, including fruit trees, a decorative rose garden and 38 native British trees, all of which can be insured. Chubb offers as high as $10,000 per tree. "If you lose a tree, you don't want to replace with a sapling," Alderman said, "You want to purchase a mature tree."
(AP Photo/PBS, Carnival Film & Television Limited 2011 for MASTERPIECE, Nick Briggs)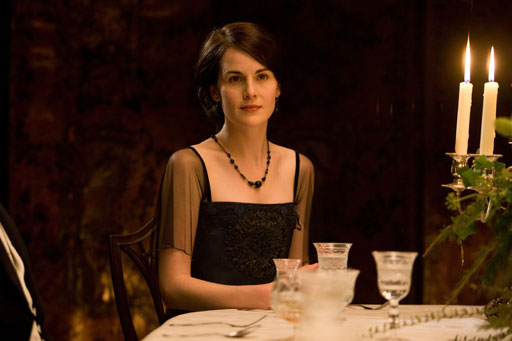 Turkish Delight–and Frights
In season 1, a visiting Turkish diplomat, Kemal Pamuk, takes a liking to Lady Mary. They flirt through a fox hunt and dinner, and later that evening the diplomat visits Lady Mary in her bedroom and dies in her bed. To avoid scandal, Mary enlists her mother and lady's maid to carry Pamuk back to his bedroom.
Pamuk is said to have died from a heart attack. But in today's litigious society, this diplomat's death—and its coverup—would cause suspicion, and those with deep pockets are targets for liability lawsuits.
Each state has its own laws, but parents can be held liable for the actions of their children, writes Jerry Hourihan in AA&B's October article, "Educate the High Net Worth Customer." Parents can be sued under the theory of negligent supervision—meaning they knew or should have known about the risk and failed to take appropriate actions.
(AP Photo/PBS, Carnival Film & Television Limited 2011 for MASTERPIECE)