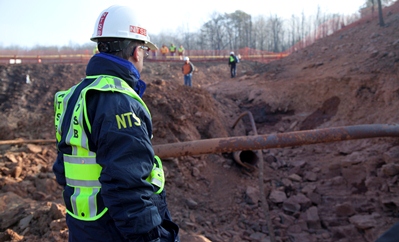 West Virginia Pipeline Explosion
Cost: N/A
Investigation is still underway for a Dec. 11, 2012 gas pipeline explosion in West Virginia. The explosion from a 20-inch Columbia Gas Transmission line triggered a massive fire that destroyed homes and charred a stretch of Interstate 77 near Sissionville, about 15 miles from Charleston. There were no reported injuries.
The National Transportation Safety Board is currently investigating the cause, and has said that the line showed signs of external corrosion and had thinned out to approximately one-third of the recommended thickness in some spots—factors that Columbia Gas Transmission may have to pay for later.
(AP Photo/National Transportation Safety Board)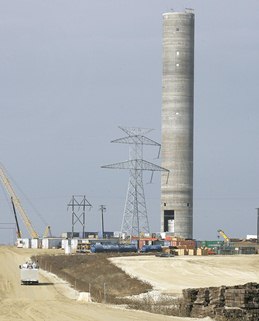 Sandy Creek Power Plant Accident
Cost: N/A
Standard and Poor's reported that an accident on Oct. 17, 2011 set back the opening of the Sandy Creek Power Plant in Riesel, Texas. What exactly happened at the coal plant remains a mystery. Those involved with the plant's construction, as well as regulators, are keeping mum about the incident, which was described by S&P as "a number of tubes overheated that badly damaged the broiler."
As a result, the plant is expected to come online this spring—a one-year setback. Sandy Creek was set to produce 925 megawatts of electricity for Texas.
(AP Photo/Waco Tribune-Herald, Duane A. Laverty)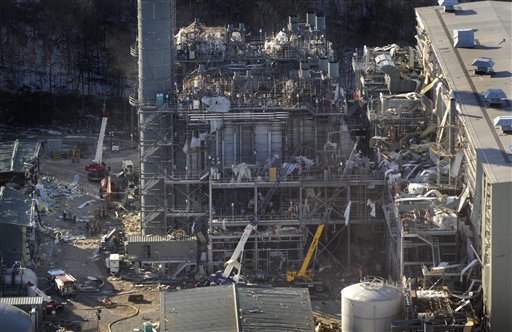 Connecticut Power Plant Explosion
Cost: $16.6 million
The Kleen Energy Systems power station in Middletown, Conn. had been under construction for two years when an explosion occurred on February 7, 2010. The initial blast killed five people and injured at least 50—one of which later died in the hospital. The explosion was reportedly caused by an inadvertent spark that ignited natural gas stored at the facility.
The Occupational Safety and Health Administration fined 17 companies involved in the construction of the plant a total of $16.6 million. In addition, Advisen reports that Kleen Energy agreed to pay Connecticut Light & Power ratepayers $8.4 million in lower utility bills for delayed energy production as well as for estimated damages of $50 million on the facility and $100 million in business interruption.
(AP Photo/Jessica Hill)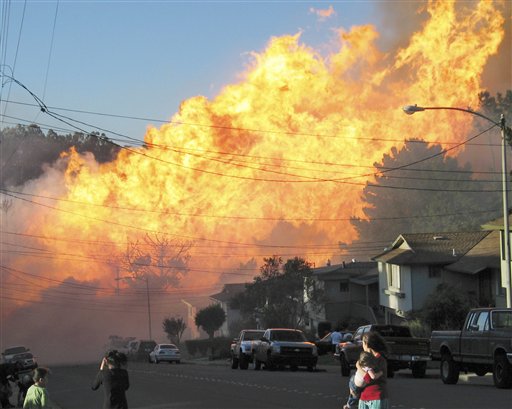 San Bruno Pipeline Explosion
Cost: $70 million (and counting)
A 30-inch diameter steel natural gas line owned by Pacific Gas and Electric (PG&E) exploded in flames in San Bruno, Calif. on September 9, 2010. The explosion and subsequent fire roared through the California suburb, causing evacuations and killing eight people.
Early in 2012, PG&E agreed to pay $70 million in restitution to San Bruno. However, the agreement does not settle approximately 90 civil lawsuits filed against the company by victims of the explosion. In addition, the California Public Utilities Commission voted to open a top-level legal investigation into whether PG&E broke any laws, which could end in hefty fines.
(AP Photo/Michael Sah)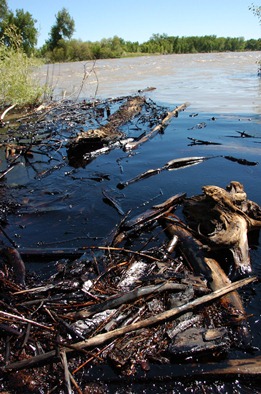 Yellowstone River Oil Spill
Cost: $135 million
On July 1, 2011, an ExxonMobil pipeline running from Silver Tip, MT to Billings ruptured, leaking an estimated 42,000 gallons of oil into the Yellowstone River. ExxonMobil shelled out an estimated $135 million to clean up the spill and create a new route for the pipeline—a move that was mandated by federal pipeline regulators.
But the repercussions of the spill continue, as a federal lawsuit against ExxonMobil is pending from landowners along the river who accuse the company of a "haphazard, sloppy" cleanup.
(AP Photo/Matthew Brown)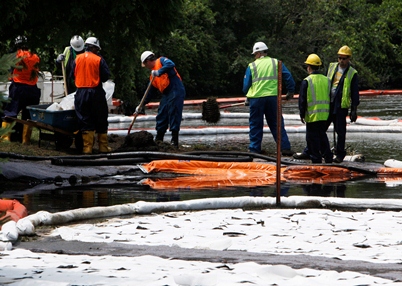 Enbridge Oil Spill
Cost: $765 million, plus $3.7 million
On July 25, 2010, a 40-foot-long pipe segment of the Enbridge Energy pipeline in Michigan ruptured, spilling in excess of 1 million gallons of crude oil originating from Canada into the Talmadge Creek in Calhoun County, Mich. The oil covered a 25-mile stretch of the Kalamazoo River before it was contained.
Cleanup costs were originally estimated at $5 million. However, by summer 2012, actual cleanup expense totaled $765 million. In addition, this past summer the U.S. Department of Transportation fined Enbridge $3.7 million, listing 22 probable violations that happened related to the spill.
(AP Photo/Paul Sancya)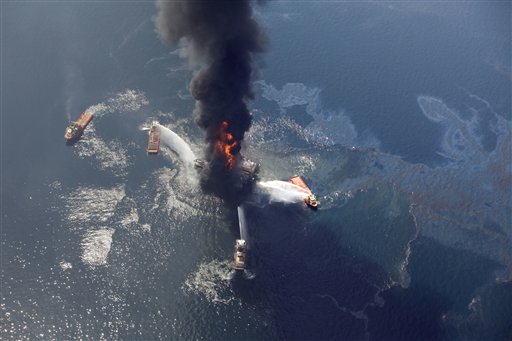 Deepwater Horizon Oil Spill
Cost: $27 billion (and counting)
Settlement numbers for BP Plc in relation to the April 2010 Deepwater Horizon oil rig explosion in the Gulf of Mexico continue to climb. Last month, a U.S. judge accepted a guilty plea of $4 billion. As of November, BP had already paid $23 billion in cleanup costs and claims.
The explosion of the rig in the Gulf of Mexico killed 11 workers. The mile-deep Macondo oil well then spewed 4.9 million barrels of oil into the Gulf over 87 days, affecting shorelines from Texas to Florida.
(AP Photo/Gerald Herbert)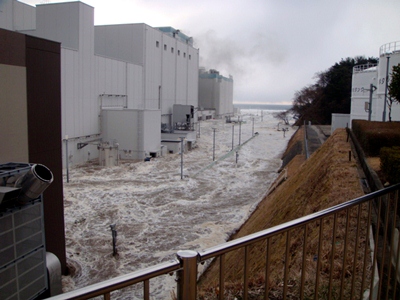 Fukushima Daiichi Nuclear Disaster
Cost: N/A
Following a massive earthquake and tsunami in Japan back in March 2011, a series of equipment failures, nuclear meltdowns, and releases of radioactive materials occurred at the Fukushima Nuclear Power Plant. In this photo taken on the day of the natural disaster, the access road at the compound of Fukushima Daiichi is flooded as the tsunami hit the facility. A few of the plant's workers were severely injured or killed by flooding and other disaster conditions. There were no immediate deaths due to direct radiation exposures, but at least six workers have exceeded lifetime legal limits for radiation, and more than 300 have received significant radiation doses. The contamination from the disaster covers about 100 square miles, which is still being cleaned up.
Investigations have concluded that the disaster was a man-made disaster that could have been prevented. Japan's parliament is being urged to take action against the plant for the damage caused.
(AP Photo/Tokyo Electric Power Co.)