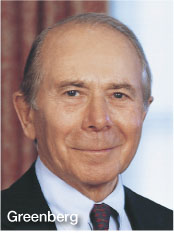 CEOs from leading P&C and Life insurance carriers gathered in New York City on Dec. 6-7 to headline the 23rd Annual Executive Conference, hosted by Ernst & Young and Summit Business Media (PC360-NU's parent company). Attendees took advantage of the opportunity to meet their peers and discuss the state of the industry; identify potential opportunities and emerging trends; and share ideas for driving growth while hearing some of the biggest names in the industry offer their insights.
Former AIG CEO and current chief of Starr Cos. Maurice "Hank" Greenberg, 87, whose keynote presentation was moderated by PC360-NU Editor-in-Chief Bryant Rousseau, spoke about, among other topics, the mindful execution (and capital) required to fully take advantage of emerging markets—and then engaged in a colorful Q&A session with the audience, including revealing his secrets for a long life.
Fellow keynote speakers included Jamie Maguire, in one of his final public appearances before stepping down as CEO of Philadelphia Insurance Cos.; Mario Vitale, CEO of Aspen Insurance; and Butch Britton, president of the Life Business Group at ING U.S. Financial Services.
CEO Insights: What Makes Philly First Class
In one of his last public statements before stepping down as CEO of Philadelphia Insurance Cos. on Jan. 1, Jamie Maguire shared some of the strategies that help set his company apart.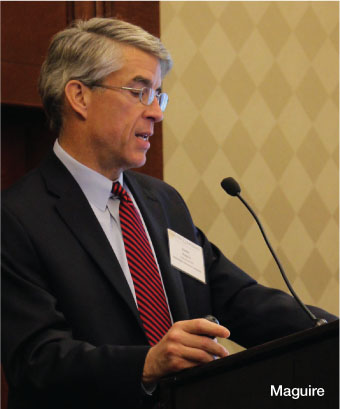 For starters, Maguire was justifiably proud of Philly's decision to stay entirely out of what has become one of the most-troubled lines in the industry: Workers' Compensation. The total absence of that coverage on the company's books gives it a big boost over competitors saddled with it.
Another point of distinction for the company: Its 49.3 percent "hit rate" on binding business that it quotes. Maguire credits Philly's trademarked "10 Reasons Why" marketing strategy as a key factor in this impressive figure: For each line it writes, the company offers 10 ways in which its coverage is advantageous to insureds. Its special "Bell" endorsements, playing off its home city's most-famous landmark, are another tactic to help its policies stand out in the crowd (such as offering Key Employee Replacement coverage at no extra cost).
On the distribution question, Philly, like many of its competitors, relies heavily on a network of preferred independent agents. But the company's own sales force is comprised of licensed agents who can also transact the business. And the company is one of the few to offer direct online quotes for select commercial classes, such as yoga studios.
Looking ahead to 2013, Maguire believes he has left the company in good shape. He expects its recently launched E&S division to become an increasingly important component of the business (currently 99 percent of its business is admitted). He also said he is sure that more carrier "consolidation is inevitable" and that the "winners"—those with the scale to make substantial technology investments—"will benefit from exceptional diagnostic tools" to price and select risks.
On the future-impacting climate-change question, Philadelphia's enterprise-risk-management committee has opined that the world is entering "a completely different weather paradigm" and that it's crucial that Philadelphia—and all insurers—take the capital-adequacy implications of this into account when reserving.
Maguire's farewell advice for his insurance-executive peers? Be willing "to take drastic measures when necessary [in terms of] significant increases in rates and deductibles"; and "beware of reaching for yield" when it comes to investment decisions.
CEO Snapshot: Mario Vitale
In the featured keynote presentation, "A View Into the Corner Office," Mario Vitale, CEO of Aspen Insurance, discussed how his company responded to Sandy, the current state of catastrophe models, some of the obstacles to growing commercial premiums abroad and the merits of multichannel distribution.
On Responding to Sandy: As Aspen's New York City offices maintained power after the storm, the company reached out to some key clients and invited them to avail themselves of Aspen's work space.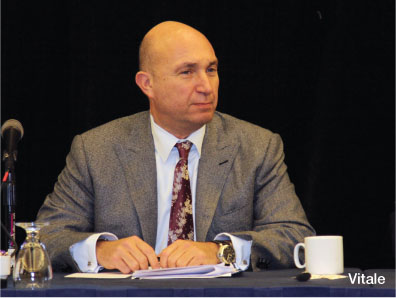 On Cat Models: In Vitale's view, cat models need further refinement to reflect the "new normal"—a riskier world with a greater frequency and severity of natural disasters. Cat models, he added, can no longer look reliably to the past to predict the future—as events that used to occur once every 100 years start appearing once every five. "They need to change, and they are changing," Vitale says, noting that Aspen has a "fleet of PhDs" to help the company execute the sophisticated analysis required for risk selection today.
Lost in Translation: While lines such as Professional Liability, D&O and Pollution have grown into major sources of business in the U.S., it's "difficult exporting" them, Vitale noted. "Maybe we [first] need to export our legal system," he joked.
On Multichannel Distribution: "I support multichannel distribution," Vitale said. "It helps risks gravitate to the best provider of risk transfer. Independent [retail agents] don't [always] have the skills to address complex risks."
In an initial estimate of catastrophe losses from Superstorm Sandy, Aspen expects fourth-quarter 2012 earnings to include approximately $175 million after tax and net of reinsurance and reinstatement premiums related to the storm. The losses from the storm are currently estimated to arise approximately 65 percent in its reinsurance segment and 35 percent in its insurance segment.
Aspen intends to resume repurchasing its ordinary shares shortly under the existing buyback authorization, consistent with the carrier's capital-management strategy.
CEO Insights: Terry Cavanaugh
In the featured keynote presentation, "A View Into the Corner Office," Terrence Cavanaugh, president & CEO of Erie Insurance, shared his assessment of some of the key trends affecting regional P&C insurers.
While technology has made it inarguably easier for consumers to purchase policies direct online from an insurer, Cavanaugh remains a firm proponent of the independent-agency system. "The multichannel approach can get confusing and is less effective," he said. "We're doubling down on agents" and giving them increased underwriting and claims authority.
In Cavanaugh's experience, "brick-and-mortar agencies—real people, real places—provide greater customer satisfaction. Consumers gravitate to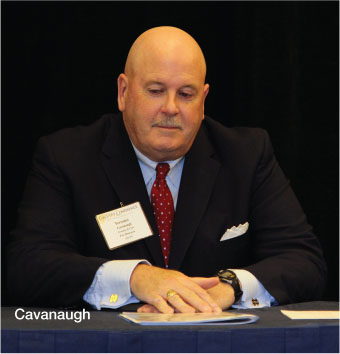 compassionate, competent professionals." The proof that this reliance on independents works for Erie is in the numbers: a 92 percent personal-lines retention rate, which the insurer characterizes as "the envy of the industry."
With independents such a crucial part of the company's success, Cavanaugh is understandably concerned about the demographic time bomb of an aging agent workforce—and Erie is being highly proactive about recruiting new talent. Of the 10,000 agents who work at the 2,200 agencies the carrier does business with, "300 to 400 are new to the industry," Cavanaugh said.
Helping drive this infusion of fresh blood is Erie's unique commitment to helping new agents financially: It makes loans to eligible scratch agents in their first year and offers accelerated commissions to qualifying scratch agents for their first three years.
In terms of strategic recommendations, Cavanaugh believes carriers that can make purchasing insurance a "service transaction" and not just a "financial backstop" will have a significant competitive advantage. As an example, he cites an insured who suffers a kitchen grease fire and gets a $75,000 check in response to the claim.
Most insurers would consider their role done at that point, but the client's "hell has just begun," Cavanaugh noted. "It's terrible how difficult it can be putting their home back together. There's a great opportunity there" for insurers ready, willing and able to play a more involved role in getting the lives of insureds back to normal.
Asked about areas of concern, Cavanaugh noted that "investment houses are getting creative" in the suggestions they're making to insurance CFOs, and Cavanaugh is worried that some carriers, chasing yield, might bite on—and get burned by—some of these deals, which could give a black eye to the industry.
CFO Report: Interest Rates Driving Price Increases; Climate Change Presents Opportunity
In the session "P&C CFO Update," Michael McGuire, who holds that title at Endurance Specialty Holdings, began by opining that the biggest factor in the current drive among insurers to raise prices is actually low interest rates—not storm losses.
Predicting that the economy would be mired in a low-interest-rate environment for the foreseeable future, he said the industry needs to see at least three more years of price increases. The line likely to see the biggest jump—of 10 percent or more—is Workers' Compensation, which is "like a noose" around the necks of carriers with a lot of WC exposure on their books.
And echoing a sentiment heard from C-suite executives throughout the year, McGuire said there's now more focus than ever on underwriting profit: The days of being able to earn a respectable return on equity with a 110 combined ratio are long gone.
For investors in the audience, he noted that insurance companies, which tend not to attract mainstream institutional investors, are "cheap stock" right now. He added that they tend to offer safe returns; that insurers fared well during the financial crisis; and that the "downside is baked in" to the price.
While analysts are eager to see consolidation among Bermuda insurers and reinsurers, such as Endurance, the current "clustering of valuations makes M&A deals difficult—there's no spread," McGuire pointed out.
McGuire also had plenty to say on climate change. "Without taking a point of view on what's driving it, it's clear that something has happened. We're in a significant period of global cat activity—it's the new reality. We expect continued volatility and severity."
But, he added, "this is a great driver of demand," and clients being motivated to buy more protection is great for business. "I disagree that [the industry] is not prepared for dealing with climate change," he added. With science and technology helping guide the allocation of capacity, insurers are well equipped to deal with catastrophes, he argued. "We just need to make sure we're charging enough."
Regarding Superstorm Sandy, McGuire said he and other insurers "were holding our breath" given the huge total-insured value of property in the affected regions. "It actually could have been a whole lot worse—a Cat 2 or 3 storm would have caused $100 billion to $150 billion in losses."
The biggest surprise of 2012? "The commercial losses from the Thai floods," he said. Floods "are a difficult peril to underwrite; add on Business Interruption and Contingent Business Interruption, and that's how losses get out of control. There's no diversification [of risk] when all is under water."
One upshot of the Thai floods: Insurers will be more wary of risk concentrations in large urban centers and will re-evaluate deductibles and exclusions in the Commercial Property class.