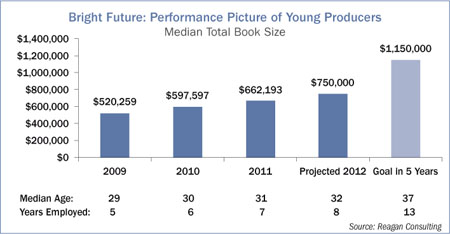 In 2009, Reagan Consulting conducted "The Young Producer Study," a project designed to identify and investigate those firms that had demonstrated success after recruiting and hiring young (under 30) producers.
The purpose was to convey to the insurance agency/brokerage community the opportunity that exists to recruit young people into sales positions and to provide as clear a picture as possible of the characteristics of the best candidates and outline the most effective practices for recruiting and developing them.
More than 90 successful young producers from 54 firms were included in the study. The results the young producers generated were extremely impressive, with total books of business that approached $600,000 by their fifth year of employment. In total, the study produced five key takeaways:
College recruiting works.
When recruiting young producers from outside the industry, look beyond sales.
The economics of young-producer hiring are attractive.
Hiring young producers is a different game than hiring experienced producers.
Look for the well-rounded individual, not the rocket scientist.
As a research firm, we wanted to get an update on how these producers were doing. So this summer, we set out to reconnect with the 91 producers and get an update on their careers.
We discovered that 80 of the 91 were still at the same firm they were with when we conducted the study. Ten of the producers have remained in that capacity but with another agency; and, strikingly, only one had left the industry to become a stay-at-home mom. So the insurance-producer role appears to be a sustainable one for our original group.
Of the 91 individuals studied, 50 agreed to participate in a brief survey and interview to update us on their progress. These 50 participants represented 42 different firms with revenues ranging from $5 million to $1.6 billion, or a median of $22.7 million. In terms of the type of insurance sold, 35 were in commercial P&C, eight were in employee benefits, and seven sell both commercial P&C and employee benefits.
In reviewing their book each year from 2009 through where they were projecting to end 2012, we can definitively say their success has continued. All told, their median total book is projected to have grown at a compound-annual-growth rate of 13 percent during this three-year period. The median producer had started to work at the firm at age 24 and plans to eclipse the $500,000-book mark by age 29 after five years with the firm; plans to eclipse the $750,000-book mark at age 32 after eight years with the firm; and projects to have a book of $1,150,000 by age 37 (five years from now) after 13 years at the firm.
In addition to their total book of business, we also asked them to quantify the total new business they generated from 2009-2011 and what they projected they would generate in new business (commissions) in 2012. Once again, the results were impressive: The median producer in this group of 50 is generating average new-business commissions of $117,000 per year.
In the original study we discovered that 48 percent of the commercial P&C producers under 30 operated within a niche. That trend has continued and actually accelerated a bit: Currently, 56 percent of these producers are operating in niches, with Construction, Nonprofits, Hospitality & Recreation, and Real Estate being the most prevalent.
Not surprisingly, many of the young producers have assumed leadership roles in their firms, ranging from practice group leader to sales manager.
The Young Producer Study and the complete update can be viewed at our website, www.reaganconsulting.com. If you do not have a strategy for recruiting young people into your organization, we would encourage you to do so.