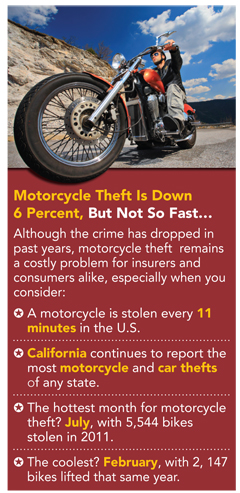 If you live in California and ride a Honda motorcycle, the chances of having it stolen are higher than if you live in Colorado and drive a Harley, according to the National Insurance Crime Bureau's (NICB) 2011 Motorcycle Theft and Recovery report.
Similar to theft trends for passenger vehicles, Hondas continue to be frequently targeted. Hondas topped the list of the five most stolen makes of motorcycles in 2011, with 11,014 reported as stolen. Following Honda were Yamaha, Suzuki and Kawasaki models, with 8,880, 7,281 and 5,009 lifted (respectively).
As for Harley-Davidsons, a total of 3,120 were taken from owners in 2011. These five most targeted brands accounted for 35,304 thefts last year, or about 76 percent of the total.
Despite these distressing numbers, the NICB reports a declining trend in motorcycle theft. In 2011, for instance, such crimes were down 6 percent from the 2010 total. There were 46,667 motorcycles reported stolen in 2011 compared with 49,791 in 2010.
It is worth noting that although overall thefts waned in 2011, motorcycle sales slightly increased. Citing the Motorcycle Industry Council, NICB reports that sales increased in 2011 to 440,899 units compared to the 439,678 units sold the year prior.
Nevertheless, the U.S. motorcycle theft rate averages out to one theft every 11 minutes. Industry experts speculate the fact that many bikes are not equipped with adequate theft-deterrence technology is fueling the problem.
As expected, traditionally warm states and warm months logged the most thefts. In 2011, the top five states with the most motorcycle thefts accounted for roughly 39 percent of the total stolen. Last year, states logged the highest number of robberies during the warm months of July and August, with 5,544 and 5,397, respectively.
On the other end of the thermometer, the cooler months of February and December witnessed the fewest thefts with 2,147 and 2,475, respectively.
California retains its status as a hotbed for both motorcycle and car thefts, comprising 5,927 of the 18,384 reported by the top five:
California (5,927)
Texas (3,950)
Florida (3,927)
North Carolina (2,466)
Indiana (2,114)
The NICB extracted all data from reports in the National Crime Information Center database.