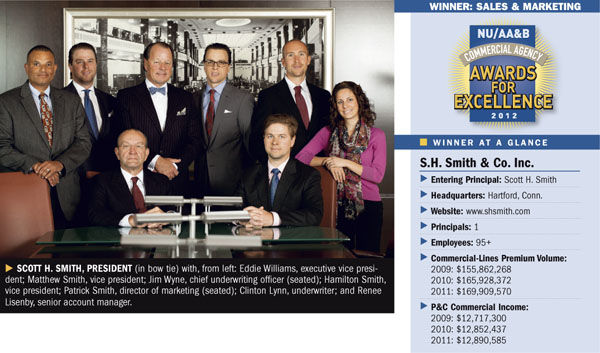 Scott H. Smith, president of S.H. Smith & Co. Inc., offers a simple explanation for why his specialty-insurance brokerage continues to gain new clients while retaining previous ones: "We make it easy to do business with us."
Indeed, the Hartford, Conn.-based business' emphasis on crafting just the right coverage for its clients—and embracing some high-end technology tools to do this as efficiently as possible—is one major reason the firm has been selected as the winner in the Sales & Marketing category of the 2012 Commercial Agency Awards for Excellence.
When it comes to retaining clients, Smith stresses that regular communication is key.
"We retain existing clients by making them feel as important as new business clients—if not more so," Smith says. "I would imagine our competition attempts to do this, but due to the continuity of our staff and our belief in customer service—phone calls, not just emails—we are a step ahead.
"Our service continuum provides for opportunities to contact our customers throughout the policy year," he adds, including chances to discuss such matters as endorsement preparation; additions or reductions in exposures; and audits.
"Ninety days out from renewal, we contact our customers by email and telephone to discuss with them what their expectations are in terms of coverage and price," he continues. "We provide for them our marketing plan for the account and any coverage-enhancement opportunities we see. A minimum of 45 days from renewal, we provide a complete renewal quotation."
Smith recalls a particular case in which an existing client benefited from such close attention to its needs: The account had enjoyed an enviable loss history over a number of years, except for the expiring year in which losses had increased significantly due to a new operation.
"The current carrier issued a notice of nonrenewal or a renewal premium that was multiples of expiring," he relates.
S.H. Smith's in-house risk manager/loss-control engineer and its in-house claims manager reviewed the losses and the new operation. The insured, the carrier and S.H. Smith together created a loss-control and claims-management plan that brought the losses from the new operation in line with existing operations.
As a result, "we were able to have the nonrenewal notice rescinded and a much more modest renewal program provided," Smith adds.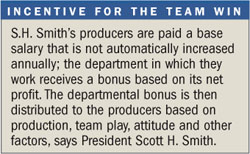 For S.H. Smith, offering exactly the right coverage—based on insightful analysis of the risk profile as well as identification of coverage needs that might not appear obvious at first blush—is paramount.
Also a critical component of the firm's business approach is that risks be directed to the right insurer.
"I was an underwriter before I was a broker," Smith says. "One of the things that used to bother me [in that role at a carrier] was that we often received submissions that weren't really appropriate [for us]."
To avoid those sort of misdirected submissions, producers at S.H. Smith "spend a lot of time working with our retail-agent partners finding out exactly what it is they want," Smith says. "We rarely provide a quotation of insurance based on a completed application. We take the extra time to look at what the risk really is. The benefit to our retail-agent customers is that they have a better product to sell" as a result of this deep dive.
CUSTOM-BUILT SOFTWARE SOLUTION DRIVES SALES SUCCESS
One of the largest privately owned specialty brokers in the U.S., S.H. Smith's coverage expertise spans a broad spectrum of risks. Its Professional & Management Liability department, for example, handles everything from Cyber Liability at technology companies to D&O at insurance companies to E&O for architects, lawyers and media professionals.
Its Large Commercial Property, Casualty and Environmental department designs coverages for a host of risks, including Inland Marine, Ocean Marine, Vacant Buildings, Builder's Risk and many others.
It maintains regional offices in seven states—all of them paperless and all users of custom-built, proprietary software that Smith says has greatly improved efficiencies and literally helped multiply his firm's client base as a result.
In the early '90s, Smith recalls, the brokerage was using off-the-shelf software made by a company he learned was being sold, and the agency's work tools would no longer be supported.
The solution: Hiring a pair of software engineers who developed a custom-designed client-management system from scratch. It was a game-changing move that allowed S.H. Smith to expand its already diverse client base by allowing it to take on more business. With the new, proprietary system, "our producers were able to handle five to 10 times the amount of work" they had previously, Smith says.
All brokers have three screens on their desks: On the left-hand screen, policies, endorsements and billing info are viewed; on the center screen is all correspondence with the client; and on the right screen, claims and other data can be accessed.
The broker inputs a product code for a particular risk, and the system shows all the markets and contacts for that type of risk. The broker checks off which markets he or she feels will be best for this risk, and when a client is matched with the carrier most appropriate for its needs, the system automatically sends all the information on that client to the carrier.
S.H. Smith's system also sends reminders on accounts coming up for renewal, serving as an E&O backstop by helping to prevent any lapses in coverage.
PROGRAM POWERHOUSE
The agency has developed a number of specific, exclusive programs that enable its clients to offer coverage in a variety of industries. Its specialty programs include:
The National Public Auto Program
The National Tow Truck and Auto Transporters Program
The Fuel Energy Program
The Educational Institutions Purchasing Group Program
The Private and Charter School Pollution Liability Program
The agency entered the public transportation marketplace in 2005 and currently serves as the program administrator for the National Public Auto Program, representing Zurich Insurance Group, underwriting Auto Liability, General Liability and Excess Liability.
One niche in which S.H. Smith is nationally recognized as a top agency is in underwriting petroleum risks, acting to help secure the appropriate primary (via ProSight) and Umbrella (via General Star) coverage for fuel marketers and their related operations. Its Fuel Energy Program (or Petroleum Marketers Purchasing Group) provides exclusive coverage forms for petroleum clients' unique exposures.
Working with Fireman's Fund and General Star, S.H. Smith also facilitates Umbrella/Excess programs for educational institutions throughout the U.S.
Educational institutions, Smith notes, present a unique opportunity. "When we do a program, we try to find an industry that's underserved," he says, and "schools present some scary exposures."
The firm is able to write Cyber, Security & Privacy, Educators Legal Liability, Outbreak coverage (for workplace closure due to contagion) and Premises Pollution Liability for private and charter schools.
Cyber, in particular, has become a greatly needed coverage for schools. S.H. Smith saw the need coming seven years ago and began offering the coverage to all its commercial clients. These days, Smith says, "we probably write more Cyber Liability than most carriers that underwrite it. Everybody needs it."
In addition to schools, hospitals and financial institutions are among the most at risk from Cyber claims, he says. The notification costs alone are staggering.
Smith relates a story of a vice president of a small, regional bank with fewer than 12 branches, who lost his laptop containing data on all the bank's account-holders. The price tag for having to inform all customers of the possible breach: $700,000.
"The job of specialty brokers is to be cutting-edge and provide insurance for emerging exposures and industries," says Smith. Cyber Liability, he stresses, "isn't a luxury for commercial insureds. There is no industry that doesn't have exposure."