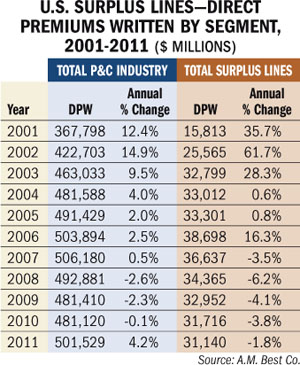 The E&S market may be seeing some positive rate movement, but a lack of supply or capacity isn't the reason, says Lexington Insurance Co. President David Bresnahan.
He believes that income statements, rather than balance sheets, are driving rate movement in the market.
"The management at many companies is changing the goal posts—the finish lines—as it pertains to how low a combined ratio [is needed] to underwrite to in order to generate a satisfactory return," Bresnahan said in September during the A.M. Best Co. webinar "Inside Today's Surplus Lines Market."
Lexington is seeing rate increases of about 14 percent thus far in 2012 after 7 percent increases in 2011, he added, but more rate doesn't always translate to more premium.
The American International Group subsidiary is most noticeably seeing submissions rise in Property. Bresnahan says Lexington is writing more new business in that line in 2012 than it did in 2011.
The insurer is getting looks in other lines, he adds, but the competitive market may be keeping down additional new premium.
The E&S market is being affected by two rival forces: an underwriter's need to tighten coverage and increase rate, and his or her desire to maintain market share, Robert Sargent, president and CEO of Tennant Risk Services and president of the National Association of Professional Surplus Lines Offices, said during the same webinar.
"There's some tension because the underwriters don't want to lose market share—they'd like to retain those accounts if they can," said Sargent. "But new-business underwriters with appropriate levels of information and documentation are willing to take a shot at business as well."