Hurricane Isaac made landfall on Aug. 29—the seventh anniversary of Hurricane Katrina—as a Category 1 hurricane. Despite the seemingly low intensity of the storm, it was a slow mover, dumping as much as 25 inches of rain in some areas.
The heavy rain caused flood waters to rise, destroying many homes throughout Louisiana. Louisiana's Public Service Commission said more than 443,000 customers remained without electricity around Louisiana on Saturday morning, days after Hurricane Isaac crept across the state. The full scope of the damage Hurricane Isaac left behind in Louisiana isn't yet known as people are finally getting back into the hardest-hit areas to clean up and take a look at what they've lost. Insurers are in the area as claims roll in, with early loss estimates nearing $2 billion.
Click "next" to take a look at the aftermath of Hurricane Isaac.
Peter Roccaforte stands in his home flooded by Hurricane Isaac as he talks about the damage in Reserve, La. on Saturday, Sept. 1. Floodwaters cover many streets and power remains out in some areas.
(AP Photo/David J. Phillip)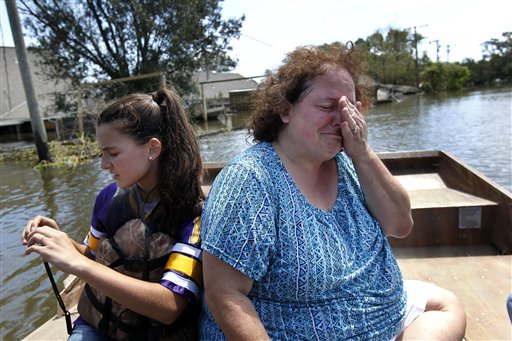 Angela Serpas and her daughter Lainy, 11, cry as they see their flooded home for the first time since Hurricane Isaac pushed a 10-foot storm surge into Braithwaite, La. on Saturday, Sept. 1.
(AP Photo/Gerald Herbert)
Ashley Evans reacts as she finds an intact photo of her friend Ashley Herleikson's three-year-old daughter as she helps Herleikson recover items from her destroyed home.
(AP Photo/Gerald Herbert)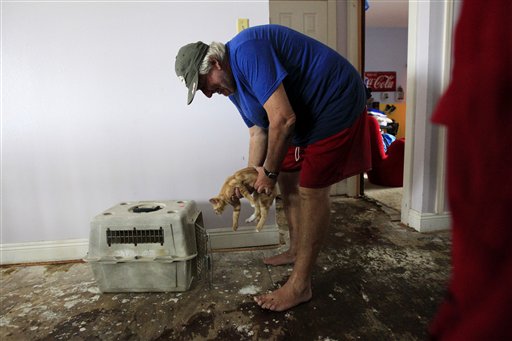 Don Duplantier puts his cat Lovey into a kennel on the flooded second floor of his home in Braithwaite on Sunday, Sept. 2.
(AP Photo/Gerald Herbert)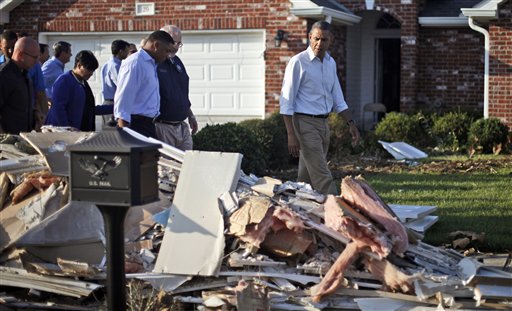 President Barack Obama walks past debris on the sidewalks as he tours the Bridgewood neighborhood in LaPlace, La., in Saint John the Baptist Parish, with local officials to survey the ongoing response and recovery efforts to Hurricane Isaac on Monday, Sept. 3.
(AP Photo/Pablo Martinez Monsivais)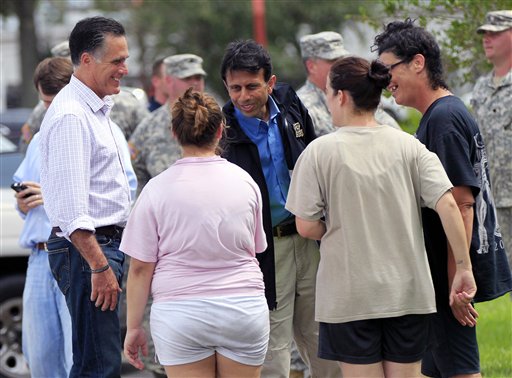 Republican presidential candidate Mitt Romney, left, and Louisiana Gov. Bobby Jindal, center, greet residents displaced by Isaac in Lafitte, La. on Friday, Aug. 31.
(AP Photo/Gerald Herbert)