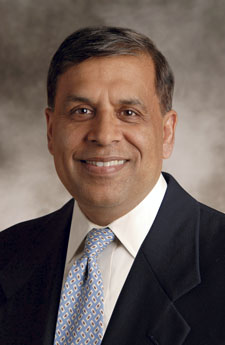 Although his concerns are not largely related to insurance issues, NU thought it would be interesting to take a look at the issues Ash Gupta wrestles with as the top risk-management executive at one of the world's best-known financial-services firms.
What are the top risks faced by payment-management services companies, and how do you keep them in check?
Our greatest challenge relates to taking on credit risk and preventing and dealing with fraud. Most payment-services businesses work with huge volumes of data, processing thousands of new card applications and processing billions of cardholder transactions, so there is a heavy degree of analysis and automation when evaluating credit and fraud risks.
Have recent technological advances created more of a headache for payment-services risk managers, or have they allowed companies like American Express to innovate new services?
In my mind, technological innovation is a net plus. We have a culture of using innovation to give better services to customers around the world, but technology does increase our challenge in risk controls as attempts at card and data theft continue to rise. Mass data can be compromised by a single person working from one location.
We also focus on educating consumers about how they can help protect their personal information. And when we communicate with our customers via email, we are beginning to use their names to establish that the information or communication is coming from a trusted source. We make sure that if a customer is a victim of fraud, they are not held liable.
As a CRO, I understand that fraud can definitely be a spooky experience for the customer. For us, it goes far beyond the financial repercussions of theft when someone has entered into our customers' private space.
Are the exposures different for credit cards, pre-paid cards and other services—and if so, how?
In order of payment chronology, pre-paid cards come first. Customers load money on to their card and then use the product, so there is some fraud risk but really no wider credit exposure. Payments from debit cards are typically processed within one to three days, which increases the credit risk.
We bill customers using charge cards every 30 days and require them to pay in full, leaving a greater gap of time in which problems can occur. For credit cards, however, we ask for a small portion of the balance, which can increase credit risk.
How has the financial crisis affected AmEx?
I have been through four financial crises in my career. Each was very stressful, but also an important catalyst for us to learn as a company. The principles of risk-taking during financial crises are always the same: We must make risk decisions based on full economics, and not just consider credit or fraud loss alone.
We must be wise and sensitive to the customer experience and evaluate the tail risks of the economy getting even weaker. Our loss rates rose during this financial crisis and took us from best-in-class to industry average, but they dropped quickly and we regained our place in the industry.
It taught us that we need to monitor our portfolio at a more granular level and across multiple departments, each of which can foresee a financial weakness. We must do more everyday to monitor the economy, model more granularly and listen to our customers.