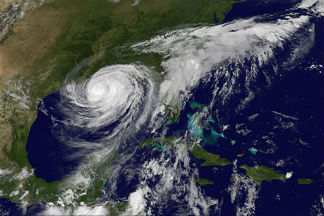 Fitch Ratings says the insurance industry should be able to manage losses from Hurricane Isaac, which, according to very early estimates, could range from $300 million to $7.5 billion.
State Farm and Allstate, which together control 39 percent of the homeowners market in the three most affected states (Louisiana, Mississippi and Alabama), according to SNL Financial figures, will likely suffer the brunt of the insured losses.
Combining Homeowners with auto physical damage, commercial auto and commercial multiple peril (liability) insurance, the two insurers control 37 percent of the market in the three states.
Fitch cited an early AIR Worldwide estimate that puts insured losses from Isaac at possibly between $300 million and $7.5 billion.
R Street, a non-profit public policy organization, cites a narrower early Eqecat estimate of between $500 million and $1.5 billion.
Isaac has been downgraded to a tropical storm but is still pounding Louisiana. Fitch says the losses from the storm would make up a "modest 1 percent or less of U.S. industry statutory capital."
According to R Street, Isaac could be the first hurricane to trigger a catastrophe bond issued by a state-run insurer. The $125 million Pelican Re bond, issued by the Louisiana Citizens, would be triggered if the storm produces more than $200 million in insured losses.
Media representatives for State Farm and Allstate say it is still too early to gauge losses, but they have resources positioned to go into damaged areas as soon as the storm passes and claims representatives can gain access.
Gary Stephenson, a spokesman for State Farm in Louisiana, says the slow movement of the storm is delaying claims representatives from getting into damaged areas, but it is anticipated that there will be a lot of wind damage in the form of damaged shingles on homes and downed trees.
He said flooding is expected to be experienced statewide, but at least the winds are expected to die down after the storm leaves the coast.
"It may not be devastating, but there is no doubt that a large number of people will be affected," says Stephenson.
State Farm's Roszell Gadson, says in Mississippi and Alabama, the potential for tornadoes in the aftermath of Isaac has people on watch.
"We're telling homeowners to stay alert and aware and take precautions," says Gadson.
Allstate's spokeswoman April Eaton says the company has 1,000 claims personnel ready to move into the region, but they are waiting for the storm to end. New mobile units are prepared to get into the most heavily damaged areas and contact customers instead of waiting for them to call the company first.