As Isaac officially becomes a hurricane, many residents in Florida and Louisiana are boarding up their homes and businesses and heading to shelters. Isaac has already hit areas of the Caribbean with flooding and wind damage, affecting towns and homes in Haiti, Cuba and the Dominican Republic and sending a warning to Gulf towns in its path.
Though slow-moving, Isaac's large size "poses a significant threat to the Gulf Coast," according to risk modeler Eqecat. Hurricane warnings extend 330 miles from Louisiana to Florida.
"Should it occur during the time of high tide, a surge of 6-12 feet is possible in southeastern Louisiana, Mississippi and Alabama," the modeler adds.
Click "next" to see how residents across the Gulf are preparing for the worst.
Related content: Isaac could potentially be an "I" storm to remember. See other memorable hurricanes whose names began with "I" in Tropical Cyclone Ret'I'rement: A Look Back at the Significant 'I' Storms.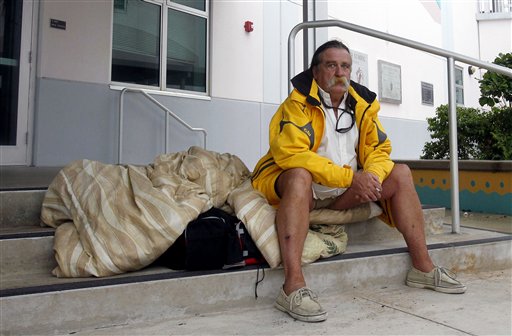 Dale Shelton waits to be taken to a shelter in Key West, Fla., on Saturday, Aug. 25, as he prepares for the arrival of then-Tropical Storm Isaac. Forecasters predicted Isaac would intensify into a Category 1 hurricane later Monday or Tuesday with top sustained winds of between 74 and 95 mph. The center of its projected path took Isaac directly toward New Orleans on Wednesday, but hurricane warnings extended across some 330 miles from Morgan City, La., to Destin, Fla. It could become the first hurricane to hit the Gulf Coast since 2008.
(AP Photo/Alan Diaz)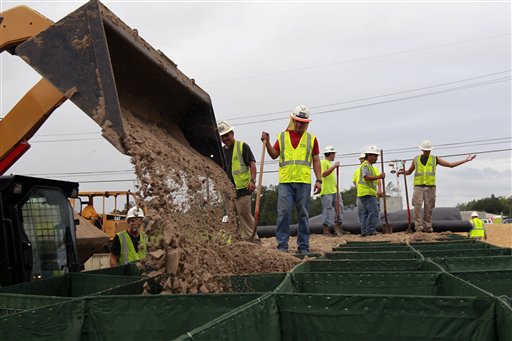 Workers fill Hesco baskets at a flood wall at Route 23 in Plaquemines Parish, La., on Tuesday, Aug. 28. Forecasters at the National Hurricane Center warned that Isaac, especially if it strikes at high tide, could cause storm surges of up to 12 feet along the coasts of southeast Louisiana and Mississippi and up to 6 feet as far away as the Florida Panhandle.
(AP Photo/Gerald Herbert)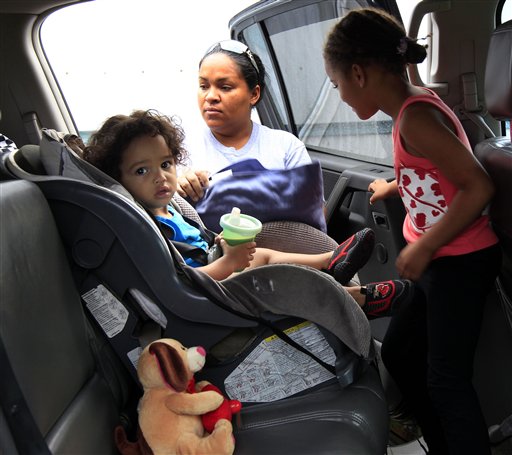 A woman loads her children in their car as they evacuate their home in advance of Isaac in Plaquemines Parish, La.
(AP Photo/Gerald Herbert)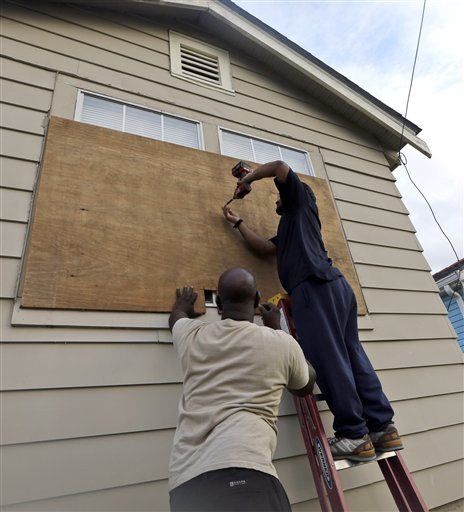 Residents in New Orleans board up windows on their home.
(AP Photo/David J. Phillip)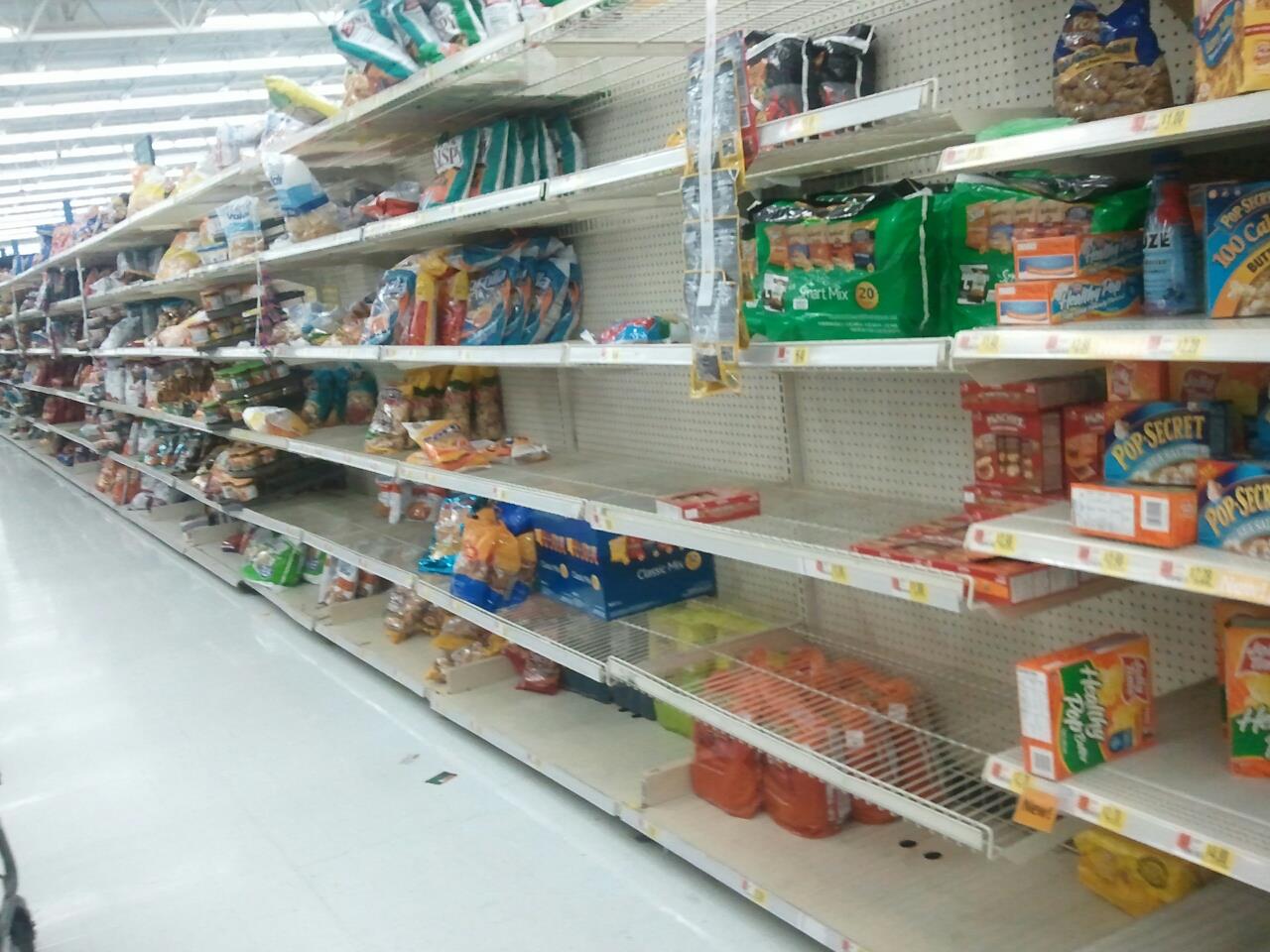 The snack aisle at WalMart in Valrico, Fla. is nearly stripped clean on Sunday, Aug. 26, as residents stock up on non-perishables in anticipation of the destruction that could be caused by Isaac.
(Photo credit: Noel Grom)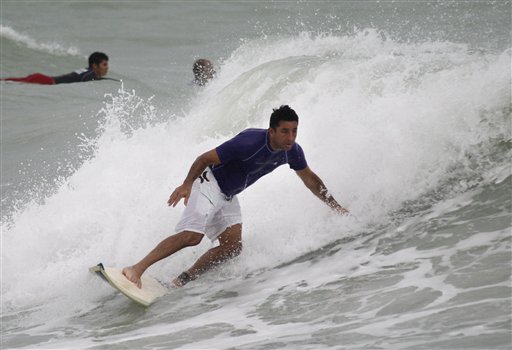 A surfer rides a wave whipped up by Isaac at Haulover Beach Park in Miami Beach, Fla., on Monday, Aug. 27.
(AP Photo/Wilfredo Lee)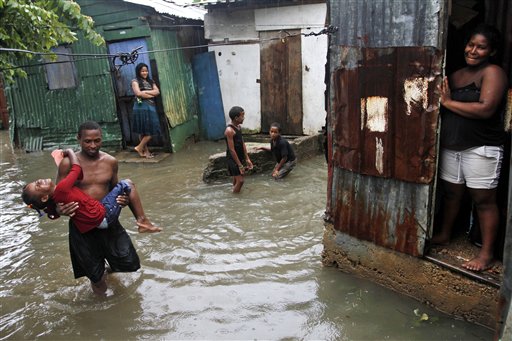 Residents who live on the Ozama River bank in Santo Domingo, Dominican Republic play in the floodwaters triggered by Isaac on Saturday, Aug. 25. Authorities said they evacuated nearly 3,000 people from low-lying areas, and at least 10 rural settlements were cut off by flooding. Power was out in parts of the capital, Santo Domingo, but there were no reports of injuries.
(AP Photo/Manuel Diaz)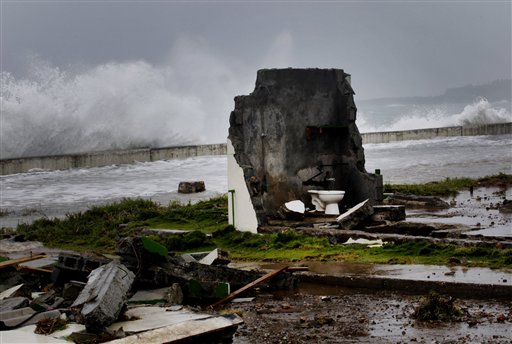 A home that was built twice within the last two years is left in ruins during the passage of Isaac near the seawall in Baracoa, Cuba, on Saturday, Aug. 25. Tropical Storm Isaac pushed into Cuba on Saturday after sweeping across Haiti's southern peninsula. Isaac's center made landfall just before midday near the far-eastern tip of Cuba.
(AP Photo/Ramon Espinosa)