The National Highway Traffic Safety Administration records approximately 16 million traffic crashes in the U.S. each year, resulting in 10.9 million tows. Expenses related to towing and storage of these vehicles in 2010 was $412 per claim, or about $4.5 billion a year. It follows that abusive towing practices can cause major insurance headaches.
Abusive towing involves a wide range of misconduct, including excessive or unbundled fees, failing to notify vehicle owners about a tow, failing to provide information about where the vehicle is being stored, lack of standards for statements or receipts and intentionally vague language or stalling surrounding release procedures. Corrupt towing is often compared to a hostage situation because vehicle owners are left stranded and mis- or un-informed. According to the National Insurance Crime Bureau (NICB), reported fraud incidents doubled between 2009 and 2010.
A recent special report by the Property Casualty Insurers Association of America (PCI) worked to bring these suspicious and unlawful practices to light. PCI found that Chicago, Philadelphia, New York, Atlanta and Houston are cited the most for aggressive towing practices. The most malicious problems for both motorists and insurers include:
Inflated towing and storage fees
Inconsistencies and difficulties related to the release process
Unclear or ineffective communication from companies
Withheld or delayed access to vehicles for adjusters and owners.
Insurers cited issues involving negotiating or disputing charges. In some areas, certain towing companies monopolized the market or had special relationships with local law enforcement. Agents found it hard to inspect vehicles due to the lot parking them very close together or having limited operating hours.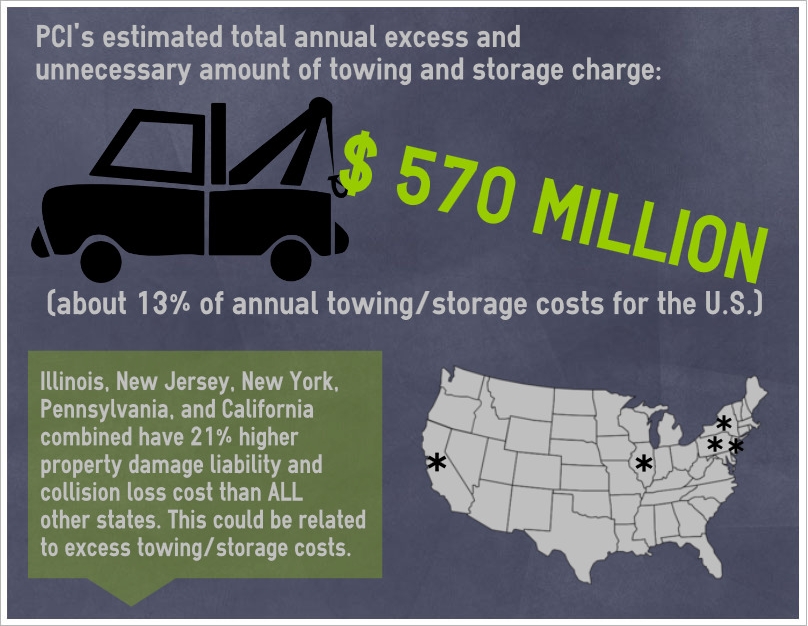 Regulation of towing companies is the central issue. While states completely regulate "non-consent" towing, they cannot do the same for "consent" towing. PCI offers some suggestions for effective local regulation:
Itemized statements for all towing and storage services
No exaggerated charges or exorbitant fees (such as charges for moving a vehicle from one place to another within a facility)
Require release of vehicles to an insurance representative when the owner provides consent
Notify vehicle owners and insurers within 24 hours of the initial tow
Estimates of towing expense prior to consent tows
Disclosure of hours of operation, address of facility and contact numbers to insurer and owner.
These suggestions will assist local lawmakers and regulators with improving the transparency of towing facilities and minimizing this half-billion dollar issue.