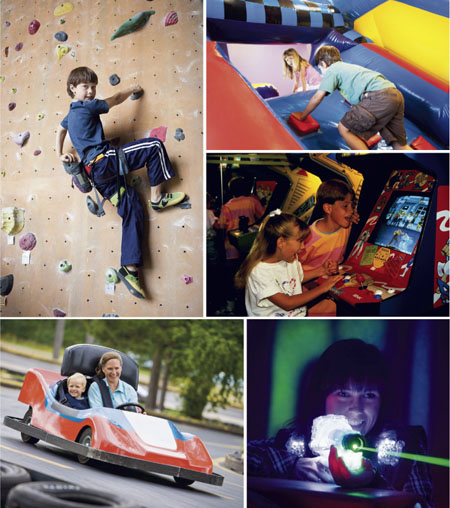 Batting cages. Paintball centers. Arcades. Go-kart tracks. Climbing walls. Laser-tag venues. Giant inflatable "bouncy houses." Although each is a unique operation, all fall under the heading of family entertainment centers (FECs), sharing common risks and coverage requirements—and insurance-placement challenges.
"Anytime you are dealing with kids, [placing insurance] will be a little more difficult" than insuring other risks, says Matt Stein, administrator of the Family Entertainment Center Safety Association Insurance Program at Sterling & Sterling in Woodbury, N.Y.
Insuring FECs also can be "difficult because you are dealing with moving objects going 25 miles per hour, staffed by a teenager. Therein lies part of the problem," says Mike Beckman of Berlin, Wis.-based Beckman Insurance, which specializes in go-kart risks and was recently acquired by indie broker Britton Gallagher.
But while FECs can be challenging to insure, they can be lucrative clients for producers—and thanks to macroeconomic conditions, business is growing.
Beckman, who has more than 20 years of experience specializing in difficult-to-place amusement risks, reports that FEC business continues to be a "money-maker" for the agency.
And on the client side, Mike Peverill, president and CEO of Aldie, Va.-based Pev's Paintball—which has been in business for 20 years—says his business is better than it's been in the past three years, a sentiment echoed by other FECs.
Local businesses dealing in fun have actually benefitted from the hit taken by the "T&E" budgets of many families during these bruising economic times, according to Lorena Hatfield, marketing-resources manager for managing general underwriter K&K Insurance Group, which specializes in FEC policies. "It appears the economy continues to play a role in the growth of locally based activities offering families an entertaining experience at a reasonable cost, as opposed to taking a lengthy vacation," she says.
Drew Tewksbury, vice president and FEC program manager of Britton Gallagher's Amusement Insurance Resources (A.I.R.) program, sees the FEC sector as a good one for retail agents to consider entering, to capitalize on the continued growth in the sector.
"With the downturn in the economy, we are seeing that families don't have the $5,000-$10,000 set aside to go to the big amusement-park destinations," says Tewksbury. "You are seeing money staying local, seeing people take advantage of local amusement and entertainment, and seeing FECs growing," he says. "It is a nice [business] opportunity" for agents.
The FECs that have most benefited from this trend toward "stay-cations" are the ones that have continually diversified and upgraded their offerings. "Smaller centers that haven't been able to evolve with the times have gone away," says Stein. "Ones that have been able to become a family destination are doing quite well."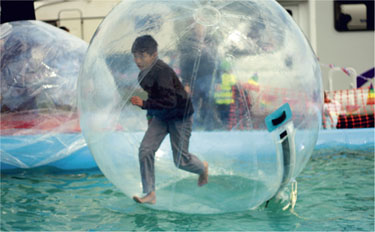 TOUGHEST PLACEMENTS: WATER-WALKING, TRAMPOLINES
But the increasing diversity of family-fun offerings has spawned new risks. "Everyone's looking for the new adventure, the new thrill," says Tewksbury.
And some of these new thrills verge on the edge of insurability.
Whereas giant inflatables were all the rage over the past few years, the current hot trend among FECs involves wall-to-wall trampoline zones. "Right now there are about 100 of these across the country, and I expect there to be about 200 by year's end," says Tewksbury, asserting that A.I.R. is one of the "select few" programs that can insure these risks.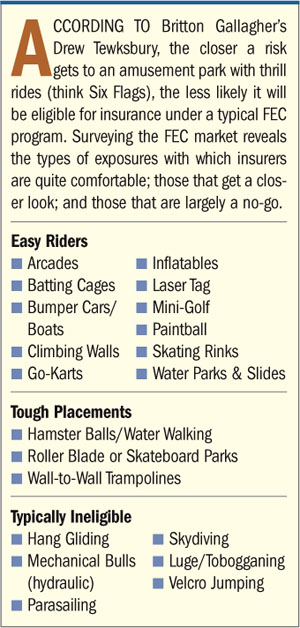 Long anathema to carriers in both standard and specialty P&C, trampoline risks are tough to place in part because of the potential for severe or even fatal injury: In February, 30-year-old Ty Thomasson died at a Phoenix trampoline park after landing head-first in a foam pit and breaking his neck. And with the relative newness of these wall-to-wall venues, underwriters simply lack the experience and data to develop a comfort level with the class.
"We know what go-karts are all about. They've been around for more than 25 years. We don't have the track record on new risks like wall-to-wall trampolines," notes Beckman.
Lynn Houdek, program manager at managing general agent Axiom Insurance Managers, agrees policies for wall-to-wall trampoline parks are still "very hard" to place, but she believes they may ultimately find much more favor among underwriters. Why?
Building a trampoline zone requires a fairly substantial investment, "so there is more of a commitment to the business than someone who just does inflatables on the side," she explains. With giant inflatables, "you spend a few thousand dollars, and you can get into the business"—and those clients can fade just as quickly as they arrived, she says. By contrast, someone who owns a trampoline park is likely to have more money invested in his business and be in it for a longer haul.
Traditionally, any risks involving water have also been difficult to place, and one of the most problematic but popular FEC businesses to insure today: water-walking or "hamster balls"—large, inflatable spheres that roll on water with a person inside. Despite a Consumer Product Safety Commission warning issued in 2011 about the dangers of water-walking, these risks still cross underwriters' desks.
"It's a popular new attraction, but safety standards are not yet in place, creating a potential risk-management issue," says Hatfield at K&K. "The entertainment industry is in a constant state of innovation, and insuring these ever-evolving risks can be challenging."
CRAFTING COVERAGE
The core program coverages for the FEC market are not dissimilar to those of many other small businesses and include General Liability, Property, Crime, Inland Marine, Employee Benefits Liability and Workers' Comp. "There's not a lot of significant differences in the creativity of coverage design; it's understanding when and where to apply coverages and various loss-control and education practices" that differentiate FEC programs, says Tewksbury.
FECs that rent inflatables, for example, have a greater need for Inland Marine coverage, whereas fixed-premise operations should be sure to build in adequate Business Interruption limits in the event a loss wipes out an attraction—or a whole season.
Sizable underwriting differences exist between permanent FEC facilities and rental organizations (such as companies that make inflatable houses available for a backyard party).
"Permanent facilities generally have more exposures to underwrite initially, but after the initial evaluation process, the annual review is less intensive unless changes to the operations have been initiated," Hatfield says. "However, rental businesses for inflatables create unique risks inherent to the environment and to the experience level of the operator."
Municipalities or landlords often require higher excess limits for operations considered higher-risk, such as wall-to-wall trampolines. Water-based risks typically secure limited Pollution coverage. Beckman also recommends a Damage Control endorsement to provide media-management resources for clients in the event of a significant accident or injury at a park.
Houdek says experienced underwriters know what they want to see in FECs: "Following standards. Requiring appropriate speed on go-kart tracks and having remote shut-off systems. Keeping maintenance logs. Having adequate staff who are trained in CPR. Using redundant fall-through netting and padding for trampolines. These are all things that any reputable FEC should be focused on."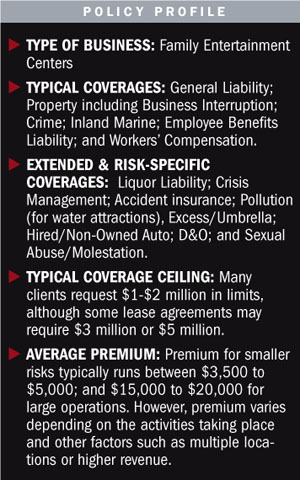 Axiom, adds Houdek, prefers franchise businesses to independent owner-operators: "We feel there are better rules and regulations and training [with franchise FECs] than places that just do it on their own."
While the constant quest for new thrills presents plenty of insurance challenges, the FEC industry as a whole is placing a greater emphasis on safety and loss-control procedures.
"You mention 'amusement park' and people conjure up the image of a carnival coming to town with carnies smoking and drinking. That's not the case—the industry has really cleaned itself up," says Beckman.
For his part, Peverill appreciates the scrutiny of his insurance team's loss-control resources. "[They] worked with us to ensure we had proper netting, and they also provide refresher safety training to my staff every two years," he says.
Tewksbury says the FEC industry is sharpening its own image by continuing to exhibit transparency with underwriters: "People are really concerned with protecting their clientele."