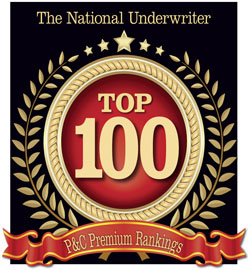 Eighty percent of the names on NU's annual list of the Top 100 P&C insurance groups (see facing page) saw an increase in net premiums written in 2011—and every dollar counted as the year's catastrophe events shrunk insurers' net incomes, and the combined ratio for the Top 100 climbed to 110.2 in 2011, compared to 102.6 in 2010.
Of the 20 insurance groups that experienced a drop in net premiums written in 2011, only five of those are ranked in the Top 50.
On average, net premiums for the Top 100 groups increased 4 percent, compared with an anemic 0.7 percent growth in net premiums written in 2010.
Arch Capital Group, moving up in the rankings to 73 in 2011 from 120 in 2010, enjoyed the biggest year-over-year increase in net premiums written (108.5 percent). Arch says its gross premiums are about the same year-over-year, but the company's net premiums are much higher due to a change in its reinsurance program.
QBE Insurance Group logged a 45.7 percent increase in net premiums in 2011 compared to 2010, which places QBE in the Top 20 for the first time.
The P&C industry continues to be dominated by a relatively small group of key players: The Top 5 insurance groups accounted for just over 37 percent of net premiums written by the entire list, and the Top 10 made up more than half (nearly 57 percent) of the Top 100's net premiums.
The No. 1 group, State Farm, more than doubled the net premiums written by its closest competitor, Allstate.
Each of the Top 5 insurance groups recorded an increase in net premiums (although Allstate's was basically flat), but each also saw their combined ratio worsen.
American International Group's Chartis, sitting in sixth place, saw its combined ratio improve 16.4 points to 112.3.
Two mortgage insurers actually bested AIG's year-over-year combined-ratio improvement, but by no means were their overall financial results favorable. Radian Group Inc. experienced an improvement of 16.8 points in yearly combined ratio to 205.7—which ranks it second-worst among all Top 100 insurance groups. Genworth Financial had the worst combined ratio for 2011, with 256—and that's an improvement by 20.5 points over results from the year prior.
The 110.7 combined ratio for the Top 100 (which would be 3.6 points lower excluding the mortgage insurers on the list) is largely due to widespread catastrophes throughout last year. It seemed no area of the U.S. was spared as significant tornadoes, thunderstorms, snowstorms and wildfires, along with Hurricane Irene, generated an exceedingly high number of claims.
U.S. catastrophes in 2011 caused $33.6 billion in direct-insured losses to all insurers before reinsurance recoveries. That's $19.3 billion more than in 2010 and $17.5 billion more than the 20-year average through 2011, according to an analysis by ISO, the Property Casualty Insurers Association of America (PCI) and the Insurance Information Institute (I.I.I.).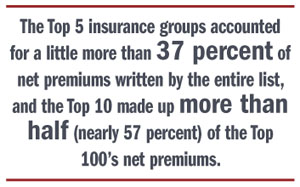 In 2011, the industry's net income was $19.15 billion, compared to $35.2 billion in 2010.
Just 17 insurance groups last year posted improvements in their combined ratio—a key measure of losses and other underwriting expenses per dollar of premium. And just under a quarter of the list, 21 groups, saw recorded combined ratios below 100.
According to a special report by ratings agency A.M. Best Co., poor industry performance in 2011 was additionally due to low investment income, macroeconomic weakness and a decline in favorable reserve development.
In fact, leaving out AIG's $4.1 billion bolstering of reserves for its P&C unit Chartis in 2010, the dollar amount for favorable reserve development throughout the industry in 2011, compared to the prior year, declined about $1.2 billion to $13.1 billion, says A.M. Best—which excludes mortgage and financial-guaranty segments in its P&C report.
COMPANIES MAKE FAVORABLE SHOW FOR Q1 2012
Looking to our list of Top 100 companies for 2011 (see page 14), net premiums written increased about 4.3 percent year-over-year, but the combined ratio worsened to 106.2 from 99.2.
Also of note among the Top 100 companies: Four of the Top 40 saw double-digit premium growth, and those four are members of just two groups—Zurich (Farmers and Mid-Century) and Berkshire Hathaway (GEICO Indemnity and National Indemnity). At each of those four companies, however, combined ratios worsened.
But the news is getting better. A look at the Top 100 companies' first-quarter 2012 results (see page 22) shows a bounce back, primarily due to fewer cat losses.
For instance, Factory Mutual Insurance Co. (FM Global) recorded nearly $300 million in first-quarter net income, compared to a loss of about $14.9 million during the same period in 2011.
Combined first-quarter net profit among the Top 100 companies increased about 45 percent year-over-year, and the combined ratio for the group improved nearly six points to 97.5.
For the overall U.S. P&C industry, first-quarter net income was $10.1 billion, up from $7.8 billion during the first three months of 2011, according to a joint report from ISO, PCI and I.I.I.
The industry's combined ratio improved during the first quarter to 99 from 103.3 the year prior—the best underwriting result since the industry posted a 91.6 combined ratio in Q1 2007.
Editor's note: Last year's Top 100 list was compiled using Highline Data, which was a unit of NU's parent company, Summit Business Media. Highline Data was acquired last year by SNL Financial, which is the source for this year's Top 100. This accounts for slight discrepancies in the 2010 rankings and premium amounts; for example, in our Top 100 list last year, Liberty Mutual placed third, whereas SNL data ranked the group fourth.
See chart: TOP 100: Leaders & Laggards

See chart: TOP 100 COMPANIES: Q1 Comparisons