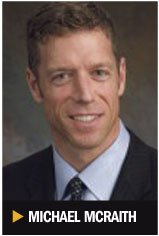 Michael McRaith, director of the Federal Insurance Office (FIO), is moving aggressively to reduce the differences between European and U.S. insurance regulatory and supervisory schemes.
McRaith met July 11 in Frankfurt, Germany with officials of the European Insurance and Occupational Pensions Authority (EIOPA), and industry officials in Washington said he told them before he left that he hopes to have a template in place by November for smoothing over differences between the two regulatory schemes.
Also at that meeting were Susan Voss, Iowa commissioner and immediate past president of the National Association of Insurance Commissioners (NAIC), and NAIC Executive Director Terri Vaughan.
Industry lawyers and lobbyists familiar with McRaith's visit say they believe the U.S. will likely have to agree to some uniform collateral requirements for foreign insurers beyond the ability of the NAIC to enforce in order to facilitate an even playing field for U.S. insurers doing business in Europe.
According to EIOPA Chairman Gabriel Bernardino, the EU and the U.S. began the talks in order to increase mutual understanding and cooperation with a view to identifying the main commonalities and differences of the two insurance regulatory and supervisory regimes.
Bernadino said the next Steering Committee meeting is scheduled for October in Washington.
Meanwhile, rumors are circulating that the Obama administration will release over the August congressional recess the long-delayed report on insurance modernization that the FIO and McRaith have been working on. Difficulties in cooperation between FIO and the U.S. Trade Representative (USTR) over who will primarily represent the U.S. on international insurance issues are delaying the report, industry lobbyists and officials say.