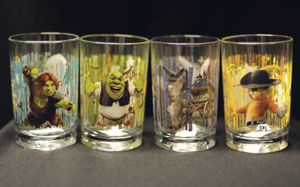 In 2010, McDonald's Corp. set the bar for product-liability response when it managed to recall some 12 million "Shrek Forever After 3-D" collectible drinking glasses manufactured by ARC International of Millville, N.J.
The paint on the glasses contained an unacceptable amount of cadmium—a recent substitute for lead in such food containers—which can cause adverse health effects after long-term exposure, according to the Consumer Product Safety Commission (CPSC).
McDonald's offered consumers a $3 buyback for each glass returned; the glasses originally sold for about $2. Consumers saw it as an added value.
"Talk about making lemonade out of lemons," says Alex Filip, a spokesman for the CPSC. "It worked extremely well for them. It got a tremendous amount of retail off the market and protected consumers, and it brought people into their stores, which is not necessarily a bad thing."