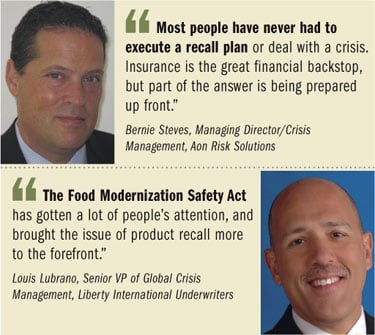 Interest in Product Recall and Liability insurance is rising among companies in the U.S., especially as supply chains grow ever more global, thereby exponentially increasing exposures to manufacturing and distribution problems.
Also driving buying decisions: businesses endeavoring to comply with a rash of recent federal regulations; and a desire to protect their brands from the sort of reputational damage from which there can be no return.
"We are seeing an increase in the number of policies that we're writing and placing both on the food and non-food sides," says Bernie Steves, managing director in crisis management for Aon Risk Solution's Chicago office.
"There has been a large spike in activity and interest" in Product Liability coverage, agrees Louis Lubrano, senior vice president of Global Crisis Management for Liberty International Underwriters in New York.
This increase in activity, says Steves, is attributable to an overall increase in product recalls, prompted both by the Food Modernization Safety Act (FMSA) that went into effect last year; and the Consumer Product Safety Improvement Act (CPSIA) of 2008 on the non-food side—as well as increased attention from politicians and the media on product safety.
The FMSA's aim is to allow the government to prevent contaminations rather than respond to them after the fact; it gives the U.S. Food and Drug Administration (FDA) the direct power to issue a food recall if it believes a product may have been compromised. Previously, the FDA had to coordinate a voluntary recall with the company in question if an outbreak had not yet occurred.
And with longer supply chains through which perishables must travel, the risk of something going wrong is greater than ever.
"What's tough now is you have a lot more product in raw materials coming in from overseas; you have more co-packers; you have more hands touching the product than you did previously. And it's always changing," says Bob Nevin, vice president of Products Liability for Lexington Insurance Co., a Chartis company.
The Food Modernization Safety Act "has definitely gotten a lot of people's attention and brought the issue of product recall more to the forefront," adds Lubrano.

On the non-food side, CPSIA has fundamentally changed how product safety is regulated in the United States.
CPSIA imposes new product-safety rules and procedural regulations for all children's products and the development of new regulations for infant and nursery products. It requires that most children's products comply with the new product-safety rules; that they are tested for compliance by a Consumer Product Safety Commission (CPSC)-accepted laboratory; and that they have a written Children's Product Certificate (issued by the manufacturer or importer), which provides evidence of the product's compliance.
Steves says companies now want to know how to stay compliant with these federal standards. Such knowledge "goes hand-in-hand with crisis management and preparedness: [having] product-recall plans, executing those plans, and [having] crisis-communication plans—being prepared up front before an incident happens," he adds.
The Product Liability market has responded to this federal oversight with the Government Recall Endorsement, which has become a common add-on among insurers in the Product Recall space. It tailors a policy to meet a company's specific increased exposures brought about by the FMSA and CPSIA.
CARRIERS INCREASING, PRODUCTS PROLIFERATING
As the need for coverage expands, carriers that previously didn't deal in Product Liability policies have entered the marketplace, among them Lloyd's Catlin Group and the Ace Group, among others.
"It's a competitive market," says Nevin. "The key [differentiator] is the experience [of the carrier]; it's important to provide loss-control and crisis-management services," he says.
Lexington offers a product called Recall Response, which is targeted to manufacturers and distributors of non-food products; it offers first-party and/or third-party coverages. Its related Contaminated Products Insurance (CPI) covers business-interruption costs, recall expenses, rehabilitation expenses, consultant and advisor costs, and extortion costs.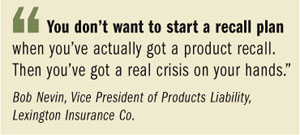 For food-and-beverage accounts, Lexington's Contaminated Product policies CP2 and CP3 include coverages such as accidental contamination, malicious product tampering, product extortion, product refusal and/or third-party recall.
Crisis management and cost are built into Lexington's policy coverage in addition to the policy limit, so the company can help a client immediately.
"When there's a product-recall event, the media will be on your doorstep within five to 10 minutes," Nevin cautions.
RISK MANAGEMENT: DEALING IN DAMAGE CONTROL
As no one can predict when a food or product recall will strike, it's imperative to be prepared in advance.
"You don't want to start a recall plan when you've actually got a product recall. Then you've got a real crisis on your hands," warns Nevin.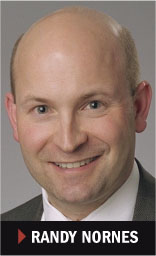 Transparency and timely response can help a company see as much as a 20 percent improvement in reputation and brand value directly after a recall, says Randy Nornes, executive vice president with Aon Risk Solutions.
"It used to be you could wait a little while, but that was before you had a 24-hour news cycle," he notes. Companies that once had a month to methodically react to an incident now have at most five days to turn things around before public perception is seriously affected.
Aon recently launched a Brand Restoration product with a claim limit of $100 million, underwritten by Zurich, that provides product-recall crisis management.
Reputation management has been in the Top 5 or Top 10 concerns among businesses for several years now, Nornes notes. It's a risk issue that involves bringing people together from all facets of an organization, especially those who communicate to both customers and employees, to ensure that a product recall doesn't denigrate into a brand meltdown.
"A small ripple can quickly overwhelm an organization," says Nornes. Accelerated by the speed of new media, he notes, one incident, improperly handled, can pass from one social-media outlet to another in minutes.
"We're starting to see big retailers move to where they require a vendor to buy insurance from a recognized insurer," he says. "You need to have those discussions and try to think about what you'd do before it happens to you."
That requires a clear chain of command within a business organization and a clear plan as to how a recall would work. It also means insurers teaching policyholders how to seek recovery and perhaps improve on that process for the next potential recall.
"This is an area where you have to navigate on certainty," Nornes says. "It's got to be fluid, fast—and you have to follow a playbook that says you're going to communicate facts as soon as you know them and that you're going to be transparent. There's a certain way of carrying forward through these issues."
Ultimately, product recall is really all about response. "You need to have sharp performance in a difficult situation," Nornes adds.
"Most people have never had to execute a recall plan or deal with a crisis," adds Steves. "The best way to prepare for that is really to practice. Practice [your] plans, hold monthly calls, put on mock-crisis events. Insurance is the great financial backstop, but part of the answer is being prepared up front."