No other company is as aptly named as Progressive Insurance, which for the last 50 years under the leadership of Peter Lewis has been remarkably ahead of the insurance-industry curve in implementing game-changing business practices.
Perhaps the most important innovation for which Lewis can be credited will come as something of a shock to anyone who has been in the industry less than 25 years: customer service.
"Peter Lewis has done more than anyone else to change the relationship insurance companies have with their clients from an antagonistic one to one focused on service," says Cliff Gallant, an analyst and managing director at Keefe, Bruyette & Woods who has been following Progressive for nearly 20 years.
Prior to the late 1980s, policyholders in need were at best ignored by carriers, which relied on their agents to handle customer interactions; at worst, claimants were treated more as latent criminals than premium-paying clients.
"Customers detested our industry, including Progressive," Lewis tells NU. This hatred culminated in 1988 in the punishing Proposition 103 in California, which required insurers to cut rates by 20 percent across the board.
This financially devastating mandate—and fears of similar legislation spreading across the land—lit the proverbial light bulb over Lewis' head: providing quality service could give Progressive a huge competitive edge. From that moment on, Lewis became "committed to the customer at an increasingly psychopathic level—and boy, has that approach paid off," he says.
After you've read this, click here to return to the list and read more
Among the many customer-focused firsts: a customer-service phone line staffed 24/7; "concierge" claims service, which handles every detail of a client's car repair from start to finish; and emergency-response vehicles that travel to accident sites.
"We promised an immediate response—by which we meant immediate: within hours or even minutes," Lewis says. "We recognized that accidents are a harrowing time for claimants, and we added to our set of responsibilities not only paying properly and in a timely manner but making the process as easy and speedy as possible—reducing the trauma."
The industry-bucking investment in service transformed the company: "Deciding to make the promise was hard enough; delivering on it was really hard," Lewis remembers with a laugh. Barely cracking the Top 100 list of P&C companies in 1979, by 1992 Progressive was the country's largest writer of auto insurance through independent agents.
"The industry was marching in lockstep in a straight-line direction. We began a process of forking off the road, and no one followed," says Lewis. "As we did this, we began to grow faster and more profitably than any other company. After seven to eight years, everyone began to catch up, and now everyone has their version of this approach to customer service."
"Concierge claims service is just one example of a very groundbreaking move started by Progressive that has become common industry practice now," Gallant agrees.
In addition to reshaping the customer-service landscape, Lewis can take credit for initiating another seismic industry shift: selling policies directly online.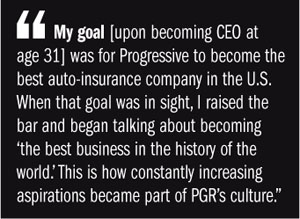 In quick succession, Progressive became the first auto-insurance group to launch a website (1995), to offer rate comparisons online (1996) and then the big breakthrough: In 1997, Progressive laid claim to being the first insurer to give consumers the ability to buy an auto-insurance policy in real time online (motorcycles and boats followed in 1999).
While independent agents always were—and still remain—vital to Progressive's distribution strategy, the direct-online purchasing model marked the start of a severe cut in the amount of Personal Auto insurance written by independents, as other insurers—and buyers—followed Progressive online.
The disintermediation of the independent agent is a fate Lewis says he saw coming a long time ago.
"In the first big industry speech I gave—45 years ago—I predicted the end of the independent-agent business and all the reasons why it was going to happen," he relates. "I was right; the only problem is my time horizon. It won't happen in my lifetime. The independent agent today has something to offer and still produces over half our business. They are more efficient in certain circumstances than a direct writer can be, and there is something about auto insurance that makes people like having an agent in between them and [their carrier]. But it's irrational to think they can survive forever; shopping online is just so much easier. I wouldn't invest in an independent agency."
Lewis' early embrace of the Web is far from his only technological innovation. Given the critical role that data analysis plays today at insurers, it's hard to imagine that wasn't always the case. But Lewis, a self-described "data freak," was instrumental in introducing the use of predictive modeling to better select and price risks.
In 1991, for example, Progressive became the first auto-insurance group to use consumers' credit histories, in select states, to develop more accurate policy premiums. And then in 2004, Progressive took the lead in telematics, unveiling its TripSense usage-based program.
"When we realized the power of data, we reorganized all our systems to make all that information manageable and available to a lot of very smart people," Lewis says. "We are driven by numbers; we measure everything. If there's a problem we can't measure [at first], we figure it out fast."
While Lewis takes credit for "conceiving and driving" many of these "adventuresome advances in technology," he also notes "there are lots of heroes in the history of our company."
And indeed, another way in which Lewis has profoundly influenced the industry is his approach to hiring. "I was recruiting early on at the business schools of Harvard, Northwestern, Dartmouth and Stanford—and there were no other P&C or life companies around. We were the only insurance company to hire from these schools—and the only one to pay them what seemed an outrageous amount to our competitors. Our management culture has always been more like an investment bank than an insurance company," says Lewis, who notes with a great deal of pride that, by his count, 25-30 Progressive alumni have gone on to become CEOs of other carriers.
But of all his personnel moves, Lewis singles out the selection of his replacement. "I thought about this for a long time before our interview, and the greatest thing I did for Progressive: I orchestrated a brilliant succession. I was good as a CEO; [current CEO] Glenn Renwick is better."
Gallant concurs with Lewis' assessment. "Given the length of Lewis' tenure, it was a remarkably smooth transition—really a case study for how to get it right."
Summing up the indelible mark Lewis has left on insurance, Gallant says: "He changed what had long been a staid industry to one where innovations are both common and necessary."
Asked to predict the future for P&C insurance, Lewis gives a poignant answer: "We'll see the gradual end of auto accidents. This is starting to happen now. Progressive's mission statement is to reduce the human trauma and economic cost of auto accidents, and if the ultimate outcome is they don't happen anymore, we will have succeeded."