In the event of a tornado, hurricane, or severe tropical storm, the potential for damage to various buildings and civil structures is significant. This potential increases with various factors, such as the proximity of the storm event to the structure, age, construction quality, engineering, and materials used in construction.
For hurricanes and tropical storms, for example, structures along the coastline are at greater risk than structures built inland. The reason is there can be a substantial wind component on top of tidal surge and flooding that must be taken into consideration. For inland structures, the strength of the wind and tidal surges are less from hurricanes and tropical storms even though flooding can still result from heavy rainfalls. Tornadoes mostly impact inland structures in areas deemed to be at higher risk through analyzing historical weather patterns.
Loss Severity
After these occurrences, damage to structures can range from a total loss to no damage, with the exception that a concerned policyholder thinks his or her property may have sustained damage.
Buildings that have been demolished by such a catastrophic event may not leave clues from which the claims adjuster or engineer can determine what portion of the storm resulted from wind/water infiltration compared to flooding. Most of the structural forensic work are to structures that are around 50-percent damaged to no damage at all.
A claims adjuster may find the insured structured demolished, while neighboring structures remain intact and suffer minimal damage. Why is this? Could there be a construction defect that allowed the wind and/or flood to damage the structure? Certain investigate tips and research can help claims professionals accurately answer these types of questions.
Pre-existing Conditions
For wind-related events to buildings, one of the first questions that should be raised is the following:
How fast was the wind?
Answers can be found through common weather-related Web sites and the National Oceanic and Atmospheric Administration (NOAA). It is important to use several different weather stations that encompass the subject property, and either average the data or use conservative values.
How old is the structure?
This question is relevant because an older structure may not sustain the impact of high winds as well as a newly constructed building. As building codes become more defined, loading conditions for wind and snow have generally increased. For example, a new building along the coast may be designed for 120-mph winds, whereas a 40-year-old building may have only had to be designed for 80-mph winds. Sometimes, though, the exact opposite is true. Sometimes older buildings sustain less damage while newer (and commonly lighter) buildings sustain more damage. This condition is the use of bigger, thicker materials (which are often heavier) that can help restrict the movement of a structure.
Where is the damage observed?
This question should be answered (when dealing with wind-related matters) from the top down. Generally speaking, wind affects buildings the higher they stand off the ground, possibly leaving blown-off roofs and no observed damage to first-floor walls or the foundation. Lighter gauged materials such as roof vents, shutters, and roof coverings along the roof perimeter and ridges will generally show more damage than along the inner face.
How was the building constructed?
Most wood-framed buildings use common roof lumber that generally have provisions that must be met to ensure the building does not get blown down. The use of hurricane clips, straps, and anchors are utilized along the roof-to-wall, wall-to-wall, wall-to-floor, and floor-to-foundation connections. Any of these areas missing possible load-transfer provisions may result in damage caused from a wind incident that could have been prevented.
If a building is under construction when a loss occurs, there are usually provisions and codes that are in force to protect the building while it is under construction. The general contractor is usually responsible for protecting the structure to prevent possible damage. The use of temporary bracing and methods to protect against the elements is a major component to ensure failures do not occur.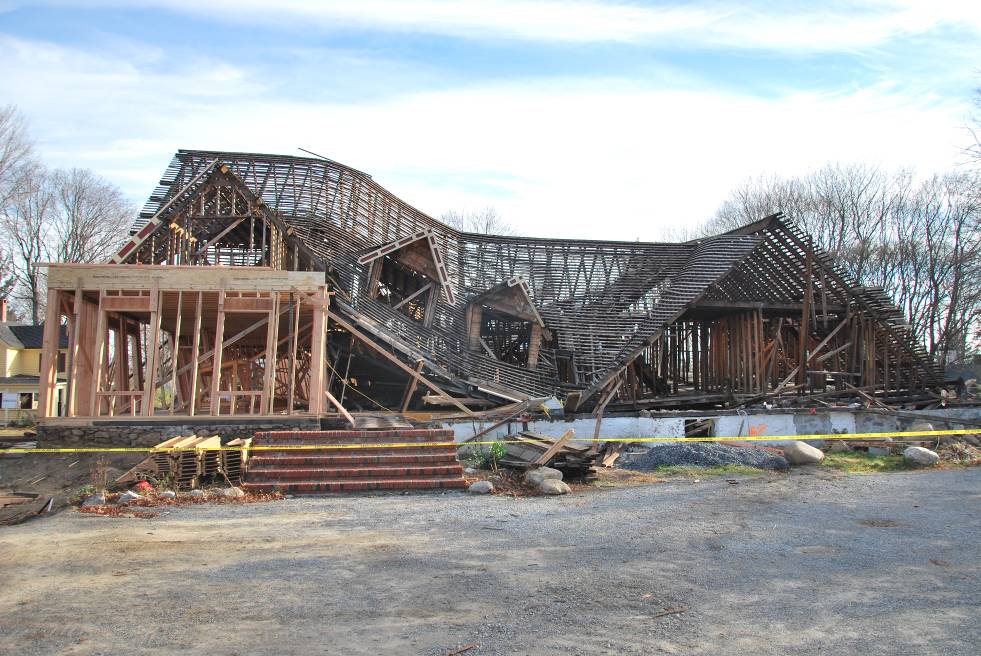 (Building failure from a wind incident due to lack of temporary bracing.)
An example of this condition has been noticed after a tornado occurred in an area that does not experience tornadoes. Because of the lack of tornadoes, some contractors and building officials may not have been as concerned in ensuring these conditions are met. In a particular development that was constructed using several different contractors, some common themes developed where certain buildings sustained more damage than others standing closer to the tornado path.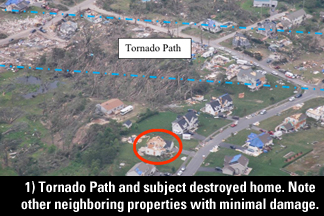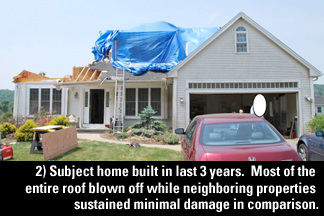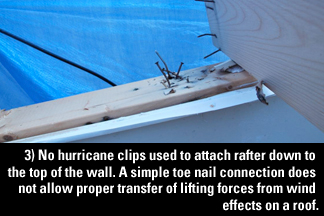 Other inspections of the neighboring properties indicated that hurricane clips and straps were utilized, as indicated below, which help minimize the overall structural damage.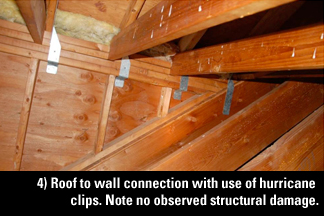 The end result may help the claim examiner's decision to possibly pursue a subrogation claim against the contractor or builder for failure to install these clips, which would have prevented the building from being an almost total loss.
The aftereffects of a hurricane can cause difficult assessments and/or segregating damage that was caused by wind and water infiltration. While damage to roof areas is commonly attributable to wind, areas along the first and second floors could be damaged by wind/water and/or flood/tidal surges that could affect the overall scope and cost of the claim.
Weather-related losses are another area where a civil engineer can greatly assist with claim investigations. The wreckage from a catastrophic hurricane strike can devastate whole cities and cost insurers and reinsurers hundreds of millions of dollars. The common question tends to be what damage was caused by wind and rain and what damage was caused by flood. A civil engineer can provide a site inspection documenting crucial information to help separate these damages.
Water-mark lines along building walls, trees, and hills should always be inspected. Impact strikes indicative of objects crashing around during a tidal-surge period are major indicators of flood damage. Usually, wind damage affects weaker materials such as vinyl siding and asphalt-shingled roofs. Wind forces are strongest along building corners and edges and can damage structures from both a positive and negative (vacuum) pressure. If a building is entirely leveled without anything left to inspect, civil engineers can also estimate damage that could have been caused by wind, rain, and flood based on storm weather data and flood-survey maps.
The following tips can be used to help evaluate the overall damage and indicate if the cause is primarily wind/water intrusion or surge:
Determine and document any evidence of mold: Upper floors may indicate point of water intrusion from wind/water intrusion entry. Bathroom areas may indicate prior indication of a moisture/humidity problem from venting.
Examine the sheetrock in the interior of the building and note distressed areas of the sheetrock (upper floors may indicate wind and/or surge if cracking is throughout).
Warping damage on floors and opened up ceilings from below (can indicate surge).
Warping flooring around base of windows may indicate water intrusion.
Identify how high the water was in the home. Look for high water marks on walls or debris lines around the property or adjacent structures (indicates surge).
Identify the home's base flood elevation (from FEMA) and overall ground elevation (which can indicate overall flood/water levels within the home).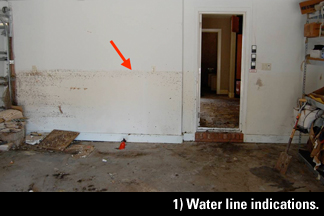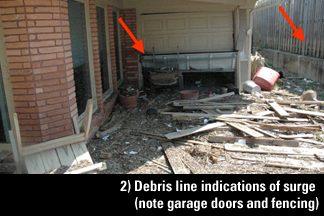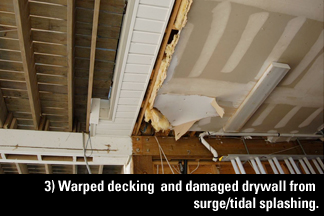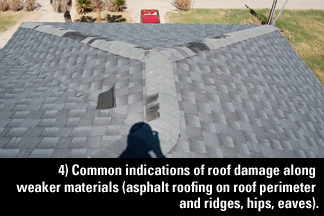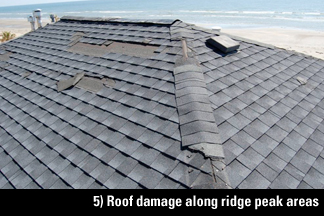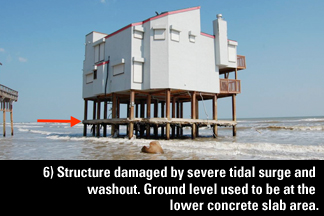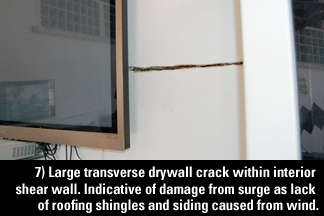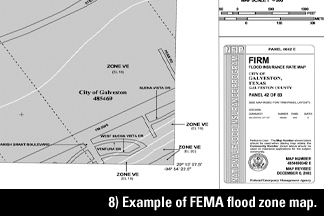 When structural damage is suspected, a civil engineer can determine if a foundation crack was caused by construction activities by visually observing within the cracks for details such as the color, sharp edges, the presence of any dust, debris, and/or paint. Additionally, a civil engineer will inspect for evidence of building settlement, soil conditions, and temperature changes within building materials, as well as examining pre-construction damage surveys and seismographs.