CREDITING HIGH retention rates and strong new-business growth, Marsh & McLennan Cos. reports its first-quarter net income grew by 7 percent from the same period last year.
The New York-based services company reports net income increased $22 million to $347 million. Revenues rose 6 percent, or $167 million, to $3.05 billion.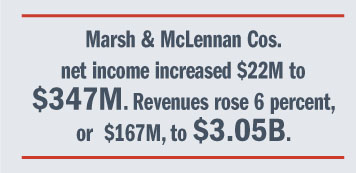 Revenues at brokerage-unit Marsh rose 8 percent, or $97 million, to $1.4 billion with organic growth of 7 percent. Guy Carpenter revenues were up 5 percent, or $17 million, to $357 million. Organic growth also rose 7 percent.
On the subject of pricing, Group President and COO Daniel S. Glaser said property rates are being impacted more than casualty rates. In the U.S., Property, Workers' Comp and Excess Casualty are all up moderately. General Liability and D&O insurance are still down. In other places in the world, rates are mixed.
Aon, meanwhile, says its net income dropped 3 percent year-over-year in Q1 as foreign-exchange translation and investment in internal operations impacted results.
The brokerage reports first-quarter net income of $238 million, or 72 cents a share, down $8 million from the prior year.
Revenues grew 3 percent, or $82 million, to $2.84 billion.
During a conference call with financial analysts, President and CEO Greg Case said the company performed well in the first quarter, with organic growth of 4 percent "across every major business." He added that the firm recorded retention rates of 90 percent or better in its operating segments, underscoring strong growth throughout the global markets.