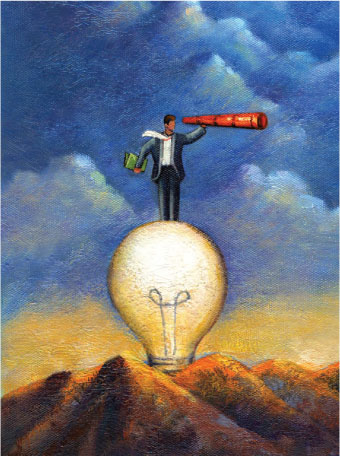 John Parente's office is a mess—but a productive one—of newspapers and books. As the chief innovation officer at Lexington Insurance Co., Parente needs this pile of print to help him discover where new and future risks lie for which his company can devise cutting-edge coverages.
Parente is head of a team at Lexington charged with identifying emerging perils that might present unique business opportunities. Research is done by listening to underwriters, claims professionals, clients and those outside the industry—as well as lots of reading—to learn about what's going on in a world constantly in fast-forward.
"When we find something, we hold a brainstorming session" to determine if a profitable coverage niche can be carved out to address the exposure, he says.
And the answer—as judged by the steady stream of innovative coverages coming out of Lexington—is often yes.
KEY TO A CULTURE OF INNOVATION: UNIVERSAL INPUT—AND NO FEAR OF FAILURE
At Chubb, the need to develop innovative insurance products has led the insurer to try to create a culture of innovation.
"We encourage all [our employees] to come up with new ideas," says Dominick Zenzola, a vice president at Chubb. "Everyone needs the freedom to suggest new ways to add value to our products, and all employees need to feel comfortable doing that." (Like Lexington, Chubb also has a dedicated team constantly looking for ways to stay ahead of the curve—and the competition.)
With new ideas come the occasional failures. But this aspect of the product-development pipeline needs to be expected—and excused, says Matthew Power, executive vice president at Lexington.
"You must celebrate experimentation," he says. "We cannot be afraid to fail. If failure is never an option, you can never innovate. There must be permission to fail."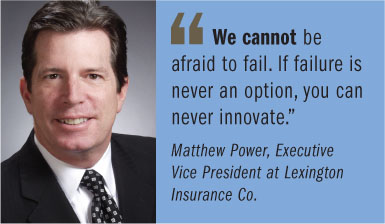 The excess and surplus/specialty markets—with their freedom of rate and form—provide the perfect arena to "see around corners and imagine," says Power.
Here's a look at four new products that have recently arisen from Lexington, Chubb—and an imaginative managing general agent.
COVERAGE FOR CARBON CREDITS
Recently, Parente was on a plane, reading about the global carbon-credit trading industry. Threshold limits are given to companies, representing the right to emit specified amounts of carbon dioxide. The credits create a market because they are monetized and sold.
But what happens when, for example, an oil refinery pushes out an amount of carbon dioxide over the allocated credits it has received?
It is chooses not to reduce its carbon emissions, it purchases carbon credits from a carbon registry to offset the overage.
But until these credits are certified, there is still a risk of an error in validation, which can negatively impact the oil refinery's investment.
After reading about this, a team at Lexington got to work and developed a product to protect against this unique type of exposure.
"This is a great example of the role insurance can play—how it can recognize a shift in the landscape and see emergent liabilities," says Power.
Limits of up to $5 million are available for professional liability.
PROTECTING HISTORIC TAX BREAKS
And Lexington hasn't limited its creativity to carbon credits. The insurer also recognized that entities or individuals receiving federal and state tax credits for rehabilitating and using historic commercial buildings are at a risk of a loss if an event causes physical damage to one of the structures.
So Lexington developed a Historic Rehabilitation Tax Credit (HRTC) insurance policy to protect owners, developers and/or tax-credit investors against financial damages suffered if the credit is lost during rehabilitation or after occupancy.
Coverage for the rehabilitation and recapture period is issued on two separate policy forms, which can be purchased together or separately.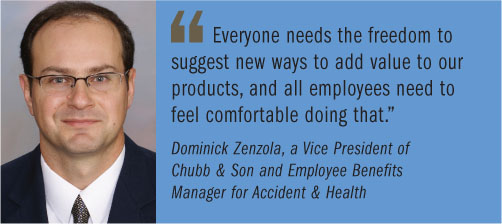 One policy can be purchased as an enhancement to Lexington's Builder's Risk insurance. During rehabilitation, HRTC insurance will pay for the loss of rehabilitation tax credits if a covered causalty results in significant property damage, and as a result, the amount of qualifying tax credits are reduced from that anticipated at the start of the project.
A minimum additional premium of $10,000 over and above a minimum Builder's Risk premium of $25,000 is required. The term of the policy is commensurate with the Builder's Risk policy; up to $40 million in aggregate limits is offered.
The other HRTC policy offers post-occupancy coverage, which is designed to pay for a loss due to recapture of the rehabilitation tax credit if a covered casualty results in significant property damage—and as a result, the IRS disqualifies all or part of the tax credit taken at occupancy.
The minimum premium is $10,000; policies are available in terms of up to five years and offer up to $40 million in limits.
WORK TRANSIT IN A GREEN WAY
Insurers, including Chubb, have long recognized the many risks to employees traveling on business. But the Warren, N.J.-based insurer saw an opportunity to jump in at the front of a possible emerging trend that is starting 2,500 miles away from its headquarters.
To promote a "green" lifestyle, California lawmakers recently permitted employers to offer employees a tax-free benefit to commute to work by vanpool or public transit.
"We had coverage for business trips, but not for those commuting to and from work using these encouraged methods of transportation," says Chubb's Zenzola. The company plans to make the product available in other states as well.
EXPATRIATE EXPOSURES
XN Financial, a managing general agent, has recognized the plethora of risks associated with an overseas assignment—and has developed a package of products specifically designed for expatriate business people.
"Talent is driving progress in business, and you can't take for granted that talent will be found locally," says Paul Coleman, XN Financial's executive vice president.
As a result, assigning employees to an office overseas has become a hugely common fact of life for multinational corporations.
And the risks are not only legion in these situations—they are often overlooked, which sets up both the employee and the employer for potential seven-figure exposures.
"Traditionally, the risks associated with an overseas assignment have been poorly managed," Coleman says. "International mobility [poses perils] that many people don't think about, and failure usually happens due to mismanagement. We can tailor a program for the company and the household to try and prevent that."
XN Financial can obtain coverage for everything from vacant properties left behind when an assignment ends to kidnap-and-extortion; and from property and health-care to liability issues in a new country.
For example, try keeping your domestic health-care coverage overseas, and you may face a bunch of problems dealing with an out-of-network provider, keeping invoices and converting currency.
And employees may think their employers are covering the insurance for their new homes abroad, but "employers say, 'We didn't buy you home insurance here, why would we buy it now?'" adds Coleman.
XN, he says, "has become a one-stop shop" that can offer both the convenience of providing all necessary coverage through one provider—and typically doing so at a better premium than coverages sold separately.
As the business world becomes ever more global, Coleman only sees this niche XN has laid claim to expanding. "We're just scratching the surface," he adds.