In a report in the Jan. 23 issue of NU forecasting the likely top trends this year for agents and brokers, one top executive made a prediction that really caught our attention.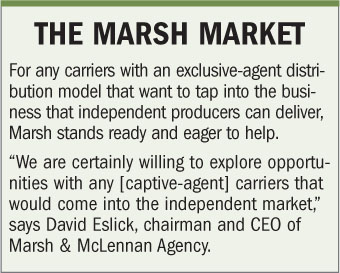 "Regarding the dynamic between captive writers and independent agents: We will see more and more captive writers pursue a relationship with independent brokers," David Eslick, chairman and CEO of Marsh & McLennan Agency, opined at the time. "They are thinking about growth and the opportunity to expand their distribution platform."
A few months into the year, we decided to follow up on this intriguing statement to see if the trend is beginning to materialize.
Key industry associations, for one, are not seeing it. Neither the Independent Insurance Agents & Brokers of America on the agency side nor the Property Casualty Insurers Association of America on the carrier side report any sort of significant shift of exclusives into the independent market at this time.
But Marsh's Eslick is standing behind his prediction—and elaborated on the factors that he believes will prove him right.
"If you look at mid-market [commercial] business today, the large majority of that is written by independent-brokerage firms," he says.
"If you go from using only captive [agents] to leveraging independent brokers," Eslick continues, "you can open up all those other client relationships that broker has for additional opportunity—versus simply having your captives fight with independents for sales."
Eslick, who expects the trend to manifest itself gradually, draws parallels to the sales shift he witnessed in his days working in health-care insurance.
"If you go back to the late 1970s in the health-care industry, almost all sales were handled directly. Now they're handled through independent brokerages."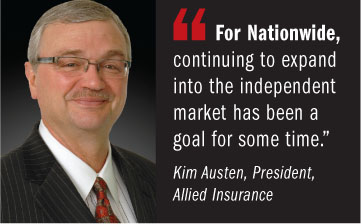 And there's no question at least one major carrier with a network of exclusive agencies is looking to aggressively expand its independent-agent distribution channel: Nationwide, which last year spent $800 million to acquire Harleysville, a carrier strong in commercial lines with an independents-only distribution model.
Eslick avers that other carriers with captive agents are sure to be closely watching the effect on Nationwide's performance as a result of the Harleysville deal.
And Eslick adds that captive carriers already have an older case study from which they can draw some pretty clear conclusions about the relative benefits of the independent approach versus the captive one: Liberty Mutual's switch in 2009 from direct writing in the middle market to independents.
ON YOUR SIDE—AND ON THE SIDE OF EXCLUSIVE AND INDie AGENTS
No company's recent behavior better illustrates Eslick's thesis than Nationwide.
Even before the Harleysville deal, Nationwide, a Fortune 150 company (#127) and No. 8 on NU's annual Top 100 list, already had employed a hybrid distribution model.
Its Allied Insurance unit partners with a network of 4,000 independent agencies across 33 states. Scottsdale Insurance, its surplus-lines subsidiary, also does its work via independents. About one-third of the company's business (measured by number of customers) in recent years has been derived from deals delivered by a total of 5,000 independents.
Now, with the almost $1 billion Harleysville buy, the carrier is doubling down on the independent-distribution model.
The deal, which just received regulatory approval from Pennsylvania this month—and which still awaits the go-ahead from Michigan, New Jersey and Ohio and from Harleysville's mutual members—will add about 1,300 independent agents to the Nationwide pool.
It will also strengthen the carrier's presence both in commercial lines and east of the Mississippi. The Nationwide-Harleysville combo will translate into a total of some $16 billion in annual direct-written premium and will expand Nationwide's independent-agency reach from 33 to 44 states.
So, at least for Nationwide, Eslick's trend prediction is proving true, and a company executive gives reasons that echo his.
"Certainly companies are looking to grow, and it has been hard to grow in our business," says Kim Austen, president of Allied Insurance. "For Nationwide, continuing to expand into the independent market has been a goal for some time."
Although Nationwide is increasing its investment in the independent channel, it is also standing strongly behind its 3,300 captive agents. "Our goal is to protect people, and we want them to find Nationwide no matter what distribution system they come to us from," Austen says.
Nationwide, he adds, has no concerns about competing interests between its exclusive and independent agents: "At the end of the day, all of these agents compete with the next agency down the street or across town, regardless of whether it's independent or exclusive."
And what about the benefits to Harleysville's independent agents and their customers?
"For the agents who represent Harleysville, their customers will now be part of the Nationwide group of companies, which is larger and has a stronger and bigger capital base. They will also have a larger group of products available," says Austen.
Based on the numbers, the company's blended-distribution strategy is working so far: Allied's written premium has grown from $900 million in 1998 to about $3.5 billion today.
Assuming the deal is completed, Harleysville will not be subsumed under the Allied umbrella but rather will remain operating under its own brand.
INDEPENDENTS: GIVE ME LIBERTY
Before fully embracing independent agents and brokers in the middle market in 2009, Liberty Mutual utilized a blended distribution model, writing directly through its Liberty Mutual Middle Markets operating unit; and both directly and through independent brokers via its Liberty Mutual Insurance National Markets operation for large commercial accounts.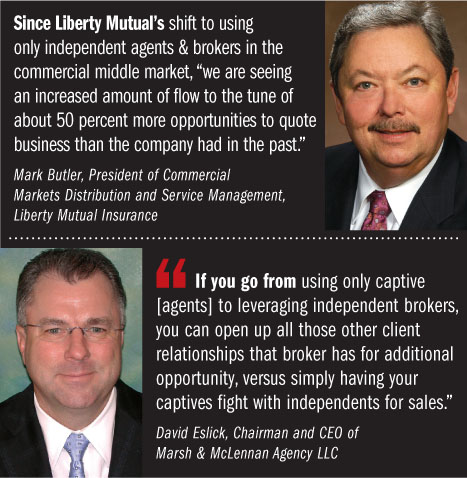 Those operations are today consolidated under Liberty Mutual Commercial Markets.
"Only 5 percent of the middle-market space is purchased on a direct basis," says Mark Butler, president of commercial-markets distribution and service management for Liberty Mutual Insurance. "We realized that if we wanted to grow, embracing the agent-broker community was the right answer.
"Even though that decision was breaking 100 years of tradition, it was clearly outweighed by the opportunity that the agent-broker model brought us," Butler adds. "Through our experience in [National Markets] commercial accounts, we knew the agent-broker community wanted access to more products and services. People were ringing our doorbell."
Company leaders believed that in addition to the growth opportunity, moving fully into the independent market would allow Liberty to establish greater spread of risk. "We predominantly wrote Workers' Compensation through the direct operating model," Butler says. "We needed to diversify our book of business."
This change in distribution strategy has produced measurable results.
"Almost immediately after making the switch, we saw agents and brokers wanting to place all lines with us rather than piecemealing it with multiple carriers," Butler notes.
"We are seeing an increased amount of flow to the tune of about 50 percent more opportunities to quote business than the company had in the past," says Butler. "We are also benefitting from the clearer view of market conditions that independent agents bring to the fold versus in a direct model, where the focus on the objective to sell Liberty Mutual Insurance business may not have given us an unbiased view."
Additionally, the move helped assuage independent agents' concerns about potential competing interests. "While we had been doing business with independent agents before, also having a direct sales force was a bit of a threat to these independents," Butler explains. "With the change to fully committing to an agent-broker distribution, we took the fox out of the henhouse."
Any change is disruptive; this one was particularly so, impacting 550 direct salespeople. Liberty sold renewal rights to its direct business to several large brokerages which, in turn, hired about 300 of the displaced employees.
"On the upside, we had 300 disciples and supporters of Liberty Mutual Insurance in those agencies as a result," says Butler.
It wasn't an easy transition, he adds, but these days Liberty doesn't look back. "We had competed against brokerages with our direct-operating model for nearly 100 years," he says. "Some agents wondered if we would go back to being direct. It took three years, but we have made significant development in the building of that trust."